All his company did was drop off a fence. 
But that was enough this week for white supremacists across the country to call the unidentified contractor's business ― hired by the city of New Orleans to drop off the fence at the soon-to-be-torn-down Jefferson Davis monument  ― and threaten him. 
"Specifically, they said they were going to burn me, they were going to burn my trucks, they were going to come to my yard and protest, they're not gonna let my trucks leave the yard, they going to protest all day long, and one woman from Mississippi specifically said she's going to make sure that I'm going to get burned and my truck is going to get burned," the contractor told WVUE Fox 8. "That's how bad it is."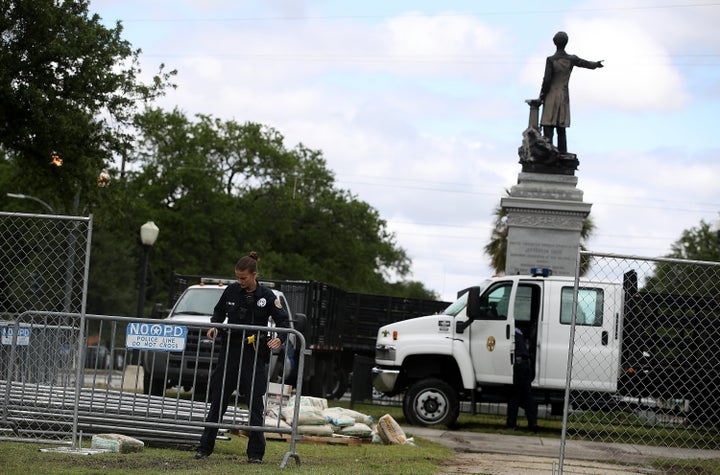 Last week, police arrested a Mississippi man upset over the city's decision to remove four white supremacist and Confederate monuments in New Orleans, after he threatened to shoot Mayor Mitch Landrieu. 
And in April, former Ku Klux Klan leader David Duke posted on Twitter the name, address, and phone number of a local business hired to remove the monuments. The business owner then received a barrage of threatening and harassing voicemails and texts from blocked numbers. 
"You better watch your back," one message conveyed, according to a police report. "Better hope I don't see you on the street," another message taunted. 
Also last month, after it was revealed that New Orleans Fire Department officials had been present for the removal of the Liberty Place Monument, firehouses across the city received phone call threats. 
And in January, another contractor hired by the city to remove the monuments backed out of his contract after receiving death threats. A week later, his $200,000 Lamborghini was set on fire and destroyed. 
"History will record, I think, that we did the right thing for the right reason at the right time," Mayor Landrieu told HuffPost this week about removing the Confederate monuments.
"Everybody is entitled to an opinion if they disagree with it," he continued. "What they're not entitled to do is thwart the will of the people duly executed through the law by both the executive, legislative and judicial branches of government."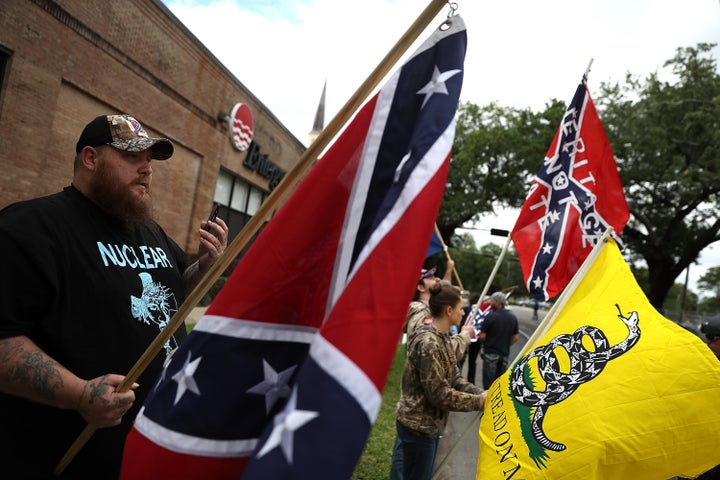 Landrieu has led the campaign to remove four monuments in New Orleans that celebrate white supremacy and the "Lost Cause" of the Confederacy.  
The Liberty Place monument ― which until 1993 had the words "white supremacy" inscribed on its base ― was taken down late last month. As a security precaution, the removal was undertaken at night by workers in masks and bulletproof vests, with snipers standing by to protect them.   
The other three statues ― of Confederate generals Robert E. Lee and P.G.T. Beauregard, and of Jefferson Davis, the Confederacy's president ― are scheduled to be taken down over the next month or so.
The city, citing safety concerns, isn't revealing exactly when those removals will take place. Tense and sometimes violent protests have broken out this week at the remaining three Confederate monuments, with some pro-monument protesters showing up armed with guns. 
National debate over the presence of Confederate symbols on public property has grown louder and louder since Dylann Roof massacred nine black parishioners at Emanuel African Methodist Episcopal Church in Charleston, South Carolina in 2015.
Roof, a white supremacist, revered the Confederate flag, often posing in pictures with the symbol of the Southern army and the bloody regime of slavery it sought to uphold. The state of South Carolina eventually removed the flag from outside its statehouse. 
A recent report from the Southern Poverty Law Center found over 700 Confederate statues and symbols on public property across the country. But as states, municipalities, and schools across the South consider what to do with these Confederate artifacts, the situation in New Orleans shows how these communities can expect harassment, intimidation, and threats from white supremacists if they elect to have the artifacts removed. 
In December 2015, the New Orleans city council voted 6-1 to support the mayor's proposal to remove the four Confederate monuments. The removals, however, were stalled by legal challenges.
Then, after victories in court earlier this year, the city started lining up contractors to remove the monuments. That's when Neo-Nazi sites like the Daily Stormer, and white supremacists like Duke, the former KKK leader and Louisiana state senator, ramped up their vile online campaign, posting the names, addresses and phone numbers of contractors, firefighters, anti-monument protesters, and Mayor Landrieu. 
"Anytime there has been a major effort for progress that surrounds civil rights there have always been dangerous circumstances," Landrieu told HuffPost.
"When you're in public life," he said, "you have those threats from time to time, you know, which is why we take appropriate security precautions." 
As for the contractors and other officials targeted with threats, Landrieu had this message for them: "We're going to protect your safety. And we're going to secure the site and we're going to make sure you're safe."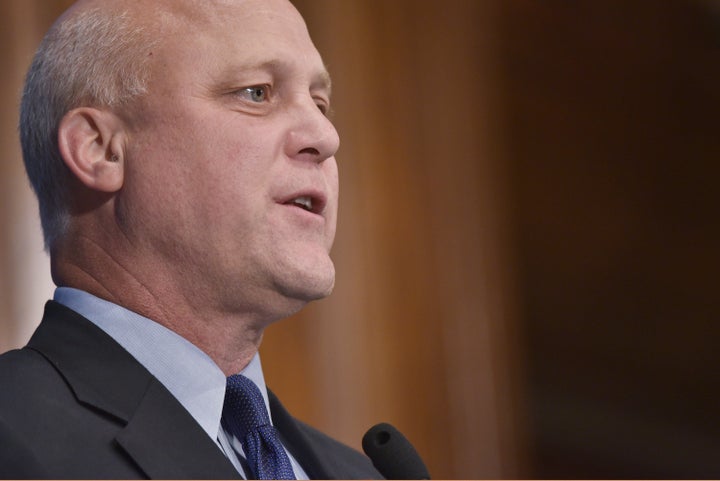 Landrieu emphasized that these monuments were put up in New Orleans after the Civil War with the explicit purpose of promoting white supremacy. Their presence is unacceptable, he said, especially in a diverse and black-majority city like New Orleans.
Anyone who argues otherwise, he said, shows a "low depth of historical knowledge."
"They're not just pieces of art," he said. "These four specific monuments, these four specific ones, were put up for a specific purpose by a specific group of people to achieve a certain objective, which was to let people on the streets of New Orleans know who was still in charge."
That's especially true of the Liberty Place monument, erected in 1891 to honor members of the White League ― a white supremacist terror group with ties to the KKK ― killed during the 1874 Battle of Liberty Place, an attempt by the White League to violently replace New Orleans' racially integrated government. 
In 1932, the city of New Orleans added a plaque to the base of the Liberty Place monument celebrating how the Yankees "recognized white supremacy in the South" when the federal government ended Reconstruction, the attempt by the U.S. government to guarantee the rights of black Americans freed from slavery.  
The three Confederate statues in New Orleans still slated for removal were all erected in the late 19th and early 20th centuries ― a period when many in the South sought to whitewash slavery's role in the Civil War, creating the myth of the "Lost Cause of the Confederacy."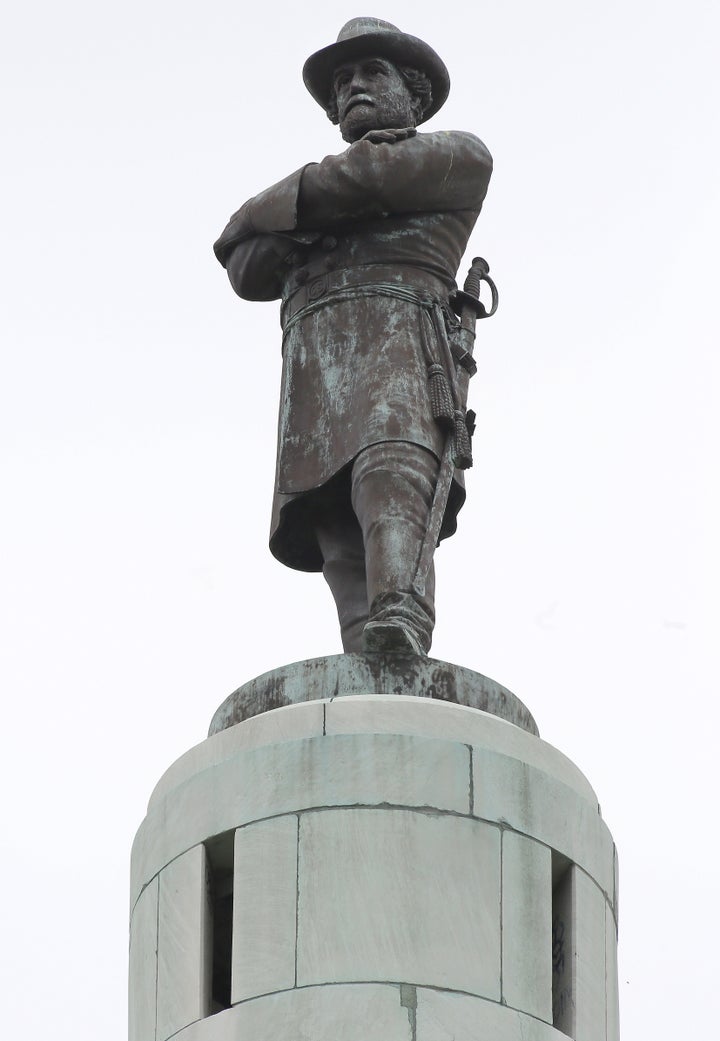 In this myth, the Confederate Army's brave soldiers fought Northern oppression to defend states rights and protect the South's chivalric way of life ― not to uphold the Southern economy's dependence on slavery. 
As part of promoting the "Lost Cause" mythology, statues celebrating Confederate figures were erected across the South, often by Confederate veterans.  
"These individuals were not veterans fighting on behalf of the United States of America," Landrieu said. "They were Confederate soldiers fighting against the United States of America and they reflect a certain set of values that I don't think New Orleans has ever really fully represented."
Robert E. Lee, Landrieu added, "never even stepped foot in the city of New Orleans."  
Landrieu admitted that didn't expect the monument removal process to have taken so long, and the debate to have grown so bitter. Still, he said, it's the right decision. 
"I've said many times on the issue of race and reconciliation: you can't go over it, you can't go under it, you can't go around it," he said. "You really have to go through it."
Once removed, the monuments will go into storage until the city decides on an appropriate home for them, such as a museum. 
America does not do a good job of tracking incidents of hate and bias. We need your help to create a database of such incidents, so we all know what's going on. Tell us your story.
Calling all HuffPost superfans!
Sign up for membership to become a founding member and help shape HuffPost's next chapter
BEFORE YOU GO
PHOTO GALLERY
Confederate Flag Comes Down At South Carolina Statehouse