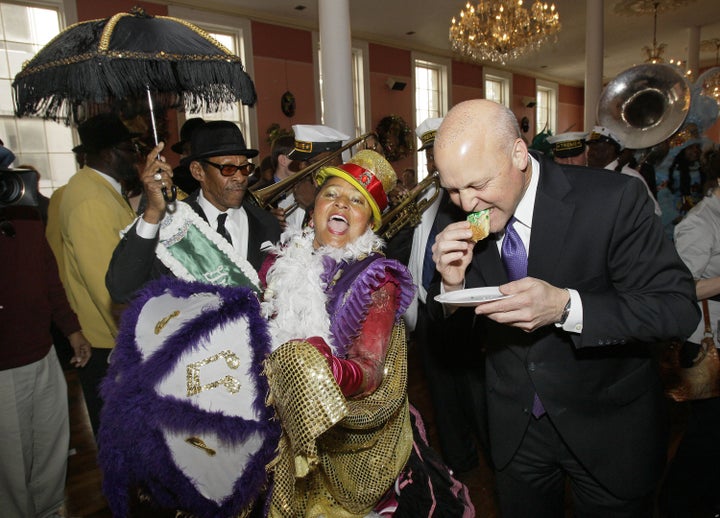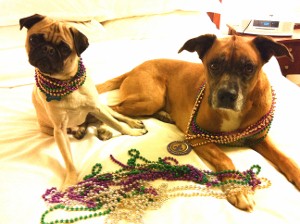 Road tripping with your dog is at the same time rewarding, comforting and challenging. I should know. I've been on the road with Yoda for almost four months now. Our adventures have been diverse. We've camped in Big Sur, been house-guests in The American Gothic House, entertained old friends in a crappy Chicago hotel room, and crashed on strangers' sofas. When I decided to explore New Orleans with my dog, I questioned my sanity. Then again, road-tripping for 4 straight months is reason enough to question one's sanity. I invited my friend Michael Keller and his pug Simon to join us. Michael is a talented Houston architect/artist who grew up in Louisana and knows NOLA like the back of his hand. That said, neither of us have ever attempted to visit The Big Easy with dogs in tow. We wondered if having Yoda and Simon along would relegate the four of us to spending our time sitting on a cold cement curb people-watching while slurping Hurricanes out of plastic cups from Pat O'Brien's Bar.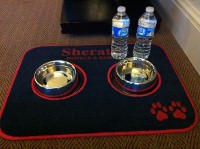 We checked into the Sheraton NOLA and with our first step into the lobby we realized we had hit the dog-friendly hotel jackpot. The lobby is bedecked with original Blue Dog paintings by George Rodrigue and with Rodrigue's original Blue Dog fiberglass cow from the 1999 Chicago Cow Parade. The hotel provided us with dog bowls and beds in our rooms and a dog welcome pack which included treats and a list of dog-friendly ideas for exploring the city. We breathed a sigh of relief: this trip might not be a bust after all.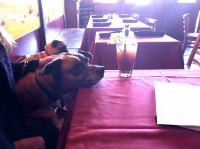 There is so much to do in New Orleans that we decided to limit our 3 day exploration to those things NOLA is best known for: music, cuisine and architecture. The architecture was a no-brainer dog-friendly activity. Yoda and Simon happily trotted alongside us as we took long walks through the French Quarter to admire the buildings inspired by the city's French, Creole and Spanish Colonial influences. Yet what were we to do for food? Our worries were short-lived. Waiters from neighborhood joints and cafés were literally waiving us down while shouting "your dogs are welcome inside!" We started off each day at Café Du Monde. Unfortunately the normally dog-friendly outdoor seating was tented due to the chill in the air, so we sat on park benches to enjoy our chicory coffee and beignets while we listened to street musicians and watched the mule drawn carriages line up to take tourists for a spin around the French Quarter. Although we didn't partake, those carriages allow dogs to come along for the ride.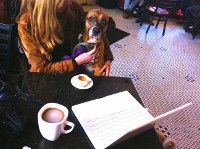 After wandering through the dog-friendly French Market, we walked across the street where we stumbled upon Saints and Sinners Café. Here Michael and I kick-started the day with Bloody Marys while Yoda and Simon took much needed mid-morning naps on the booth seats next to us. We continued on to the eclectic and trendy Café Envie to check our e-mail while we savored perfectly brewed lattes and espressos.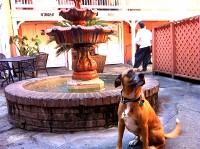 We found many dog-friendly restaurants in the French Quarter at which to dine. We snacked on duck quesadillas beside the fountain in the charming courtyard at Chartres House Café, eyed the alligator Po Boy from the cozy sofa inside the hippy-chic Royal Street Deli, and sampled the overrated rabbit and sausage jambalaya at a cramped table inside the crowded and tourist-encrusted dive-bar Coop's Place. Yet it was during an evening walk down lively Bourbon Street that we happened upon our favorite dog-friendly eatery: Café Beignet. Here we devoured delicious steaming bowls of red beans & rice and seafood gumbo as we sat under a heat lamp in the spacious and open courtyard and lost ourselves in the foot-stomping live traditional jazz music of Steamboat Willie and His New Orleans Jazz Band.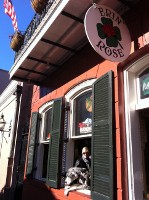 It was a chilly 40F when we were in New Orleans, so one afternoon the four of us ducked into Erin Rose Bar. While Michael and I warmed up with a hot toddy and a hot buttered rum, Yoda and Simon wasted no time in befriending Reykjavik the friendly Great Dane. Reykavik is a celebrity in his own right, currently starring in a national Equinox Gym ad campaign.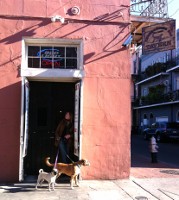 One of our more random discoveries was the Three Legged Dog, the tagline for which is "Sit...Stay...Hang Over." As if the name in and of itself weren't fabulous enough, the place, which is actually part bar and part Laundromat, has dollar bills and colorful women's brassieres hanging from the ceiling.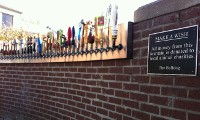 Whenever I visit a destination, I like to get off the beaten tourist track and mix with the locals. It's only by blending in that one can often find the authentic thump of a city's heart. This is why we headed over to the Garden District, an area known as much for its above-ground Lafayette Cemetery and beautiful historic mansions as it is for its trendy shopping on Magazine Street. We visited the Bridge Lounge, which is a bar in the Lower Garden District that is so welcoming of dogs that it has dog photos hung on all the walls and readily hands out dog treats to its four-legged guests. On our way out of town we were thrilled to find the perfect watering hole in the Garden District: The Bulldog. We sat next to a fire pit on the outdoor patio beside a unique water fountain out of which water flows from 50 taps (one for each beer the bar has on tap). All the coins thrown into the fountain, as well as 100% of the profit from sales of collectible pint glasses, are donated to the local SPCA.
We found ourselves so busy with dog-friendly activities that we didn't even make it to any of the city's five dog parks. That's okay. We'll definitely be back now that we know how welcoming New Orleans is for our furry friends. Perhaps we'll even return to participate in next month's Mystic Krewe of Barkus Mardi Gras dog parade and after "pawty." Woof.

Support HuffPost
A No-B.S. Guide To Life
Related
Popular in the Community