The rate of children killed by gun violence in the United States is several times higher than that of any other wealthy nation, with black male teens facing an alarmingly high risk. In New Orleans' 8th Ward, the hazard is especially perilous, with virtually every family affected in some way by gun injury or death.
Artist and curator Kirsha Kaechele, who lived in the 8th Ward for a decade, has had enough. In an effort to change the trajectory of violence and youth, Kaechele is organizing a gun buyback for her New Orleans neighborhood, the largest gun buyback in New Orleans history. And it's all part of a living art installation, titled "The Embassy," imagined for the "The Embassy," imagined for the New Orleans' Prospect 3 Biennial (P3+ satellite event).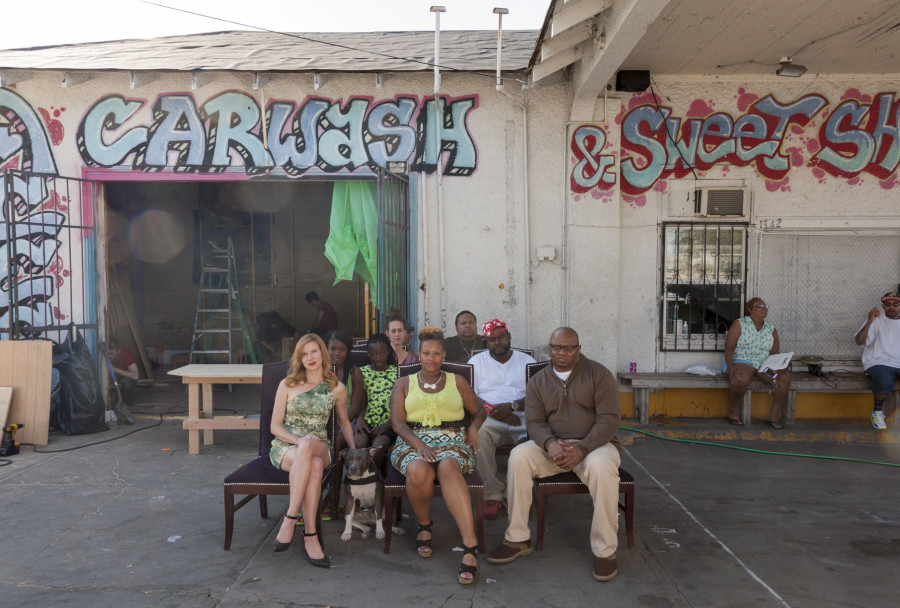 Kirsha Kaechele, Sess 4-5, BigAce Boss CEO, Tora Lopez, Mr. Serv On, Brandi and Betty Squad Gumbo Dancers. Photo by: Jonathan Traviesa
The buyback, presented by Tasmania's Museum of Old and New Art , will take place at Ace's Car Wash & Sweet Shop on Saturday October 25, 2014. The installation, a collaboration between local artists, rappers and reverends, will exchange $75 for a working handgun, $150 for a working rifle, and $250 for working assault rifles, semi- and fully-automatics. The endeavor transforms an economic interaction into a work of public and participatory performance art, a grassroots movement exchanging violence for inspiration.
All sellers will remain anonymous and all guns will be destroyed by the police department. Local rappers including Mr. Serv-On, KLC, Hotboy Ronald, Sess 4-5, 5th Ward Weebie, Keedy Black, Katey Red and BigAce Ceo are all participating in the effort to end the violent cycle, creating a rap album with an anti-gun message. A block party will coincide with the buyback, incorporating dancers, opera singers and community artists into the celebration of creativity. Finally, artist Meghan Boody is promoting Saturday's buyback through a series of "No More Blood" billboards, depicting mothers who have lost their children.
We reached out to organizer Kaechele to learn more about the origins of the performance.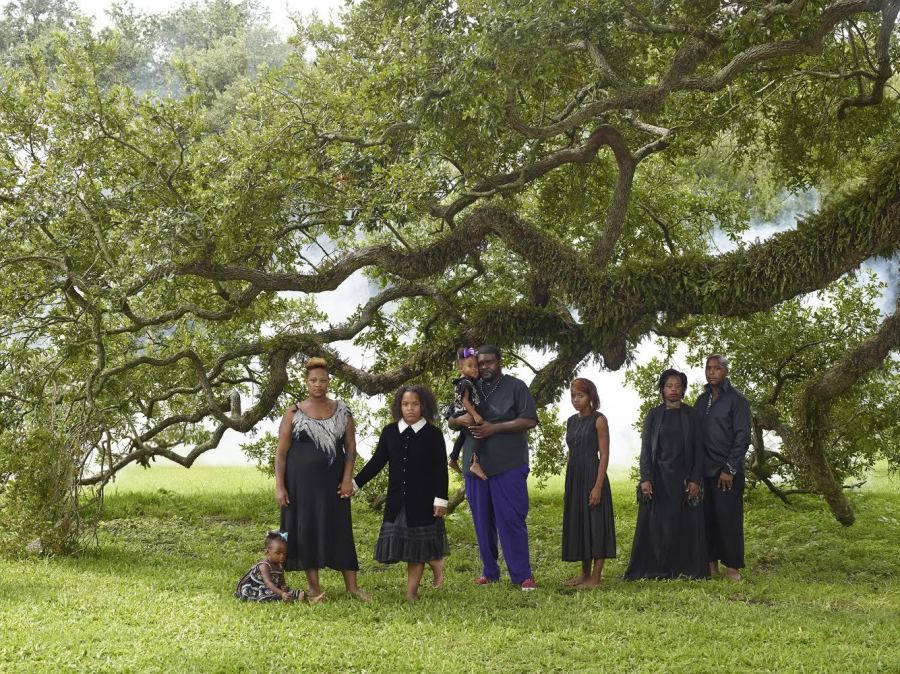 'No More Blood' by Meghan Boody
You describe "The Embassy" as a living art installation. What do you mean by this?
It's an art installation set in the world. Rather than being static it's dynamic, it's alive. I love to go to the great museums and look at work in traditional mediums but in terms of making it myself I love the unknown element of a living work. You don't really know what's going to happen.
How did this project begin?
I lived on the street where Ace's Car Wash & Sweet Shop is, which is a very high violence area. I lived there for 10 years and ran a program for kids, where they had weekly classes and a garden. Through that experience I saw all these young boys die, constantly. It was so tragic.
There was someone very close to me, his name was Rashan, he was a very beautiful boy who wanted no part of the violence. He was shot. That was a big moment for me; it showed how unacceptable the conditions are for young men today. If you happen to be born in that neighborhood everything is stacked against you.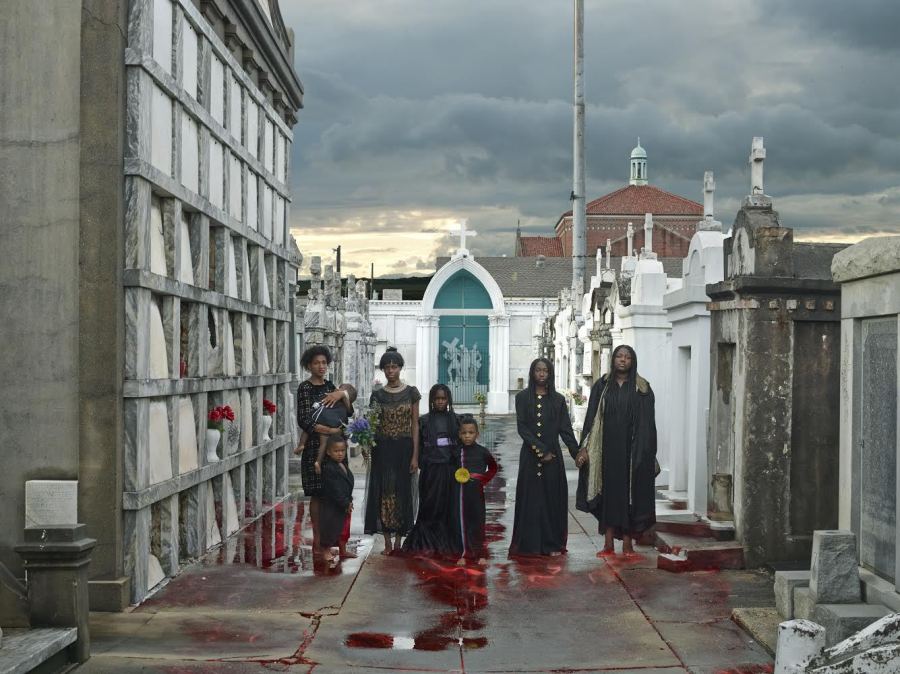 'No More Blood' by Meghan Boody
What about the specific idea to hold a gun buyback?
Well, I carried [Rashan's death] with me, and at the same time have this background where a bunch of libertarians helped raise me. So I've been infiltrated with libertarian values and this "don't tread on me" attitude toward the government. I always felt like it should be a personal choice to deal with the gun problem. Then I moved to Australia and everyone made fun of me for being libertarian about gun control. They thought it was so dysfunctional and couldn't even comprehend that anyone would support freedom around gun ownership. I couldn't marry these two realities: one where these boys are dying in these tragic and absurd frequencies and how to deal with the personal liberty issues of the second amendment.
And then I had a revelation: if we used private funds to circumvent second amendment problems we can create a libertarian-friendly gun law, essentially. I thought that was conceptually interesting. The Biennial was coming up, the New Orleans Biennial called Prospect 3. I thought it would be fascinating to run a gun buyback in my old neighborhood, engaging my neighbors, having a warm reunion with them, and presenting it as a work for the Biennial. It was the whole history with Rashan that inspired me, so I thought I would dedicate the project to him.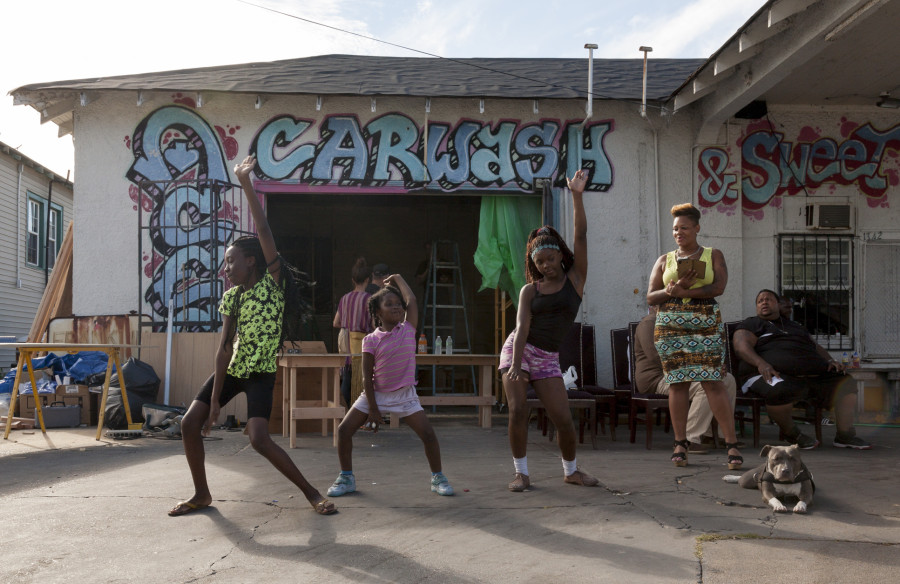 Betty Squad Gumbo Dancers by Jonathan Traviesa
How did the local rap community become involved?
The rappers were a natural part of the project because their voices are respected. No one wants to know what I have to say about putting down your gun. I don't have a history that allows me to relate to young men who are engaged with gun violence. Rappers, on the other hand, they're the local heroes. If they're the ones saying stop the killing, there is a chance their message will be heard.
How did you engage them in the project?
I just started showing up on their doorsteps, basically. I went to the carwash owned by Hot Boy Ronald. I told him my mission and he said "that's great, count me in." As soon as I explained what I was doing, everyone lit up and said they wanted to be a part of it. Enough is enough.
Do you have any plans for the guns obtained during the buyback?
Not specifically. The art is the act of buying the guns. It's the ritual, a performance piece. We are also engaging a Berkeley economist to model the buyback and its effects. We hope we can get some meaningful data about gun buybacks and whether they work, because really there hasn't been good analysis thus far. It's a grassroots buyback driven by members of the community that people look up to.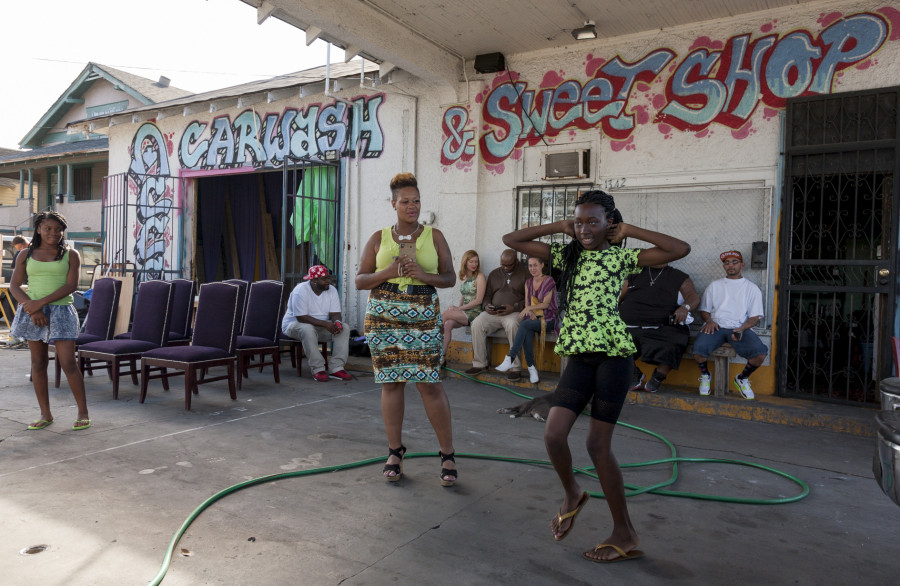 Betty Squad Gumbo Dancers by Jonathan Traviesa
What separates the New Orleans art scene from others around the country?
New Orleans art scene is excellent because it's not commercially driven. People do make art for the sake of art. They create for themselves and each other. I suppose in that way it's very pure and vital and not constrained by the practicalities of commercial art. Also, space is affordable, lifestyle is affordable in New Orleans. Artists can really live here and have the space to create and work. The materials that are available are endless and abundant. Because it's an old city, there's always scrap wood and various materials that artists are inspired by.
What do you hope to communicate through this project?
My hope is that the young men in the 8th Ward and the surrounding neighborhoods are inspired to trade killing for creativity. Through the relationships they've developed they decide they can move past the paradigm of gangsters and guns. Healing in the neighborhood, by the neighborhood.
Before You Go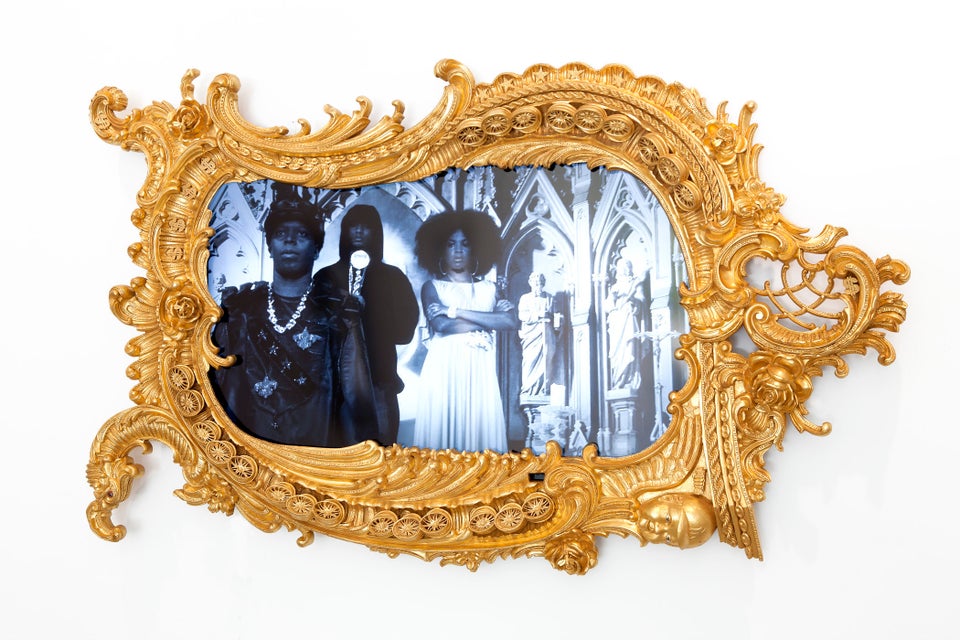 Rashaad Newsome