With Mardi Gras season comes lots of entertaining here in New Orleans and one of the things we love to do is feed our family and friends recipes that are full of traditional Cajun flavors.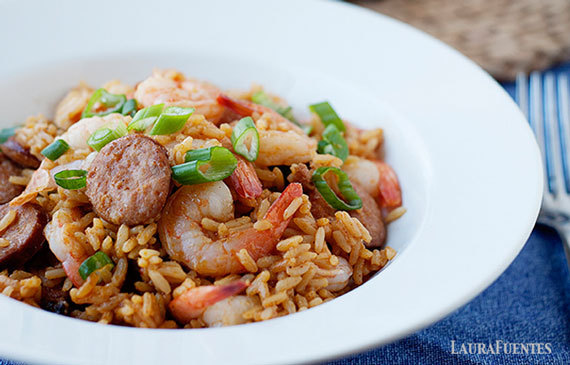 Sure, there is gumbo, meat pies, dirty rice, etouffee, and many other delicious recipes we locals love to make. However, if there is one recipe we love to entertain with, it's Jambalaya.
Mardi Gras is not a one-day celebration. For weeks leading up to the big day, Fat Tuesday, locals and visitors enjoy an enormous range of festivities. One of the more notable things are the beads thrown from the floats in the many parades.
Then, there are the parties. From formal balls and masquerades to shrimp boils and backyard festivities, we always celebrate with delicious food like the jambalaya recipe you'll find below. Jambalaya is a must and an entertaining staple for us locals year round.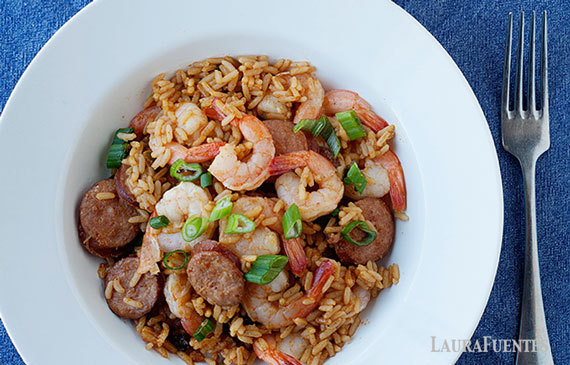 When I came to Lousiana and had jambalaya for the first time, it reminded me of my beloved paella that my family makes in Spain at nearly all our gatherings; except the New Orleans version has a southern twist of added heat!
Going to parades is not a one-hour affair, it's an all day event. After a long day of watching the floats and grabbing beads with family and friends, there is nothing better than a warm hearty meal to eat when everyone comes back into the house. Although Louisiana is not known for its cold weather, Mardi Gras always falls in our coldest weeks of the year.
A good Jambalaya holds the heat, both in temperature and in spice; making it the perfect meal for a long day out in the cold. It's the perfect dish to celebrate the day!
Simple New Orleans Jambalaya Recipe
Yield: 6 servings
Recipe: LauraFuentes.com
½ pound shrimp, peeled and deveined
1 pound smoked sausage, sliced diagonally
1 14 ounce can diced tomatoes, drained
1 boxes Zatarains Original Jambalaya mix
2½ cups water
2 tablespoons oil (I use olive oil)
4 green onions, sliced
Mix 2½ cups water, rice, seasoning mix, sliced sausage, and olive oil in a saucepan or skillet and mix until well blended. Bring to a boil. Reduce heat to low and cover.
Simmer for 20 minutes, open lid and place shrimp on top. Cover and cook, for an additional 5-7 minutes, until rice is tender.
Sprinkle green onions on top, cover jambalaya with lid for a minute to steam green onions, and serve.
This recipe was originally shared here.