New Orleans on Mardi Gras is like a kid hopped on Halloween candy. A good time is a guarantee, but is it worth it? Maybe not. Don't fret if you missed out on the Mardi Gras frenzy. Instead, plan a visit this spring for the equally exciting New Orleans Jazz and Heritage Festival (April 26-28 & May 2-5), which can earn you a cheaper and better time. While tickets to the fest are $50 a pop, you'll get quite a bit of bang for your buck, as this year's lineup includes Maroon 5, Billy Joel, Fleetwood Mac, Dave Mathews Band, the Black Keys, John Mayer, Willie Nelson and, last but definitely not least, tons of awesome food.
During your visit, you'll certainly want to sightsee and eat your way through NOLA, so here's a guide to doing it on the cheap.
Get Outside
Sightsee for Free: Stop by the St. Louis Cathedral in Jackson Square for a photo op, take a ride on the Algiers Ferry and soak up the view along the Mississippi River, scope out 19th-century homes in the Garden District and listen to local jazz musicians on Frenchmen Street.
Audubon Park: For $44.50, get access to the Audubon Zoo, Aquarium, IMAX Theatre and Butterfly Garden and Insectarium. Although this package deal isn't dirt cheap, you'll get a full day's worth of fun. 6500 Magazine St.
Jean Lafitte National Historic Park: Named after a French pirate, here you can spot everything from otters to alligators to historic sites (like the Chalmette Battlefield).
City Park: Unwind at NOLA's 1300-acre recreational hub. 1 Palm Dr.
New Orleans Musical Legends Park: Enjoy live jazz music for free every day. 311 Bourbon St.
Visit a Museum
Cheap Eats
Parkway Bakery and Tavern: Located right by the Fair Grounds, there's a poboy with your name on it. 538 Hagan Ave.
The Ruby Slipper Cafe: Great lunch spot if you feel like a salad or sandwich, with three locations to choose from. 2001 Burgundy St. (Marigny), 139 South Cortez St. (Mid City) and 200 Magazine St. (Downtown)
Red Gravy: Take a break from Cajun with some authentic Italian. 125 Camp St.
Juan's Flying Burrito: From burritos to enchiladas... where Mexican food meets New Orleans. 2018 Magazine St. and 4724 South Carrollton Ave.
Carmo: Exotic fruit and veggie dishes inspired by the Caribbean, South America and other far-flung places. Vegetarians and vegans will feel at home. 527 Julia St.
Dat Dog: Hot dogs and sausages you'll want to write home about -- duck, cod, crawfish etouffee and turkey are just some of the ingredients. 5030 Freret St.
The Camellia Grill: Down-to-earth diner with to-die-for omelets. 626 South Carrollton Ave.
Port-of-Call: If you feel like splurging, order a filet mignon, rib eye or New York strip. Otherwise, keep it cheap with an equally world-famous cheese or mushroom burger. 838 Esplanade Ave.
Also, don't underestimate the money that can be saved when you dine in. Heating up leftovers in a hotel microwave is not your only option. New Orleans vacation homes offer up full kitchens and dining rooms, so you can cook up your own crawfish.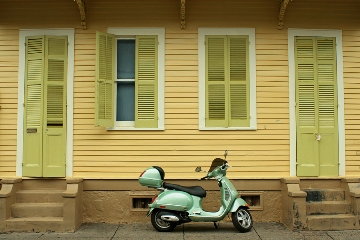 Getting Around Affordably
It's easy to get a parking ticket during big events like Mardi Gras or, you guessed it, Jazz Fest. And since Jazz Fest is located at the Fair Grounds Race Course in the middle of New Orleans' Mid-City neighborhoods, you may want to spend the extra $14 for round-trip transportation, offered by the fest.
Your best bet besides that? Walk or bike. Book a NOLA accommodation conveniently located in the Mid-City area and avoid the headaches and expenses that come with hailing a taxi or driving around confusing neighborhoods. Bike rentals are available. For those who want to stay in the bustling French Quarter, the Fair Grounds are only 10 minutes away.
Finding Cheap Accommodations
Okay, so you missed the "book in advance" window. The good news is you've made it to "last- minute deals." Plenty of cancellation specials and last-minute deals are available for NOLA vacation rentals. And since Jazz Fest isn't just one day in New Orleans -- it's spread out over two weekends -- you can have your pick of accommodation deals. Hint: the longer you stay, the less you'll pay, so consider a weekly rental over a nightly one.
View NOLA's cheapest -- and best -- attractions and restaurants on a map.