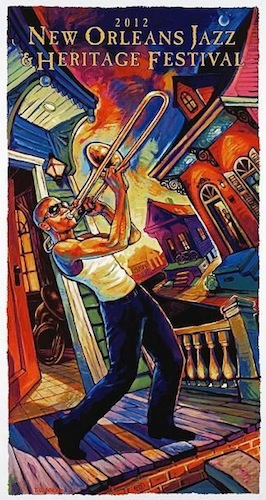 Bruce Springsteen, The Eagles, Foo Fighters, Florence and the Machine, Bonnie Rait, Ziggy Marley, Tom Petty and the Heartbreakers, Cee-Lo,and Ne-Yo. Where did all of these artists perform? Exactly -- at the New Orleans Jazz Festival! (Which, strangely enough, also enjoyed its "biggest crowd ever."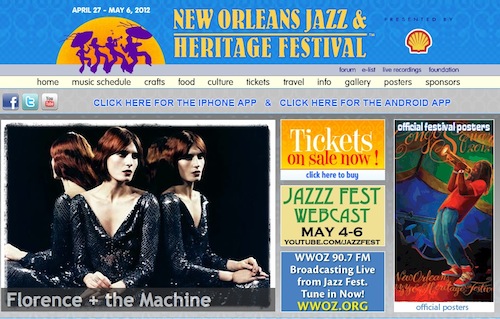 In addition, here are the other headliners that scrolled past on the homepage of the New Orleans Jazz Festival website:
Jimmy Buffet
My Morning Jacket
Neville Brothers
Paulina Rubio
Zac Brown Band
Alen Toussaint
Irma Thomas
Maze featuring Frankie Beverly
Mavis Staples
Rodrigo y Gabriela
Warren Haynes Band
Grace Potter and the Nocturnals
funky Meters
Sharon Jones and the Dap Kings
Steve Earle
Ani DiFranco
Galactic
Preservation Hall Jazz Band
Big Sam's Funky Nation
Dirty Dozen Brass Band
Marcia Ball
Better Than Ezra
Herbie Hancock
To be fair, the New Orleans Jazz Festival markets itself as a "Jazz and Heritage Festival," so I'm willing to cut them some slack. (A few of these groups clearly fall under the auspices of "heritage" artists who represent traditional jazz and dixieland.) But one can only stretch "heritage" so far until it snaps, and this lineup snaps, crackles, and then we end up with pop. Of the approximately 24 groups highlighted on the festival's homepage, there is only one serious mainstream jazz artist (Herbie Hancock) and two traditional jazz groups. I don't have anything against the groups in the other 87 percent (in fact, there are several whose music I enjoy very much), it's just bizarre to see them at a jazz festival whose official posters feature trumpet and trombone players in standard "throes of ecstasy" jazz gesticulation poses.
I understand the need to include crossover groups, but at some point, it's no longer a Jazz Festival, it's a marketing ploy. But what kind of marketing scheme uses music that isn't popular to market music that is? Ironically, their website is www.nojazzfest.com. Nojazzfest? Agreed.
Related
Popular in the Community