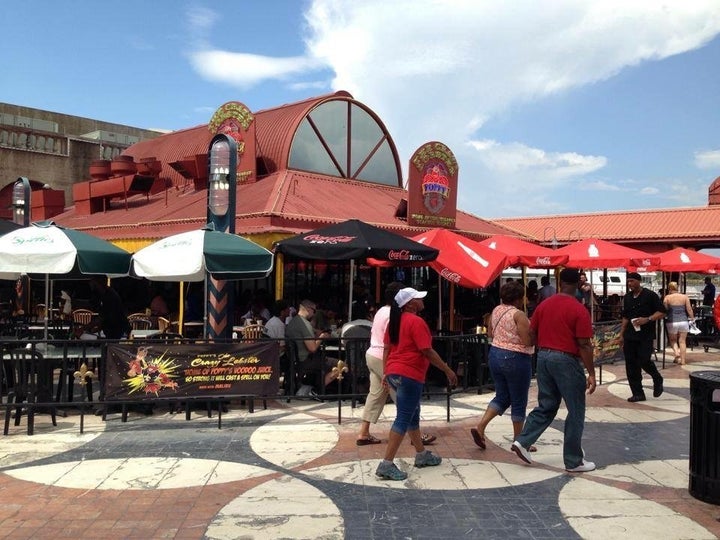 During the first days of fall in 2005, Anna Tusa and her husband A.J. watched from the roof of their New Orleans condo as fires broke out in nearby buildings and military trucks rolled in and out of the devastated city.
The couple had just opened a new restaurant, Crazy Lobster Bar and Grill, eight weeks before Hurricane Katrina tore through. But as their eyes swept over what looked like a war zone unfolding before them, it dawned on them that they wouldn't be able to simply walk the two blocks over to the restaurant, patch up the windows and resume business.
"This isn't going to come back in a few weeks. This is going to take a long time," Anna Tusa recalled thinking.
Over 80 percent of the city was underwater after Katrina struck on Aug. 29, 2005, and water levels rose as high as 20 feet in some areas. Over 1,400 people were killed in Louisiana, which suffered the greatest losses after the levees broke, flooding New Orleans and many outlying regions.
Crazy Lobster, which overlooks the Mississippi River at the edge of the city's more elevated French Quarter district, was largely untouched by the flooding that wrecked much of the New Orleans metropolitan region. But like many properties, it was heavily looted in the chaotic days that followed the storm, as refugees piled into shelters and officials tried to restore order. Equipment was damaged and people had defecated in the refrigerators, Tusa said, and it stopped only when the restaurant began to serve as temporary lodging for the National Guard.
"It was discouraging. You never thought you'd see anything like that," she said of the havoc inflicted by Katrina. "Seeing people steal televisions, setting buildings on fire, it was kind of surreal."
Ten years later, Crazy Lobster is among the hundreds of businesses reinvigorating downtown. New Orleans is currently enjoying a booming tourism industry. Hotel occupancy rates are high, and the number of annual visitors has nearly tripled since before the disaster. New Orleans now hosts 600 more restaurants than it did in 2005.
It was a long path to recovery for Crazy Lobster, which reopened its doors on June 13, 2008, nearly three years after Katrina. Repairs had cost nearly $300,000. Anna Tusa and her husband, who also own restaurants in Destin, Florida, juggled the responsibilities of hiring staff, cleaning the property and finalizing insurance claims. They had even paid their management team a full year's salary after the storm, anticipating at the time a quicker reopening.
"New Orleans is in your blood," said Tusa, who was born and raised in the city. "The attitude was, we're going to do this, we're going to open back up, slowly but surely."
Crazy Lobster, which sits on the waterfront not too far from the Warehouse District, has an industrial vibe. The restaurant has glass and metal walls, and nautical light fixtures hang from the ceiling. A statue of a large crawfish greets customers out by the patio. Families stop by after visiting the Audubon Aquarium, just a five-minute walk away, and the restaurant gets a lot of tourist traffic from events at the Morial Convention Center.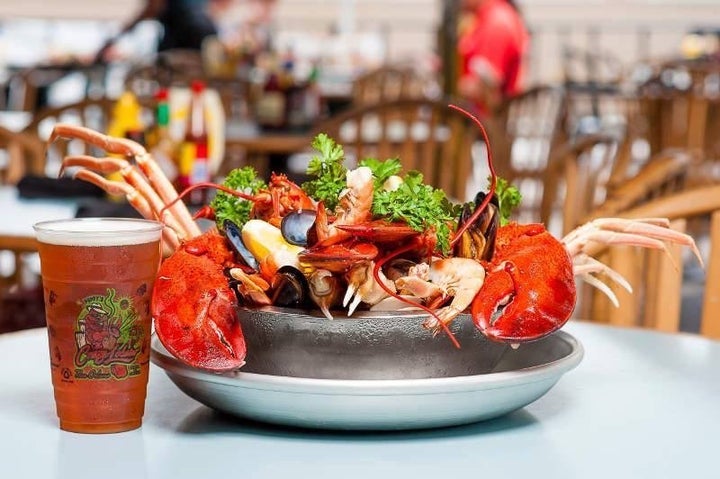 Inside, customers feast on the restaurant's signature seafood bucket, stuffed to the brim with a two-pound lobster, crab, shrimp, crawfish, clams and mussels. Some go for the house voodoo juice, a potent mix of four types of rum -- coconut, melon, light and 151 -- and pineapple juice. The couple would like to expand the restaurant and add more tables, but "we've got no place to grow but into the river," Tusa said.
The transformation of New Orleans from a city whose population was decimated after the storm to one bursting with tourists and small businesses has been "breathtaking," said Richard Haase, president of the real estate firm Latter and Blum. New business owners were able to take advantage of lower rents in the years immediately following the storm, and the job market was buoyed by the billions of dollars of federal aid that poured into the region.
Rents for retail spaces in the Central Business District, which remained stagnant for several years after Katrina, have been steadily climbing since 2009, according to data from the Institute for Economic Development and Real Estate Research at the University of New Orleans. The Data Center, a local policy institute, found that the city is also seeing 64 percent more startups per capita than the national average. Before Katrina, New Orleans lagged behind by 25 percent.
"The climate post-Katrina certainly gave rise to a younger audience of business owners, who were able to get into business and stay in business on more preferable terms," Haase said.
Restaurants, among the first properties to reopen, helped lead the business resurgence and bring the city back to normalcy.
"Everybody who came back remembers where they had their first meal," said Michael Hecht, chief executive of the economic development group Greater New Orleans, Inc. His was a hamburger and a bourbon on the rocks at La Petite Grocery, a bistro on Magazine Street.
"Restaurants have always had an important place in New Orleans, and post-Katrina, they assumed an even more prominent role," said Hecht, a former restaurateur himself who had several dining spots in San Francisco's Mission District, including Foreign Cinema. "And there's a sense of ownership. People feel empowered to create a future here."
As part of the rebuilding process, many businesses are filling their ranks with locals as well as with needy residents. Crazy Lobster eventually gained back most of its core staff from before Katrina, but it has also sought out shelters and recovery programs for troubled youth when jobs open up. Several of its employees have histories with drugs and alcohol or incarceration.
"When you see somebody and they're good people, and they have a problem and can't control it, we're willing to overlook that one day when they might not make it to work because of that problem," Tusa said. "We want to give them a chance, and we've seen people turn their lives around."
Hotels, including the Sheraton and Marriott chains, have also begun to hire from these programs. "It takes a while for these organizations to be open to the idea that a lot of homeless people are very skilled people," said Deacon DiGiovanni, executive director of Ozanam Inn in New Orleans, which provides shelter for homeless men and supports their transition into more stable lifestyle. "It helps them get back on their feet and into mainstream society."
DiGiovanni, a college friend of A.J. Tusa, has also sent some people from his program to work at Crazy Lobster.
Employees at the restaurant call themselves a family. "If there's something that's going on in my life, if I have an issue, I'm able to walk up to them or call them at any point," Darrell Skidgell, a lead server at Crazy Lobster, said of the Tusas.
Angel Roberts, who joined the staff seven years ago at 16, is now a manager. She said the Tusas surprised her with a baby shower when she was pregnant with twins, and loaned her money when her car was about to be towed. "It was me and my pride. I wasn't sure if I should call them," she said. "They asked me when I was going to be able to give it back, and I said I was in school, and they said, 'That's fine.'"
The Tusas have opened two more restaurants in the city since Katrina: Poppy's Time Out Sports Bar (a grandson of A.J. Tusa gave him the nickname) just a few steps away from Crazy Lobster, and the more upscale New Orleans Creole Cookery near Jackson Square.
Anna Tusa finds that the city has in many ways strengthened after the storm. "We wanted to employ residents of the city and start helping the economy here," she said.
Popular in the Community