The statue of Confederate Gen. Robert E. Lee that has towered over New Orleans' busy Lee Circle for 133 years was taken down amid cheers Friday.
It's the fourth and final Confederate monument the city had slated to take down, and its removal marks the end of one of America's more successful ― and publicized ― campaigns to expel symbols of white supremacy from public property.
In a speech Friday, New Orleans Mayor Mitch Landrieu made it clear that these statues were part of a "movement which became known as the cult of the Lost Cause."
"This 'cult' had one goal," he explained, "through monuments and through other means, to rewrite history to hide the truth, which is that the Confederacy was on the wrong side of humanity.
"These monuments purposefully celebrate a fictional, sanitized Confederacy, ignoring the death, ignoring the enslavement and the terror that it actually stood for."
The history of the Confederacy, he added, is one "we should never forget and one that we should never again put on a pedestal to be revered."
But there remain hundreds of Confederate generals and soldiers on pedestals across America, their proud poses belying the savage system of slavery, rape and torture they fought, and sometimes died, to defend.
A Southern Poverty Law Center study last year identified more than 1,500 Confederate symbols on public property, including "monuments and statues; flags; holidays and other observances; and the names of schools, highways, parks, bridges, counties, cities, lakes, dams, roads, military bases, and other public works."
Of those symbols, 718 were statues or monuments like those in New Orleans, some explicitly extolling the cause of the Confederacy.
In Anderson County, South Carolina ― home to about 42,000 African-Americans ― there's a statue that reads, in part: "The world shall yet decide, in truth's clear, far-off light, that the soldiers who wore the gray, and died with Lee, were in the right."
Efforts to remove such statues gained momentum in June 2015, after Dylann Roof massacred nine black parishioners at Emanuel African Methodist Episcopal Church in Charleston, South Carolina. After pictures emerged of Roof, an avowed white supremacist, posing with the Confederate flag, a fierce national debate emerged over the symbol of the Southern Army.
Last month, the SPLC said it "found that at least 60 such publicly funded symbols of the Confederacy have been removed or renamed" since Roof opened fire in Charleston. The interactive map below shows where removals have taken place.
Still, removing a Confederate symbol can be fraught with legal challenges and fierce, sometimes violent, opposition.
Lawsuits continually delayed New Orleans' efforts to remove its statues. When a judge finally approved the city's plan earlier this year, white supremacists issued death threats against Mayor Landrieu and the city contractors he'd hired to tear down the statues.
Tense protests also broke out in New Orleans, with some pro-Confederacy activists carrying guns.
A legal fight has delayed the removal of a statue in Memphis, Tennessee, of Confederate Gen. Nathan Bedford Forrest, who massacred black Union soldiers and later became a prominent Ku Klux Klan leader.
In Orlando, Florida, people showed up Monday at a city council meeting waving Confederate flags in protest of the mayor's decision to remove a "Johnny Reb" statue from a city park.
Earlier this month in Charlottesville, Virginia ― where the city council voted earlier this year to sell a statue of Lee ― a group of protesters led by white supremacist Richard Spencer circled Lee's statue carrying torches in a demonstration Mayor Mike Singer said harked "back to the days of the KKK." A lawsuit there has stalled that statue's removal for at least six months.
And in St. Louis this week, Mayor Lyda Krewson said that a 32-foot-tall Confederate monument in a city park should come down but that the city would need to raise funds for its removal.
Michael "Quess" Moore co-founded the group Take 'Em Down NOLA, which led New Orleans' charge to remove its Confederate statues.
He talked to HuffPost over the phone Friday morning while trying to find a parking spot near the Lee statue. He wanted to be there when it came down, an occasion he called "joyous."
"Our movement was a gateway, a conduit to a much bigger conversation about systemic inequity," Moore said.
It's important, he added, that taking down the statues isn't just a "cosmetic fix."
"It don't mean a lot to just have statues gone if it doesn't catalyze the public in ways that will eventually push the governor to change policies, change legislation."
New Orleans, he said, is still a city with high incarceration rates, high crime rates and terrible poverty. Its black majority population "gets treated like trash on a daily basis."
Asked what advice he had for activists across the country organizing against Confederate symbols, Moore said it's important to keep constant pressure on local politicians.
"We have a lot more power than we know, if we just claim it."
Before You Go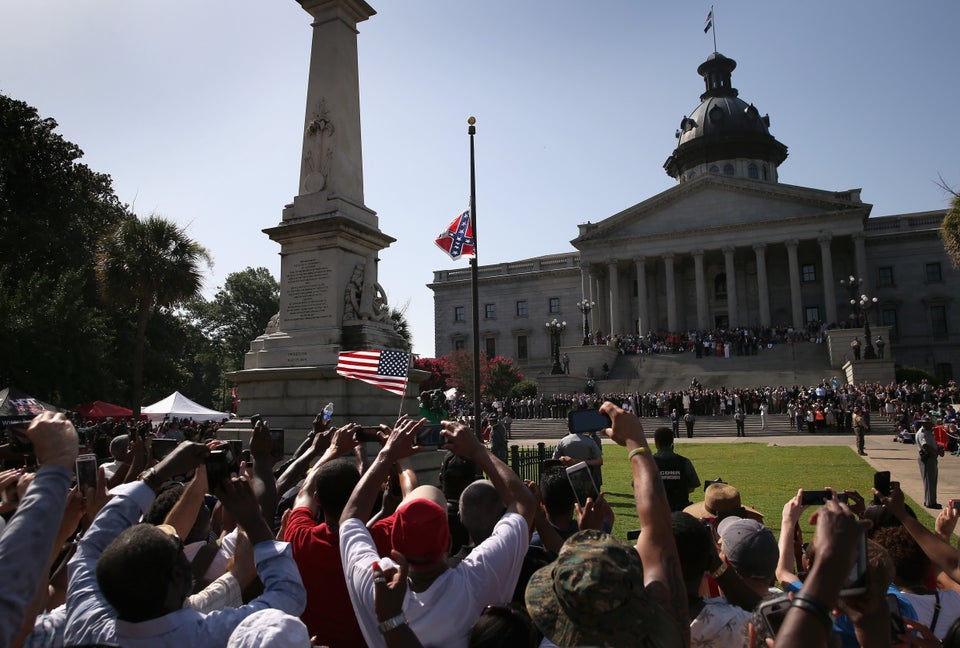 Confederate Flag Comes Down At South Carolina Statehouse
Popular in the Community