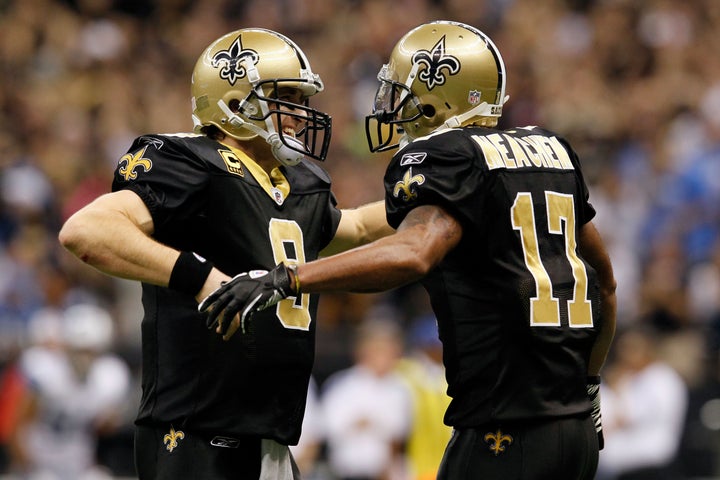 The Saints may have lost, but the city of New Orleans did not.

Sure, there are a lot of crestfallen fans who, even up to the last minute, were sure the Saints would pull it off. But it was a great game to end a season of great games that, like this city, show over and over again that it was never just about coming back but about coming back stronger.

In that way, the Saints are a metaphor for New Orleans. Sure, maybe the city overdoses on football and maybe the government policies that seem ready to sacrifice buildings for more tailgating space that creates an urban void between games is a rather thoughtless way to rebuild a city.

But the Saints themselves are revered for being more than just a team. "They are much admired," says one diehard New Orleanian, "not just for their physical prowess. Since before the storms when they might just have been the worst team, they showed they are smart, innovative, determined and resilient."

Just like the city.

Drew Brees, my loyal Saints fan adds, "epitomizes it all. He's not only smart but he gives back to the city in many charitable ways, as does his wife. Same thing for Jimmy Graham and many of them."

Another New Orleanian remembers when you couldn't give away a ticket to a Saints game and when few people knew the names of players or much about them. Now, one feels incorrectly dressed if not with some kind of Saints garment -- hat, tee-shirt, jacket and more. All the better if your garment has the name and number of your favorite player.
This is a city that embraces frayed -- even decayed -- elegance. This works in the fierce attachment to an extraordinary architectural heritage so rich that it is taken for granted in many government policies that threaten that richness. But in other areas like sports, a strong instinct to get stuck in the past led to a complacency and absence of belief that things could change.

"When the Saints were the worst," my loyal fan said, "we figured that was how it had to be but we could party no matter what."

Now, they are the comeback kid, the community booster, the tenacity to overcome adversity and to "not just rebuild but to rebuild better," all rolled up in one black and gold package.

The evidence of the rebuilding better is everywhere.

Home renovations are visible on almost every block, including in some of the most troubled neighborhoods. Governmental and institutional impediments, not the will of people, has dictated the incremental pace.

The absurdly slow flow of government and insurance money to homeowners was compounded by the official evaluation of damaged homes based on pre-Katrina value, not the cost of reconstruction. One needs a lot of money to make up that difference to rebuild.

Road Home, the federal disaster relief program, offered no compensation for a second, third or fourth property. Since many longtime New Orleanians often built or bought additional homes for family or income, this was a particularly cruel twist. And without compensation for rental properties, the quantity of rental properties plummeted and rents skyrocketed.

Another great sign is that endless numbers of local businesses are visible everywhere. This is a rare city in which the useful tradition of the corner store has not been lost. More restaurants exist than before the storm and the music scene is as rich as ever. The same growing interest in local food seen around the country is definitely here as well. Farmers Markets keep multiplying. Gardens seem to proliferate as well, even in schoolyards. The Edible Schoolyard, first started in Berkeley, California, by Alice Waters has an exemplary model here that changes the way kids eat, learn and live and sends their new found knowledge, taste and food awareness into their home kitchens. The Hollygrove Market and Farm has inspired the creation of community gardens all around the city.

Both the widespread home improvement trend and community garden momentum feed into the larger, growing "can do" spirit noticeable citywide. Neighborhood associations are more numerous and energized than ever before the storms, attracting young and old, longtime residents and new.

After Katrina, experts predicted no more than half the population would return. Six and a half years later it is estimated at three quarters and growing.

You know the resilience of the Saints and the resilience of the city are intertwined when you come across the following scene. On one block, someone contrived a huge outdoor screen and placed it in the middle of the street. Neighbors brought out chairs and someone somehow streamed the game onto that giant screen and everyone shared both the excitement and the pain.

Only in New Orleans.
Calling all HuffPost superfans!
Sign up for membership to become a founding member and help shape HuffPost's next chapter