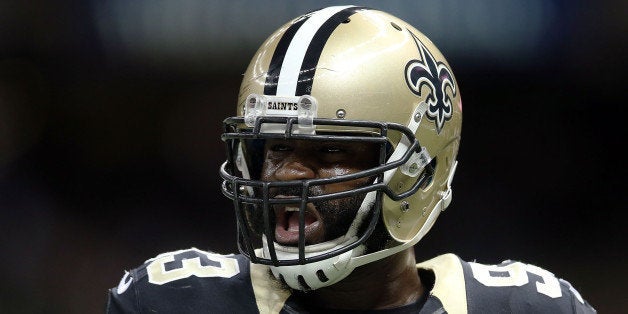 NEW ORLEANS, Feb 20 (Reuters) - Domestic battery charges against New Orleans Saints linebacker Junior Galette have been dropped, prosecutors said on Friday, even as a related civil suit against the football player was filed by his alleged victim.
Galette was arrested last month and charged with beating a 22-year-old woman in one of a string of recent high-profile domestic abuse cases involving NFL players, including Minnesota Vikings running back Adrian Peterson and former Baltimore Ravens running back Ray Rice.
NFL Commissioner Roger Goodell, amid public pressure, in August strengthened the league's penalties against such crimes.
Prosecutors in the New Orleans suburb of Kenner on Thursday determined that the evidence against Galette was insufficient to show a crime had been committed, Kenner City Attorney Michael Power said.
In addition to dropping a misdemeanor domestic violence charge against Galette, prosecutors dropped a simple battery charge against Galette's cousin, codefendant Terrance Banks.
Also on Thursday, Galette's alleged victim, who has described herself as his live-in assistant, filed a lawsuit against the football player accusing him of physical, emotional and sexual abuse.
It also alleges that Galette allowed an unidentified Saints player to grope her as other teammates watched.
"This young lady has been severely traumatized," said her attorney, Joseph Raspanti. "She seems to be a classic example of an abused woman."
Galette's attorney, Ralph Whalen, on Thursday provided to local media a letter sent last month by Raspanti offering to forego a lawsuit in exchange for a $2 million payment to his client.
Raspanti said the letter was confidential and that Whalen should not have made it public. Whalen did not immediately respond to a message seeking comment.
NFL spokesman Brian McCarthy said in a statement that the case is still under review.
The Saints declined to comment.
Galette's alleged victim told police that the Jan. 5 incident occurred after he refused to give her cab fare to leave his house after she awoke there.
The woman told police that both Galette and Banks pushed her to the ground and left her struggling to breathe before she wielded a knife in self-defense.
She suffered a bloody ear and scratches to the face as a result of the altercation, police have said.
A five-year veteran of the National Football League, Galette, a native of Haiti, was signed as an undrafted free agent by the Saints in 2010 and has played his entire pro career in New Orleans. (Additional reporting by Steve Ginsburg in Washington)
REAL LIFE. REAL NEWS. REAL VOICES.
Help us tell more of the stories that matter from voices that too often remain unheard.
BEFORE YOU GO
PHOTO GALLERY
Missing Children