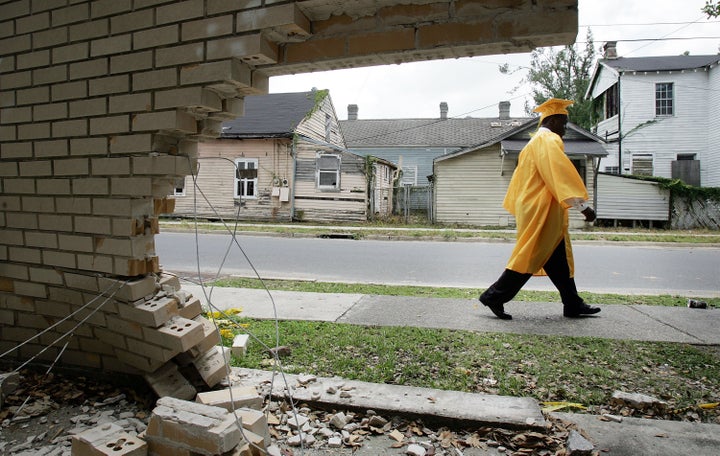 With 75% of New Orleans students slated to attend charter schools next year, some stakeholders say a management split between the far-away state capitol and a local school board designed to oversee traditional public schools makes little sense.
That's why a new proposal for running New Orleans' schools mandates the creation of three school boards: one general elected board that manages the schools' overall finances and facilities but cannot directly operate them; one appointed board that oversees charter schools, which are publicly funded and can be privately run; and another that runs traditional public schools.
A task force headed by Leslie Jacobs, a former state school board member who has shaped education reforms in New Orleans, released a white paper Wednesday titled "THE RETURN MODEL: A New Approach to Governance for Public Schools in New Orleans" that details the proposal. The 29-member task force included charter school managers and union officials.
Jacobs calls herself the "mother of the Recovery School District." Seeing a chance to reset the schools, she helped developed a 2003 law that allowed the Louisiana state school board to take control of schools deemed to be failing for four consecutive years. After Hurricane Katrina occurred in 2005, another law made it easier for the RSD to take over schools, and within five years, over 100 New Orleans schools were controlled by the state.
Since the once-failing schools have progressed under state receivership, the city is debating the best way forward: stronger state control to enhance the results, or a reversion to local control by the elected school board.
"When you have states taking over schools, you don't know what's going on at the school level when you're at the state capitol," said Andre Perry, a school manager and academic at Loyola University who sat on the task force that created the proposal. "The RSD still needs a local home. It needs to interface with communities."
As the Times-Picayune noted, the Jacobs plan represents a "third way," keeping some form of control by an elected board while volleying the natural conflict of interest that arises from having a public school board in charge of charter schools.
Now that charter schools are in the majority, Jacobs said, "there's a lot of things we don't have government doing" because of minimal oversight and a board focused on traditional public schools.
"A key tenet of this reform model is you have three key functions: charter schools, operating schools, and the resource manager," Jacobs said. "The resource manager has the money. We don't want the manager to care if it's a public school or the charter school."
Devin Meyers, who teaches middle school history in a New Orleans charter school, said he doesn't think the change in management would directly affect his work in the classroom. "I don't feel that the absence of a board for charters really hinders my job," he said. "The less power it has is probably the better."
As the proposal faces a long road to becoming reality -- its eventual implementation would require a law passed by the state legislature -- one thing is clear: all eyes will be on New Orleans as school districts around the country focus on their lowest-performing schools.
"The importance of this case is that we're talking about a whole district of turnaround," said Kenneth Wong, director of Brown University's Urban Education Policy program. "This will attract a lot of national attention because this is one ongoing effort to turn around a whole system."
The federal government counts school turnaround as a key strategy for ameliorating public education. U.S. Secretary of Education Arne Duncan set the benchmark at making 5,000 "persistently low achieving schools" successful. Duncan encourages these models with incentives such as School Improvement Grants and Race to the Top, a federal competition encouraging education reform. Tennessee, for example, recently created a state-controlled special school district that deals with its lowest-performing schools.
And chances are that even more states will turn to such models shortly: Duncan said earlier this week that as an overhaul of No Child Left Behind, the federal law defining educational standards, stalls in Congress, he would allow flexibility from some of the law's mandates to states that agreed to take on some of his favored -- though yet-to-be-defined -- reforms.
New Orleans represents a systemized effort at school turnaround. "We're not turning around the entire system yet elsewhere," Wong said. "What we are seeing in New Orleans is an effort to think about the whole system. Whatever design benefits and flaws we see in New Orleans are going to inform the nation as other districts face similar challenges."
But he called the proposal patchy. "Downstream, I can see there will be a lot of tension in competition for resources, students and teachers," he said. As charter school enrollment increases throughout the country, he said, a single board would be advisable. "One way to think about it is whether there ought to be one entity that really is given the authority on funding and they will organize a whole system," he said.
Still, Perry said the benefits of the model outweigh its complexity. "When you have a board that is truly charter-centric, they will be sensitive to effectiveness of charter schools," he said. "You won't have a body who is anti-charter. At the same time, you can have people say, look, charter, you're not working well."
Calls made to the United Teachers of New Orleans were not returned.

REAL LIFE. REAL NEWS. REAL VOICES.
Help us tell more of the stories that matter from voices that too often remain unheard.