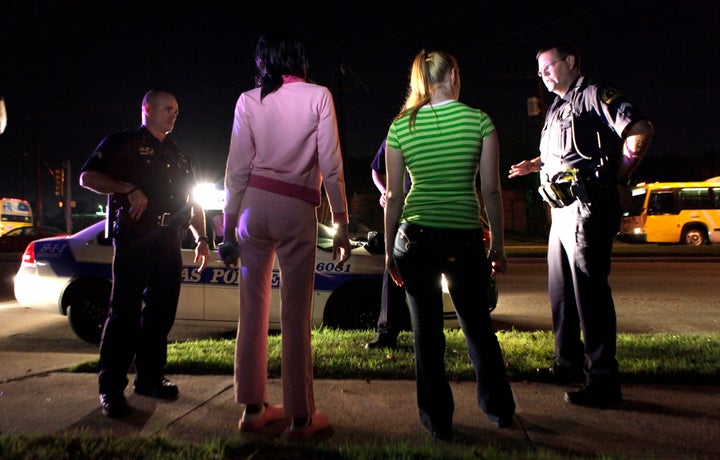 NEW ORLEANS -- In their neighborhoods, they are sometimes taunted with dirty looks and jeers. Their pictures hang on the walls of local community centers where their children and grandchildren play. And their names and addresses are listed in newspapers and mailed out on postcards to everyone in the neighborhood.
Landing a job or even finding a landlord willing to give them a place to stay is a challenge.
These women wear a scarlet letter -- rather, 11 letters -- spelled out on their driver's licenses in bright orange text: SEX OFFENDER.
They aren't child molesters or pedophiles. Most are poor, hard-luck black women in New Orleans who agreed to exchange oral or anal sex for money. In doing so they violated the latest version of Louisiana's 206-year-old Crime Against Nature law, which carries a maximum penalty of up to five years in prison and registration as a sex offender.
Opponents of the law say it is discriminatory and targets poor women and the gay and transgendered community who engage in what they call "survival sex." In March, the Center for Constitutional Rights filed a lawsuit on behalf of nine anonymous plaintiffs against the state, Gov. Bobby Jindal (R) and a host of state agencies, calling the law unconstitutional.
"There are a number of absurd things in the Louisiana laws, and this is one of the more absurd," said R. Judson Mitchell, a law professor at the law clinic at Loyola University in New Orleans. "There are crimes against nature happening at strip clubs on Bourbon Street every single night. The difference is we are dealing with women that didn't have a fancy strip club to go to."
Indeed, New Orleans has long been a historic bastion of sex and vice, synonymous with food, jazz and the lore of Storyville, the fabled red-light district that clinched the city's reputation for high-class prostitution more than a century ago. Any night along the city's seamy side streets and in hotels that dot the French Quarter, tourists and locals pay for a variety of sexual pleasures.
Most of the people involved in the sex trade in New Orleans -- and elsewhere, for that matter -- struggle with drug addiction, mental illness or past sexual trauma. Some are homeless and many more use their bodies to fuel their addictions or to feed themselves or their families.
And the statutes that define the solicitation of crimes against nature differ from the state's prostitution laws. Prostitution, a misdemeanor, includes the solicitation of vaginal sex only. A second conviction of solicitation of oral or anal sex, so-called crimes against nature, is a felony, which requires annual registration as a sex offender for anywhere from 10 years to life. It also requires inclusion on an online database of sexual predators.
In New Orleans, more than 40 percent of the people on the sex offender registry are on in it because of a crime against nature conviction, according to the Center for Constitutional Rights. Of that 40 percent, well over 80 percent are black women.
Louisiana is one of only a few states, if not the only one, that makes the solicitation of different sexual acts separate crimes. And it is the only state that requires people who sell their bodies to register as sex offenders, according to the Center for Constitutional Rights.
Until last summer, when the State Legislature amended the law, a first conviction of a crime against nature was a felony. Though the law was changed to make the first conviction a misdemeanor and the second a felony, it did not grandfather in those convicted of first time offenses before the law was changed.
State Sen. J.P. Morrell (D), who represents New Orleans, sponsored the bill that amended the law. He said he was hoping to get the solicitation of a crime against nature law completely abolished, putting those acts on par with prostitution.
But to get the bill passed he said he had to make concessions. Amending the existing law was progress nonetheless for a state legislature that he said "could be like a bunch of junior high school kids" unwilling to risk political capital over hot-button issues like sex offenders and prostitution.
"Having a sex offender label for the rest of your life because you offered to do two kinds of sex over a third kind just doesn't make any sense," Morrell said.
Deon Haywood, founder of Women with a Vision, an outreach group that deals with women on the margins that has led the fight against the crime against nature stigma and legislation, called the law an "assault on poor women."
"Who else are the police going to have access to? Poor women, black women and street-based sex workers," Haywood said. "Once convicted, they are treated the same way as if they were a pedophile or rapist."
But unlike sex by force or coercion, the solicitation of a crime against nature is in essence a "talking crime." All it takes is a verbal agreement, an offer.
"As a result of our law, not only have we punished them for the mere saying of words, we've punished them to an extent greater than if they actually performed the sex act in public," said Calvin Johnson, a retired Orleans Parish criminal district judge, who said that during a 17-year career he found the law unconstitutional on three separate instances only to be overruled by the state Supreme Court each time. "We've punished them to the extent of a felony and made them a sex offender. We have 'X'-ed them out of social benefits, out of jobs, out of neighborhoods, out of housing, which has an adverse effect on society."
"Not only have we punished that person for saying those words," he continued. "We've done the dumbest-ass things that any state could possibly do."
Sgt. Ryan Lubrano, commander of the New Orleans Police Department's vice squad, said that his unit's hands are tied when it comes to what his officers can charge who.
"The prostitution statute covers the vaginal sex," Lubrano said. "That's the way that it's written. By law, a crime against nature is oral sex. If someone offers oral sex, I can't legally arrest them for prostitution."
Once someone is charged, it's up to the District Attorney's Office to drop or uphold the charges. Several calls seeking comment from the Orleans Parish District Attorney's Office were not returned.
Lubrano maintained that the cat-and-mouse of sex stings is not discriminatory by nature.
"Black girls, white girls, transgendered. When we have an undercover officer riding around the streets posing as a john, it's whatever is out there," he said.
But in a scathing report issued by the Justice Department detailing the many failures of the NOPD, federal investigators said the department engaged in targeted and biased policing and abuse of the crime against nature law.
"Transgender residents reported that officers are likelier, because of their gender identity, to charge them under the state's 'crimes against nature' statute -- a statute whose history reflects anti-LGBT sentiment," the report noted. "For the already vulnerable transgender community, inclusion on the sex offender registry further stigmatizes and marginalizes them, complicating efforts to secure jobs, housing, and obtain services at places like publicly-run emergency shelters."
According to the report, released in March, 80 percent of those charged with crimes against nature are African American, "suggesting an element of racial bias" and that those targeted believe officers "equate being African American and transgendered with being a prostitute."
The Center for Constitutional Rights filed its lawsuit on behalf of nine anonymous plaintiffs, women and men, each of whom have been convicted of crime against nature charges and must register as sex offenders for 15 years to life.
Alexis Agathocleous, an attorney with the center, said the law discriminates against gays and people who engage in socially taboo acts.
"This law is discriminatory, unconstitutional and based in a long history of moral disapproval of sex acts, first that are non-procreative and then those historically tied to homosexuality," said Agathocleous.
As a result, some of the most vulnerable people are forced further underground. Once on the sex offender registry, their state identification cards, driver's licenses and, in some cases, license plates are stamped with the words "Sex Offender".
They must send out postcards to every single neighbor -- in a one-mile radius in rural communities, three-fourths of a mile in the city -- and must foot the bill for postage. Employers, even at places like fast-food joints, shy away from employing sex offenders. Landlords are weary of associating their addresses with sex offenders. And as the federal report noted, most agencies and in-treatment rehabilitation programs do not accept sex offenders.
The public shaming of these individuals is carried out with little outcry beyond a small circle of lawyers and activists.
"There's nothing in any of the mailers, announcements or online databases that are sent out that say, 'I'm not a molester, I solicited oral sex,'" said R. Judson Mitchell, the law professor at Loyola University. "So, how does an employer know that you're not a rapist?"
"But it's easy and politically popular. Nobody cares what a sex offender thinks," Mitchell said. "The idea was that you wouldn't have real sexual predators living in your neighborhood without you knowing ... but it has grown to include a whole class of people that have nothing predatory in their nature.
"To have them register does nothing for public safety and only makes it impossible for these people to move on with their lives and from getting stable housing and getting jobs," he added.
There's just the label they wear, in bright orange letters.
So some avoid the shame of their families and neighbors by never registering at all. Not registering when it is legally mandated is a felony offense in itself, and could land violators in jail. In most cases, failure to do so extends their registration requirements.
"There's always going to be this wall, this hurdle that she can't jump over," Haywood said on a recent afternoon, sitting at her desk behind a pile of folders detailing the lives and crimes of her clients. "It's hard for them to maneuver through everyday life. Depression sets in with many of them."
Haywood peeled open folder after folder, the photocopied, ghostly photos of her clients stapled to a survey that each one filled out to join the sisterhood at Women With a Vision.
Each read much like the one before and after it.
Michelle, 44.

First sexual experience, 14. First time she was paid for sex, 16.
"I hated being touched, but it was easy way to get what I wanted."
Two crime against nature convictions. Lifetime registration.
Lori, 55.
First time arrested for a crime against nature, 17.
Five convictions, 15 years of registration.
Stephanie, 23.
First crime against nature charge, 12.
Living in the streets at 13.
Multiple convictions since.
It's worse for individuals who have since turned their lives around, having caught their charges years ago while out in the streets.
"They have to relive it each and every time. Think of how much time these women spend defending who they are," Haywood said.
"Black women have been sexually used, abused and shamed for a very long time," she added. "That shaming of black women, the not wanting to disappoint their mothers or fathers, the respect of the black church and those Southern sensibilities and that Southern conservatism. It makes it difficult. Women across the board have to deal with some sort of sexual shaming, but for black women it's just that much different."

Popular in the Community