Though New Orleans is an amazing city, and though all of the musicians that I know here love the place, we are not without our troubles. Sure, we play Swing and Blues to a bevy of appreciative visitors to our city all day on the street, or at night in smoky clubs. People come here knowing that New Orleans is a mecca of music, a tower of treble, a junction of jive. But we musicians, as well as the clubs we perform in, face our share of adversity. And last week it came in the form of city government.
Just before the holidays, word got out among musicians that the city council was voting on a new noise ordinance. This ordinance would severely limit the amount of sound a band could make while performing on the streets or in a club (these are streets closed during the day to traffic so that musicians can play, and clubs zoned for live music). It would also severely change how the sound being produced by a musical act is measured. Current law says it is to be measured from where the audience stands: the new law would essentially measure the level from right up in front of the band.
Things got a little heated in early January, when the Music And Culture Coalition of New Orleans (MACCNO), a group of musicians, performers and club owners, began to circulate articles like this one. Musicians became aware of an ordinance before the city council that, in the words of news source NOLA.com, "could affect how loud live music is performed across the city." The source went on to say "The introduction of the proposed noise ordinance just before the holiday season, when many residents were on vacation, and the speed at which it is being pushed has surprised many people, including Mayor Mitch Landrieu. Administration officials said he didn't learn about it until the day before it was introduced and has "reservations" about the new policy."
Musicians and "culture bearers" (such as our beloved Mardi Gras Indians) became very nervous, and very agitated that the bill was being pushed through in a way that seemed to exclude us. We (musicians) felt the bill would put many of us out of jobs. Mind you, this is coming hard on the heels of announcements that pre-Katrina laws concerning music hub Frenchmen Street would be re-instated, limiting the volume of music in clubs there (though grandfathering in certain clubs that seemed to have the backing of deep pockets). Without certainty of proof, many musicians expressed the opinion that owners of particular venues were behind some of these laws, trying to wipe out competition, and masquerading as concerned citizens (this was expressed several times in talks by musicians, and by underdog politicians to musicians).
Using social media such as Facebook, MACCNO members and others began to organize a protest in front of City Hall on January 17, set to coincide with the vote on the proposed ordinance. We had no idea if people would show up to voice a protest, or how many would be present. Organizers Suzanne-Juliette Mobley and Hannah Krelger-Benson kept up a barrage of social media to inform musicians and culture-bearers of the event, and wore printed t-shirts with the wry slogan "Listen To Your City." The two worked tirelessly in the week and a half before the vote.
The morning of January 17, I found this post on my Facebook page: City Council Slam The Brakes On Proposed New Noise Ordinance. Whether or not in anticipation of our action, the city council tabled the ordinance, and announced that no new laws would be passed without the input of musicians and club owners. (Read the City Council's published response to tabling the ordinance here).
But Mobley and Krelger-Benson called for the action regardless. They asked that musicians bring instruments, and proposed a list of songs to be played. They were there well earlier than the meeting time, rallying attendees and distributing the slogan tee shirts. I arrived to find thirty or forty people milling around the park opposite City Hall, and a street act I recognized playing music for the crowd. That thirty or forty people quickly grew. Many musicians and fans I knew and recognized arrived. Soon there were well over a thousand people on the grass before City Hall.
A microphone was produced, and musicians, lawyers and politicians spoke to the crowd about their struggles with noise bans in the city, and about strategies for eliminating unreasonable restrictions on musicians and music venues. Some of the speeches were inspiring. A club owner whose venue I'd recently played in spoke of the hoops he had to jump through to open a club in a city that's known for its music and culture: a musician spoke of times she'd been jailed simply for playing music on the street. Both Mobley and Krelger-Benson spoke of their struggles to publicize this vote.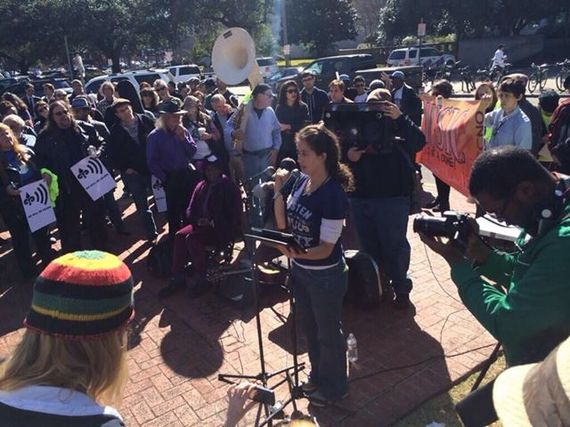 Hannah Krelger-Benson addressing the thousand or so musicians before City Hall. News photo re-posted on Benson's Facebook wall.
The speeches ended, and musicians gathered to play some tunes. To our surprise, the impromptu brass band, made up of almost all of the city's working musicians, were led by trombonist Glen David Andrews right into City Hall, where they marched into the City Council chambers and played "It Ain't My Fault" and other traditional Jazz tunes. In response, and much to their credit, the council allowed musicians to address them on this issue, and heard their recommendations.
My good friend bassist Paul Edmonds said of the action: "Yesterday is a day I will remember for the rest of my life. The temporary postponement of the Noise Ordinance hearing seemed to have taken some of the bitterness and rancor out of the air. What we got instead was a powerful, moving, life-affirming display of the love, faith, strength, and dedication that run through the New Orleans music community. I have never been so proud of my friends and co-workers, our city, or the democratic process and our rights to free speech and assembly."
I could not have said it better.
Hannah Krelger-Benson and Suzanne-Juliette Mobley became heroes that day to a thousand musicians who are out there trying to make a living and create beauty. We renewed our faith in New Orleans: a city that has pride in its culture, and that breeds women and men who stand up for what they feel is right. All in all, it was a pretty spectacular day.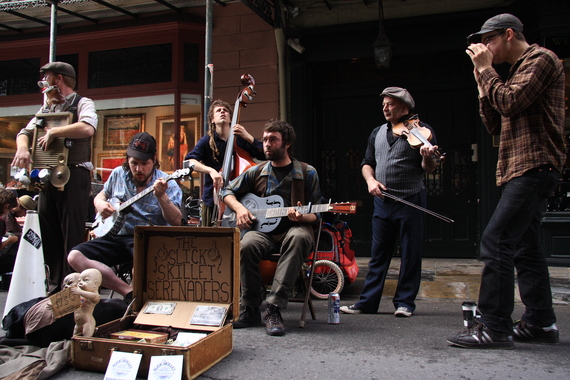 The author, Kenny Klein (with fiddle) playing on Royal Street with the Slick Skillet Serenaders. Fan photo.
NOTE: I am a musician in New Orleans, not a lawyer or politician. This article represents my own experiences, research, and information I have heard or read from news sources and speakers. Photos are not by me unless stated: I brought my fiddle instead of my camera. I tried to give proper credit for all photos.
Correction: An earlier version of this post incorrectly identified the creators of "Listen to Your City" t-shirts.
Calling all HuffPost superfans!
Sign up for membership to become a founding member and help shape HuffPost's next chapter