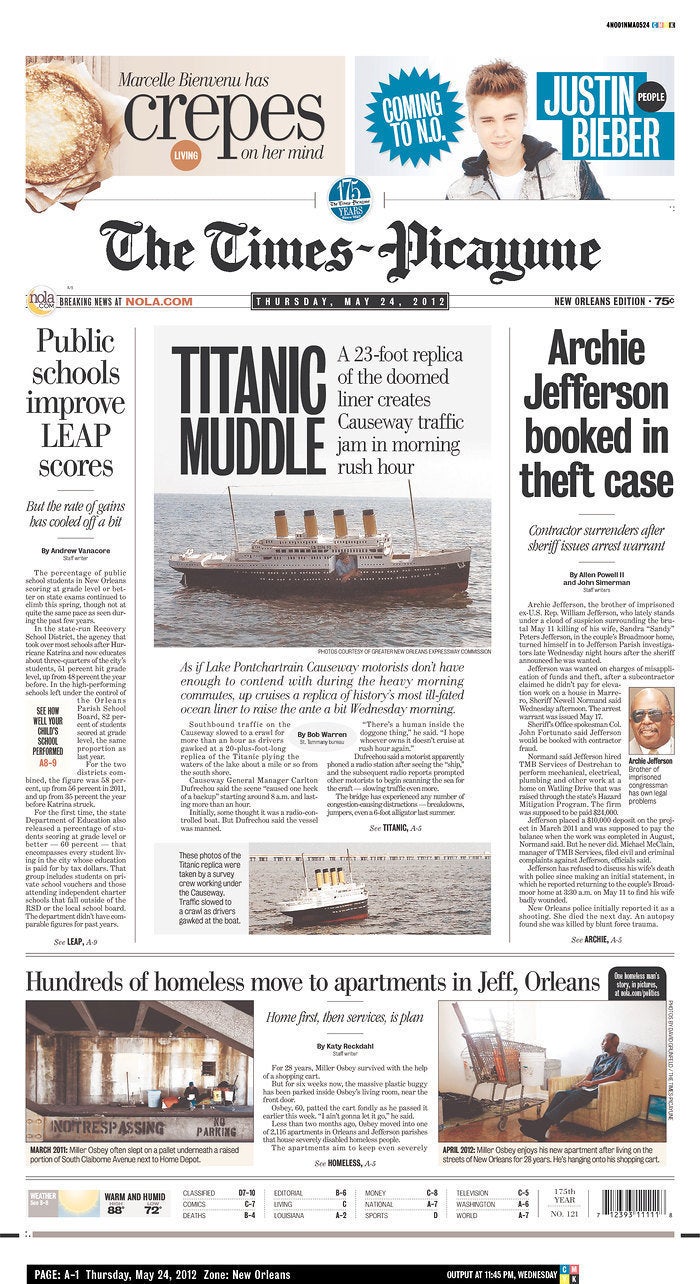 The New Orleans Times-Picayune, the paper that became internationally famous for its courageous reporting during Hurricane Katrina, is facing steep cuts and will end its 175-year history of daily publication, the paper announced Thursday. The move will leave New Orleans as the biggest city in the United States without a major daily paper.
The Times-Picayune said that, starting in the fall, it will publish only on Wednesdays, Fridays and Sundays, leaving the rest of its coverage to the Internet. A new company, the NOLA Media Group, will be set up. The paper's article on the change alluded to "a reduction in the size of the workforce."
News of the impending cuts was first reported in the New York Times on Wednesday night.
The Times-Picayune won two Pulitzers, including the prestigious Public Service award, for its coverage of Katrina. The paper was forced to evacuate its offices and publish online for three days. As the only major newspaper in the city, it was heralded as the most vital source of information for besieged residents.
On Wednesday night, though, the Times' David Carr reported that the Times-Picayune will go through a deep round of staff cuts and be published just two or three times a week. This is despite the fact that, as Jim Romenesko pointed out on Thursday, the paper remains profitable.
A report in Gambit, an alternative weekly in New Orleans, said that Times-Picayune employees had reacted in shock to the announcement. Everyone Gambit talked to said they had learned of the news from the New York Times story. "I had to find this out by Twitter," one reporter said.
In a memo to staff, publisher Ashton Phelps, Jr. said that the news had been pushed up by the reports:
Press reports have necessitated our giving you this news now. We realize it will make people anxious, but we do not know enough today to be able to announce how the changes will affect individual employees. We will move as quickly as possible in the coming weeks to make that determination and to inform each of you personally.
The Gambit report said that about a third of the paper's reporters will be fired, along with top executives, and that those who stay will face big pay cuts and longer hours.
The Times-Picayune is owned by Advance Publications, which is run by the Newhouse family. Newhouse is making similar moves at papers around the country. On Thursday, it was also announced that three titles in Alabama are moving to a three-day structure.
Before You Go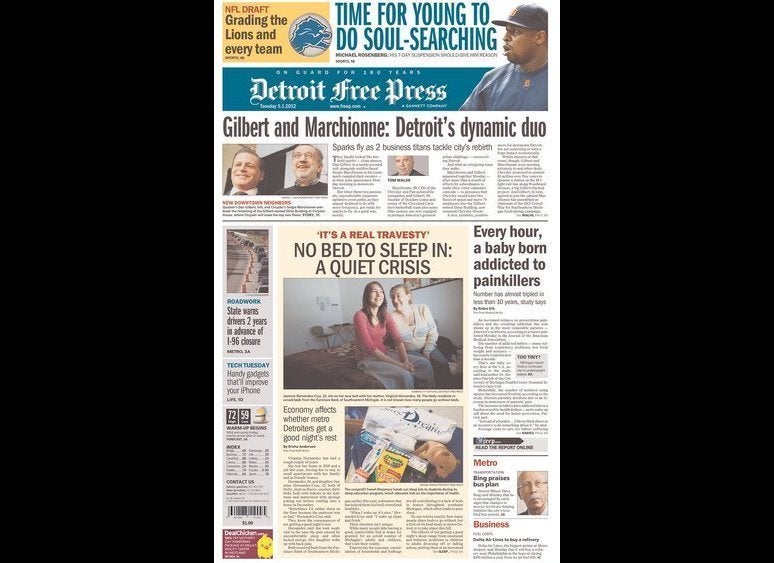 2012 Newspaper Circulation Numbers
Popular in the Community