Layoffs have begun at the New Orleans Times-Picayune, as the paper prepares to transition to a mostly-digital operation.
The media world was rocked in late May when the Times-Picayune announced that, come the fall, it will only print three editions a week.
Since then, T-P employees -- along with their counterparts at Alabama papers with the same parent company, Advance -- have anxiously awaited news of their fates. On Tuesday, top executives met, one by one, with T-P staffers to let them know what would happen to them.
Overall, the paper reported that it was laying off a third of its staff, totaling 202 employees. The Gambit newspaper said that 49 percent of the newsroom was being let go.
Katy Reckdahl, a laid-off reporter, spoke to the local WWL news station about the changes. "I guess I'm trying to figure out how I didn't fit into the new organization," she said. "I think they've torn apart an institution,"
As the ax continued to fall, Jim Amoss, the paper's editor, posted a video on the T-P website.
"This is a difficult week at our paper," he said. "We've had to let go of some wonderful employees. It is a painful transition."
Amoss said that the paper was not "immune" from the broader economic climate facing newspapers, and that "news organizations that don't serve a digital audience as well as their print readers risk a slow death."
Renee Peck, a former T-P writer, reported that heart-rending scenes were being played out within the newsroom:
The first to go early this morning was a longtime copy editor who, ironically, has been overseeing online content for the past decade. When she burst into tears at the news, the supervisor in charge seemed unprepared, and had to duck into the ladies' bathroom for paper towel.
Employees who were laid off were offered severance packages; if they choose to accept the buyouts, they must work at the paper until Sept. 30.
The cuts at the Alabama papers, which are making a similar digital transition, were even more savage. Poynter reported that one paper, the Birmingham News, is seeing its newsroom cut by a shocking 60 percent, with 400 employees let go across all three papers affected by cuts.
Related
Before You Go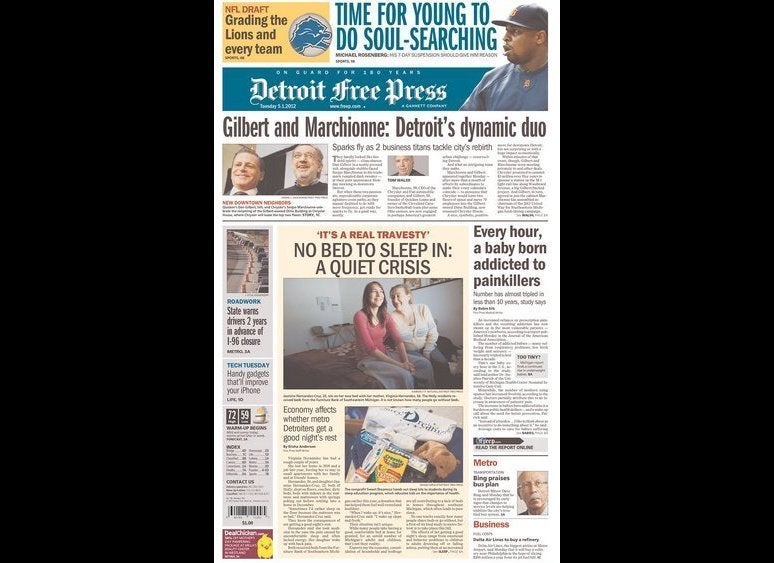 Top 25 Newspapers
Popular in the Community