1. Listen to the eclectic and quirky street musicians strumming on makeshift drums and stringed instruments. Total cost: Free but leave a tip if you're inclined.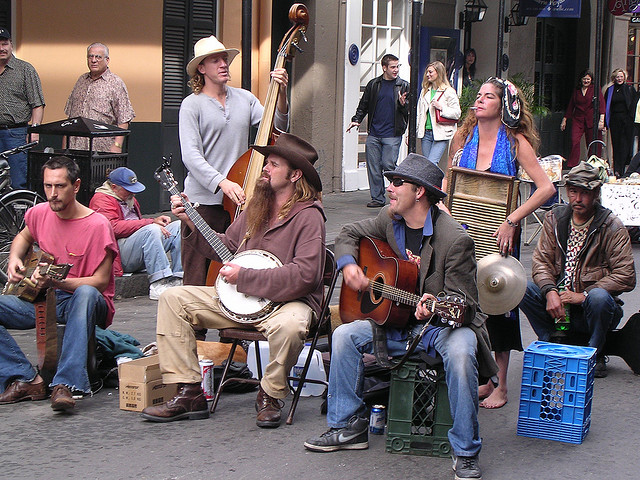 Photo credit: kerinin via Flickr
2. Order fresh crawfish for a taste of the local cuisine. During the spring, there are often free crawfish boils, but if you're bound and determined to dine, check out Deanie's Seafood to order up a dish of your own. Total cost: Under $10.00.
3. Wander the Crescent City Farmers Market on Saturday morning. If you're lucky, you'll encounter cooking demonstrations and have the opportunity to learn a bit about New Orleans' cuisine. Total cost: Free.
4. Take a walking tour of Algiers Point using a guide that can be picked up at the national park office. Total cost: Free.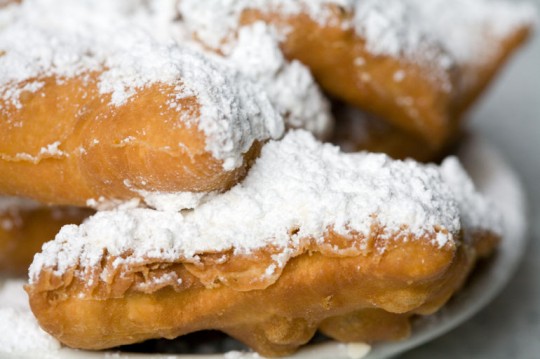 5. Indulge in fresh beignets dipped in powdered sugar and a warm beverage to start your morning at Café du Monde. Total cost: Under $5.00, depending on your beverage choice.
6. Get your art on at the Besthoff Sculpture Garden, which features more than 60 sculptures from artists all over the world. Total cost: Free. There is also a free audio tour which is accessible through visitors' cell phones.
7. Take advantage of the city's awesome photo opportunities. New Orleans has several Catholic churches including St. Louis Cathedral, St. Augustine, and Our Lady of Guadalupe, all of which are picture-worthy. Total cost: Free.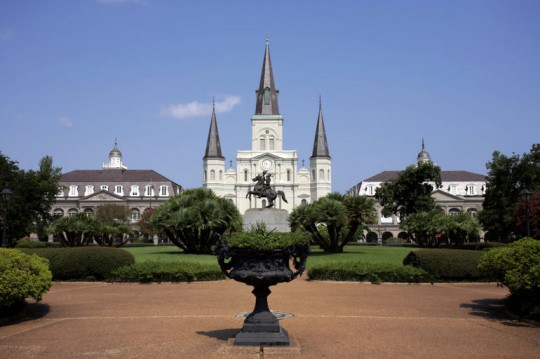 8. Give your legs a rest and ride a streetcar instead. Three different lines originate in the downtown area but then crawl out to other parts of the city. Total cost: One-way fares are $1.25.
9. Go for a float on the Canal Street ferry, which offers great views of the New Orleans skyline and transports people from the French Quarter to Algiers and back several times a day. Total cost: Free.
10. Walk in the footsteps of literary greats with a walking tour. A number of famed authors found inspiration in New Orleans including Tennessee Williams, William Faulkner, Truman Capote, Thornton Wilder, Walker Percy, and Anne Rice. Total cost: Free, if you look up a walking tour online before pounding the pavement.
11. Immerse yourself in the sights and sounds that fringe New Orleans when you ride along the city's levee on a bike. Total cost: Rentals start at about $6.00 per hour.
12. Wander through the Garden District and admire the historic architecture. There are self-guided walking tours available, but an informal stroll is also worthwhile. Total cost: Free.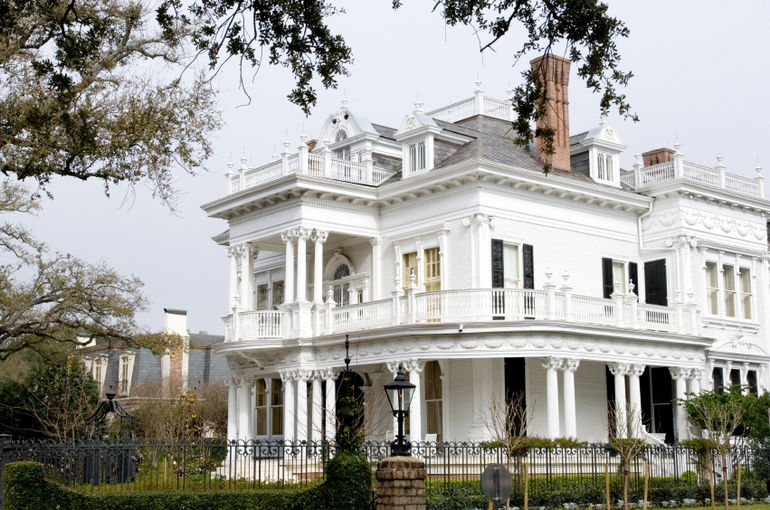 13. Learn about the history of Mardi Gras and what goes into the annual celebration of krewes, parades, and balls every year with a visit to an ongoing exhibit at The Presbytere. Total cost: $6.00.
14. Relax in a local park. New Orleans' city parks have open areas shaded by robust trees, offering the perfect place to unwind after a busy day in the French Quarter. Audubon Park and Woldenberg Park are two favorites. Total cost: Free.
15. Cool off with one of New Orleans' famed snowballs. Found around the town, these tasty cool treats are essentially crushed ice and flavored syrup. Total cost: As low as $1.50.
16. Admire the chilling but famous above-ground tombs in the city's cemeteries. You can take a guided walking tour, but wandering around on your own is equally rewarding. St. Louis Cemetery No. #1 on Basin Street is the final resting place of Voodoo Queen Marie Laveau. Total cost: Free.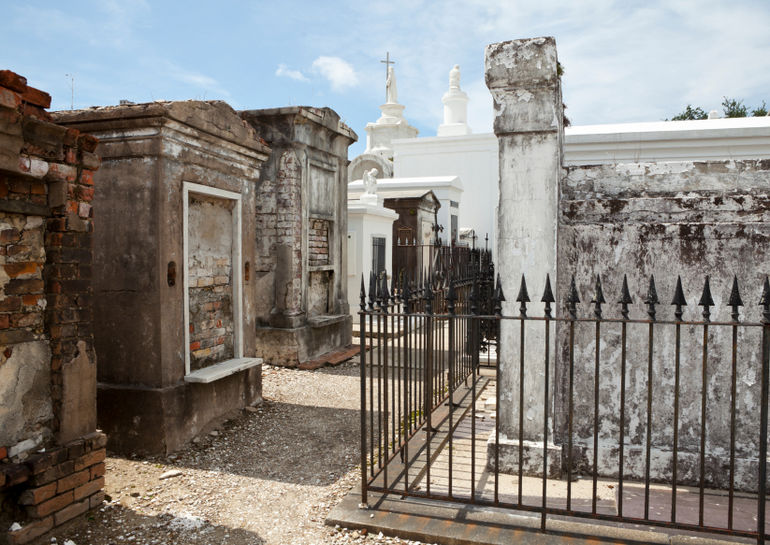 17. Party down at one of New Orleans' festivals. Travel in spring and summer for an array of festival choices including the French Quarter Festival, NOLA Navy Week, and Vieux to Do, which combines three events. Don't forget Mardi Gras in February! Total cost: Free.
18. Request a song by the dueling pianos at Pat O'Brien's. While you're there, order the Hurricane, the bar's famous cocktail. Total cost: Your beverage of choice (the Hurricane is $8.00) and a tip for the pianists.
19. Tour the Old Ursuline Convent, the oldest building in the Mississippi River Valley, which has finely crafted woodwork, noteworthy artwork, and gardens. Total cost: $5.00.
20. Appreciate the work of local artists throughout the city. Stop by galleries on Julia and Royal Streets, browse the Mid-City and Bywater art markets, and peruse the goods sold by vendors in Jackson Square. Total cost: Free.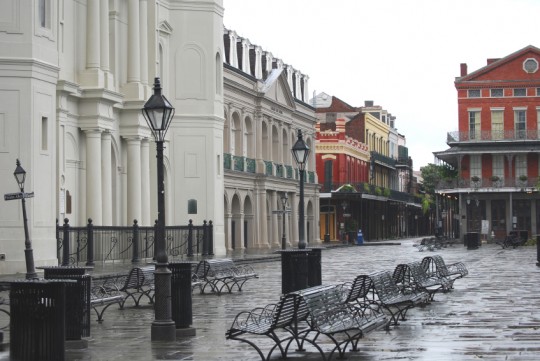 21. Sharpen your knowledge about New Orleans and Louisiana with a stop at the Royal Street Galleries (533 Royal Street), which has a handful of exhibits that are budget friendly. Total cost: Choose from three different tours, each $5.00.
22. Admire the architecture and curious personalities of the New Orleans with a casual stroll through the French Quarter. Total cost: Free.
23. Browse through the city's collection of voodoo potions at the New Orleans Pharmacy Museum, the first licensed apothecary in the country and home to an extensive collection of antiquated medical equipment and cures. Total cost: $5.00.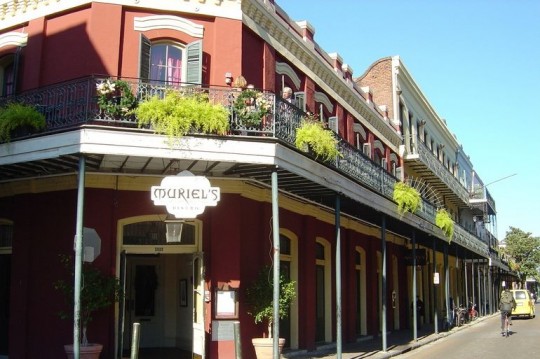 24. Rock out at Wednesday at the Square, an annual spring concert series put on by the Young Leadership Council. Total cost: Free. Food and drink sales benefit the YLC.
25. Be awed by the Louisiana Superdome, home to many major conventions and sporting events, including Super Bowl XLVII, which will be held there in 2013. Total cost: Free.
26. Leave your legacy at the Old Absinthe House, a building constructed in 1807 with a rich history steeped in the famous green concoction after which it is named. People have been leaving their calling cards on the wall for years, and you're welcome to add yours. Total cost: Free.
- JoAnna Haugen for Viator
Support HuffPost
A No-B.S. Guide To Life
Related
Popular in the Community