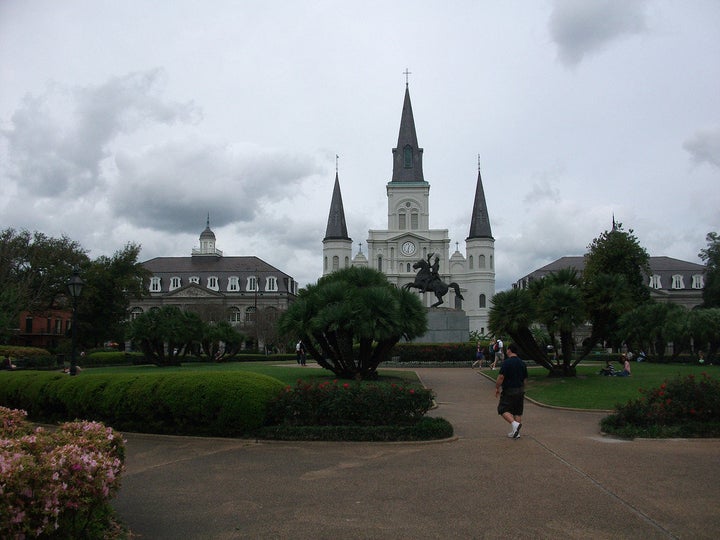 I think I had more fun in New Orleans than any city I've visited in the USA. While full of tourists, it's also bursting with culture and a contagious love of life that seems to thrive oblivious to its many visitors. At the airport, volunteers slip the famous bead necklaces over your head, like a lei in Hawaii, and greet you with "Laissez les bons temps rouler" -- Cajun for "Let the good times roll."

I was having a long-overdue father-daughter rendezvous with Jackie as a kind of pre-graduation party weekend (she finishes up at Georgetown University this May). Neither of us had been in New Orleans before, so it was all equally new.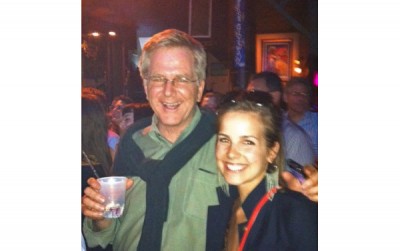 New Orleans--a great place for a father-daughter getaway.
Canal Street, famous as "the widest street," separates the high-rise modern city from the delightfully characteristic, grid-planned French Quarter. The French Quarter seemed filled with spirited, one-off shops, bars, and restaurants-and almost no chains. Our hotel, the International House, was perfectly located-near great restaurants, a five-minute stroll from French Quarter (where I wouldn't want to sleep as it's so crazy), and with a wonderful staff. Getting tips from Stephanie at the help desk, I thought New Orleans would be the best city in which to be a concierge. There's so much to recommend, and things are so accessible, cheap, and fun-loving.

The must-sees for us: a Mississippi cruise on the steamboat Natchez, Bourbon Street, Frenchmen Street, the thriving French Market, Jackson Square with its history museums, great food, lots of blues and jazz in the bars, and an eye-opening tour of the Ninth Ward to see the Hurricane Katrina damage-and progress made in the seven years since the disaster.

Tips: Take advantage of the freedom to carry your drink out of the bar. They all have "Go Cups," and it just seems right in this alcohol-fueled city to be strolling with some booze in hand. Seek out and enjoy better restaurants-either classy or bohemian-chic. While the good places always have a line, we found sitting at the bar got us in immediately and made for a fun experience. Bring a sweater, as people here seem to love having their air-conditioning on strong.

For evening entertainment, there is a world of action. Like Memphis and Nashville, the music scene is a mobile feast. Stroll the streets known for live music, and pop in wherever you hear a sound you like. There's generally no cover-just buy a drink and drop some cash into the musicians' big tip jug. While Bourbon Street is exhaustingly and depressingly bawdy, rowdy, and alcoholic, it's worth strolling just to imagine how crazy it must be during Mardi Gras.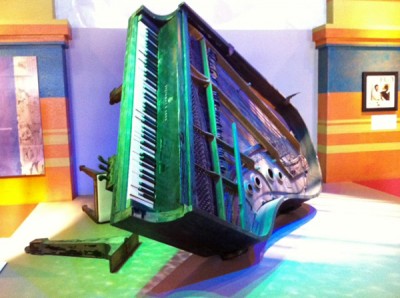 At the city museum, the piano of Fats Domino is displayed in the way it was found after Hurricane Katrina ruined his home.

We made a point to walk the length of Bourbon Street at the end of each night on our way back to the hotel. The antebellum, wrought-iron balconies were lined with revelers tossing those "girls gone wild" beads; they shouted their cat calls just as they would if it were Mardi Gras. I enjoyed Frenchmen Street much more. There must have been 10 bars with live music and all but a couple without cover charges. Don't neglect the street-music scene here either. Two of our favorite groups were just jamming in doorways. And the "Sixty-Year-Old Rapper with a Bad Knee" sang his theme song balancing atop someone's front-yard fence.

To give the city context physically and historically, we took the standard, two-hour bus tour ($25, leaves twice a day, picks up from hotels, great live guide) which gave a fine, "once over lightly" of the city. To get a historical context (and to imagine the French Quarter when it was actually the French Quarter)-head for Jackson Square, which is named for our seventh president, Andrew Jackson, the hero of the Battle of New Orleans-the last time we fought the British. Flanking the stately St. Louis Cathedral are two historic buildings-the Cabildo and the Presbytere-now housing the city's top museums. You'll get the standard history-and there's lots of it, including the Louisiana Purchase story (its final documents were signed in one of these buildings) and a powerful exhibit describing the deluge of suffering and chaos that came with Hurricane Katrina in 2005. And to finish your orientation, relax on the steamboat Natchez-a characteristic paddleboat that cruises down the Mississippi and back. Its great narration explains the importance of the river historically as well as pointing out interesting sights along the way (2 two-hour cruises daily, $25).
It's hard to imagine the chaos, horror, and destruction of Katrina seven years ago. But a tour of the poor black neighborhood which was essentially destroyed by the flooding is both fascinating and emotional. The Ninth Ward was cut off from city services by an industrial canal built in the 1920s to connect Lake Pontchartrain and the river. All over New Orleans, the fanciful wooden domestic architecture is charming-and the Ninth Ward is no exception. Even the poorest homes were built with panache.

But today, vast swaths of the neighborhood remain overgrown, boarded up or simply gone. After the hurricane, homes built on a concrete slab left only the slab. Homes built on stilts in anticipation of flooding left absolutely nothing.

By contacting the Lower Nine Organization (www.lowernine.org), we enjoyed a private tour by car with a person dedicated to rebuilding this sad neighborhood. While there's been plenty of construction and lots of good-spirited relief work and volunteer labor, there are plenty of bureaucratic frustrations and still plenty of abandoned homes filled only with black mold. "Katrina Crosses" -- markings spray-painted onto doors by rescue workers that indicated in a kind of tic-tac-toe code what was checked at that address (and if there were any casualties) -- still remain. Walking past houses awaiting stripping and rebuilding, it's hard to imagine those days when street signs were swept away, refrigerators were hot boxes of food turned to mold, and most of the population was holed up in Houston evacuation camps.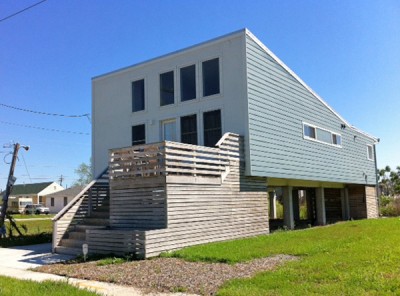 In New Orleans' flood-devastated Ninth Ward, new homes are built on stilts...just in case.
I can't remember enjoying eating anywhere in the U.S. as much as in New Orleans, which could have been thanks to trusting Jackie's restaurant selection. The guidebooks seemed to agree with the locals about the best places, and we went four for four. August, the flagship restaurant of famous local chef John Besh, was delightful for high cuisine, a rich setting, wonderful service, and a chance to enjoy traditional dishes with the very best local ingredients. Ordering three courses and sharing, we were surprised to see the servers bring the split portions on separate plates. They brought each dish out at the right tempo and with a loving explanation. Boucherie, in an uptown bohemian-chic neighborhood a short taxi ride from the center, filled a big, old home with great local dishes, elegantly served but without pretense and at a painless price. The Ruby Slipper and Elizabeth's were both great for breakfast. They were crowded, but the dishes-mixing in seafood like I've never seen at breakfast-were worth the wait. At the Ruby Slipper we just slipped right into the bar, and at Elizabeth's we enjoyed a 45-minute wait by taking a neighborhood walk.

That stroll-like New Orleans itself-came with just a twinge of danger (the city has more than its share of muggings), a dash of history (a memorial to the parish's WWI dead), a good measure of dogged pride in the century-old wooden homes with stay-awhile front porches and lovingly crafted eves, the promise of a meal I'd never forget, and a reinforced levee, the symbol of a determination to survive.