I was told elves liked shelves.
Elves don't like shelves, they like magazine-worthy spreads and special effects lighting. They crave crafty staging and creativity, like floral wire holding them up by their toes so they can spring into a bowl of marshmallows.
Elf On The Shelf is not for the faint of heart.
The elf sounded fun at first, in that stay-at-home, this is my life now, I can drink while I do this, kind of way.
I justified Elf On The Shelf by telling myself it would teach my toddler daughter self-restraint and patience. Yes, I am well aware toddlers do not have patience or self-restraint.
I just wanted the Elf, okay?!
A month-long party of elaborate elf mischief was not something our family would miss.
The elf arrived, and our family learned three lessons. The hard way.
Lesson #1: Ho Ho Ho...you silly fools, you have to follow Santa's Rules!
With the elf comes a book. There's a book?
I thought I was just getting an elf.
Upon reaching the last page of Elf on the Shelf, it was necessary to abide by Santa's Rules and name our elf, by entering his name in the book. Where it would remain, forever.
My daughter is too young to come up with a name, so the duty fell to us, as parents. No pressure or anything.
So, we started tossing names around. Naming our firstborn took less time. Weeks later (It had to be perfect, okay? Okay?!) we settled on a name: Wallace.
He's officially William Wallace, because one day we will channel our inner Braveheart by painting him blue and yelling, "Freedom!"
Until that day, plain old Wallace it is.
Lesson #2: Kids Don't Always Appreciate Elf Humor.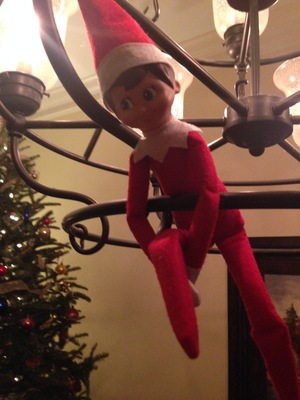 Initially, Wallace took it easy and participated in somewhat boring elf mischief. He dangled from a chandelier and perched over the fridge. Our kid tolerated it. She would look at the elf, look at us, and you could just see her shaking her head at her parents' ridiculous waste of time, money, and supposed intellect.
Fine. Let's kick things up a notch. The next morning found Wallace above the sink, perched mischievously on the mirror... with her toddler toothbrush in hand.
As soon as she saw him, our sweet girl turned into an angry little monkey. Pounding her chest, pointing her finger, shrieking, "Mine! Mine! Mine!"
Don't forget, we're not allowed to touch the darn thing. It's not like I could just hand her the toothbrush. What if the elf fell? What would happen then?
We'd touch it and a precedent would be set. Not an option.
Parenting Fail. Don't let the elf touch your toddler's stuff, okay?
Toddlers are a wee bit possessive.
Lesson #3: The Trick is To Back Off.
So, we gave up. Called it quits. Said we would "try again next year."
I'm not torturing my child in the name of Christmas spirit. Frankly, I'd be PO'd if some prissy little elf stole my stuff every night, too.
Due to her father's inability to admit complete failure, Wallace continued to relocate nightly.
Then a funny thing happened. Maybe because Dad is way more relaxed and doesn't make a big deal about where Wallace's newest stalking position would be, but our daughter started to like Wallace. Every morning, a house hunt ensued to discover where Wallace has decided to hang out.
The elf is always resting. On nothing that belongs to our toddler.
It's not exciting. It's not Pinterest-worthy. The most exciting position the elf experienced after the toothbrush debacle was assuming the position to potty over a hanging lantern.
Maybe This Year...

Wallace watches me, and he waits, with a gleam in his eye. Soon it will begin again.
He knows I dream of the fun, crazy mischief the two of us will create.
I got the Pinterest board ready.