Ok, I'm biased -- but when I saw the first rough cuts of Discovery Channel's new 24-hour eco-lifestyle network Planet Green, I was really blown away. They took what could be, well ... boring educational content and as I should have expected (it is Discovery after all) made it really entertaining to watch. Come for the entertainment, stay for the learning!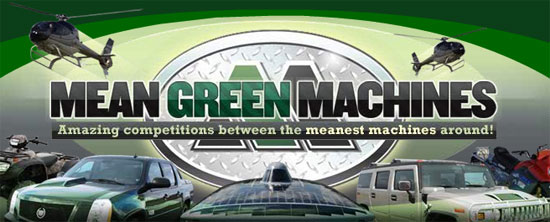 The genius in the programming is that it focuses on both the dark and the light shades of green. So reducing fuel consumption: Maybe your knowledge stops at the Toyota Prius. You want to do your part, but what is out there anyway?
"Mean Green Machines" stars an ATV, a Land Rover, a motocross bike, motorcycles, an S.U.V., and even aircrafts. Is there a line to be drawn in the sand? A tough call...there's even a hybrid monster truck out there. We may see some silliness but heck, this is the early days and as Adam from Method says 'Progress, not Perfection" should be our aim.

In "G Word," hosted by MTV's SuChin Pak and CBS News correspondent Daniel Sieberg, the concept centers on the idea that green doesn't mean hippie -- such a limiting box.
HuffPost founder Arianna Huffington will be on Supper Club, which brings a celebrity chef and four celebrities together for a green meal.
We also have some neat ways to celebrate the launch. For example, if you live in New York, you might see people on the street giving out subway passes, reusable shopping bags (paper or plastic? neither!), green guides, organic t-shirts, recycled plastic Frisbees and our new book; Ready, Set, Green. Plus, Planet Green and The New York Post have teamed up to give away 250 green bikes.
Planet Green is the first of its kind, a real milestone. I'm excited to see what happens.
Related
Popular in the Community