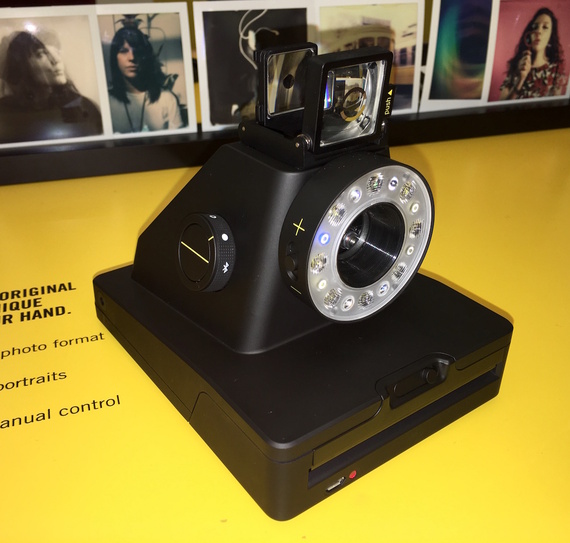 Once upon a time, the coolest camera in the world was the Polaroid Swinger, a $19.95 instant camera that I got for a bar-mitzvah present in 1968 (or so a faded memory tells me). All the kids wanted one back then, thanks the incessant ear worm commercial jingle, apparently sung by Barry Manilow in a spot starring a pre-Love Story Ali McGraw.
An appropriately-named Dutch outfit called the Impossible Project wants to defy the odds and current consumer photo behavior in this Instagram/selfie age by bringing back the coolness of the Swinger and instant cameras in general with its Polaroid-inspired I-1 model. The I-1 is now on sale at the MoMA Design Store in SoHo in lower Manhattan, where the company held a chic coming out party last week, for $299, but it will be available via the usual consumer technology retail suspects on May 24.
Looking like something Dr. Who designed with Jules Verne, the goth black I-1 features a pop-up viewfinder and a prominent LED ring flash that doubles as a shots-remaining counter. It accepts 8-shot film cartridges, $20 for either arty black & white or color, that look identical to Polaroid's.
One drawback: black & white photos need 5-10 minutes to fully develop, a bit longer for color, vs. 10-30 seconds for shots from the Swinger. IP says it's working to speed up this not-so instant gratification - and, no, despite what André 3000 sings, shaking the photo won't speed up the process. One improvement: Impossible Project moved the battery from the film cartridges to the camera; you'll have enough juice to shoot through 20-25 cartridges with flash, 40 without, before you'll have to recharge its lithium-ion cell.
But what's behind this retro camera, and will anyone be interested?
IP was founded eight years ago when a Polaroid film plant in Enschede, Holland, two hours east of Amsterdam near the German border, was on the brink of demolition. The factory's chemists and engineers insisted they could re-create Polaroid's instant film developing formula, even improve it, so the folks behind Impossible Project, enthusiastic to save Polaroid, bought the facility.
With the factory's purchase and reassembly, Impossible Project, the world's lone Polaroid film manufacturer, saved the estimated 200 million Polaroid cameras still on the market from becoming doorstops. According to IP, the company continues to make both color and black & white film for Polaroid 600-type, SX-70 and Image/Spectra cameras, as well as large format 8x10.
The desire to develop a new instant camera surprisingly came from someone wa-a-a-ay too young to remember the Swinger or even Polaroid's heyday. The I-1's project leader is Oskar Smolokowski, a now 26-year-old who could be Shaggy's older hipster smarter brother. A mechanical engineer and Polaroid aficionado, Smolokowski impressively became IP's CEO in January 2015.
"We've been dreaming of our own camera since day one," says Smolokowski. "We didn't want to rely on nostalgia - we believe that an instant camera rightfully belongs in 2016. At the same time, there were technical realities we just couldn't change, leaving a clear connection to the past which feels right."
Just how "right" or cool the I-1 will be, if today's short-attention-span generation will wait 5-10 minutes for a physical photo, and if they're willing to pay as much for an old-fashioned camera as they would for a smartphone with a high-resolution camera, all remains to be seen.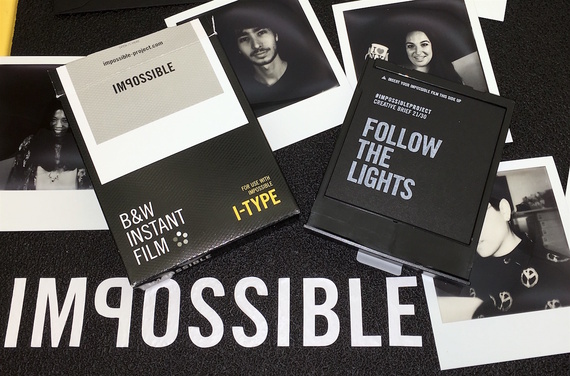 Calling all HuffPost superfans!
Sign up for membership to become a founding member and help shape HuffPost's next chapter