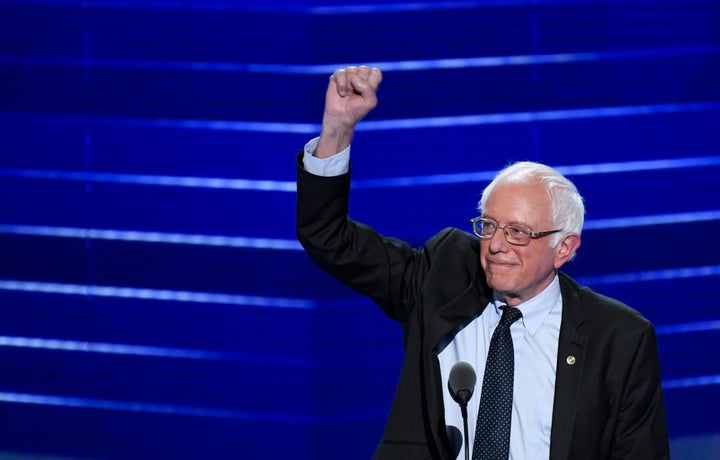 That is the main takeaway of a new survey conducted by Democracy Corps, a Democratic-affiliated polling firm, on behalf of the Roosevelt Institute, a progressive think tank.  
Joseph Stiglitz, the Roosevelt Institute's Nobel Prize-winning chief economist, and Stanley Greenberg, founder of Democracy Corps, analyzed the implications of the research at a panel discussion for attendees of the Democratic National Convention and members of the media in downtown Philadelphia on Thursday.
As part of a survey of 900 voters, Democracy Corps tested two different variations of the "stronger together" message of Hillary Clinton's presidential campaign.
One version, which the pollsters called "build on the progress," celebrates the economic gains of the Obama presidency. It proposes policies like infrastructure investment and paid family leave to lock in those gains and ensure they are better distributed.
Another version, which Democracy Corps called "rewrite the rules," portrays an economy that is fundamentally broken and a rigged political system that prevents ordinary American voters from making changes that would improve their lives. Unlike "build on the progress," it insists that ending the "stranglehold of big money on our politics" is effectively a prerequisite for achieving other progressive priorities.  
While "rewrite the rules" does not identify itself as the Sanders campaign message, it closely mirrors the Democratic presidential candidate's primary-season pitch to disenchanted voters.
They then compared the performance of the two messages to a "nationalist economic" narrative of the kind being peddled by Donald Trump. The latter message claims that the United States is being ripped off by countries around the world, as well as unauthorized immigrants, and needs a veteran of the business world to look out for American businesses and workers.
Unsurprisingly, millennials, people of color and unmarried women ― all key Democratic constituencies ― strongly preferred both "stronger together" messages over the Trump-like "nationalist economic" one.
But the three groups also favored the "stronger together + rewrite the rules" by a larger margin than the "stronger together + build on progress" message.
Fifty-nine percent of millennials, 67 percent of minority voters and 54 percent of unmarried women viewed the "rewrite the rules" message positively. By contrast, 45 percent of millennials, 53 percent of minorities and 52 percent of unmarried women liked the "build on progress" message.
Clinton's overall margin of victory against Trump jumped 4 percentage points among all the voters surveyed after they were introduced to the "rewrite the rules" message, resulting in a 46 percent to 39 percent win. By contrast, Clinton's margin of victory actually declined by one percentage point after survey participants heard the "build on progress" message, yielding a narrower Clinton win of 43 to 41 percent.
When they say things are not going well, they know what they're talking about.

Joseph Stiglitz, Nobel Prize-winning economist
As even Democracy Corps' numbers suggests, there is more than one way to win an election.
But the subtext of Thursday's event is an ongoing fight between the progressive wing of the Democratic party ― exemplified by Sanders and Massachusetts Sen. Elizabeth Warren ― and a more business-friendly branch dominated by elite donors.
The progressive wing of the party believes that the rising income inequality and flat median income of the Obama years demonstrated that more dramatic action is needed to make the economy work for ordinary Americans. They tend to reject new trade agreements like the Trans-Pacific Partnership negotiated by President Barack Obama; embrace deficit spending; promote policies that strengthen labor unions; and view campaign finance reform as a key component of accomplishing all of those things.
Seventy-one percent of Americans believe the economy is "on the wrong track," according to the Democracy Corps poll.
"When they say things are not going well, they know what they're talking about," Stiglitz said on Thursday, before sharing a series of statistics to substantiate his point.
"The median income of a full-time male worker is lower than it was 42 years ago," he added. "The real wages at the bottom are roughly comparable to where they were 60 years ago."
Regardless of Clinton's political options, Stiglitz, Greenberg and many progressives in the audience expressed a hope that she will pursue a more populist path to the White House, which they believe will create the political rationale for a progressive agenda once she is in office.
Clinton even told Sanders supporters that they have a role to play in her campaign and her governing agenda.
"To all of your supporters here and around the country, I've heard you," she said Thursday night at the Democratic National Convention. "Your cause is our cause."
Clinton referenced the progressive Democratic Party platform that her supporters wrote in conjunction with Sanders backers.
"Our country needs your ideas, energy and passion," Clinton added. "That is the only way we can turn our progressive platform into real change for America. We wrote it together ― now let's go out and make it happen together."
Clinton also promised to restore jobs that can provide Americans with decent pay.
"My primary mission as president will be to create more opportunity and more good jobs with rising wages right here in the United States," she said. 
But appealing to the business-friendly, educated Republicans and independents turned off by Trump has arguably been a larger theme at this week's Democratic National Convention in Philadelphia than promising to "rewrite the rules" of the economy. Convention speakers have included fiscally conservative independents like former New York Mayor Mike Bloomberg and former Reagan administration speechwriter Doug Elmets.
Speeches by Obama, vice presidential candidate Sen. Tim Kaine (D-Va.) and others were sprinkled with references to Republicans supportive of Clinton's campaign.
After Bloomberg's ripping speech Wednesday night, Reihan Salam, a conservative policy analyst, wrote in Slate that Democrats are increasingly a party that caters to a coalition of socially liberal and fiscally conservative members of the upper middle class, which he nicknamed the "Bloombourgeoisie" for Bloomberg.
"Going forward, one can imagine a battle for the Democratic Party's soul that will pit the Bloombourgeoisie against the Sandernistas with both factions fighting to win over working- and lower-middle-class minority voters," Salam wrote.
As Salam notes, Trump's candidacy appears to have only accelerated an exodus of well-off, highly educated Americans from the Republican Party that was already underway.
Obama won eight out of 10 of the country's wealthiest counties in 2012. And a majority of the top 4 percent of earners ― those making $220,000 or more ― voted for Obama in 2012, marking just the third time that a majority of that cohort did not go for the Republican candidate since 1964.
Obama's electoral victories show Democrats can win nationwide with the help of Bloomberg-style fiscal conservatives, offsetting the shrinking share of the white working-class vote that Democrats now receive.
Greenberg acknowledged that the growing role of ex-Republican, upper-middle-class voters in the Democratic coalition endangers the chances of the party's progressive wing.
"It gets harder and harder to have this battle," he concluded. "That's why we have to have it in this election."
Calling all HuffPost superfans!
Sign up for membership to become a founding member and help shape HuffPost's next chapter
BEFORE YOU GO
PHOTO GALLERY
Decades Of Bill Clinton At The DNC