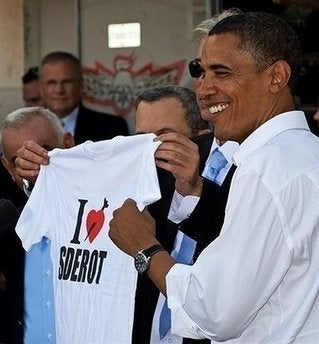 Even more positive news from Barack Obama's trip to the Middle East: a new poll by Israel Radio shows, for perhaps the first time, Israelis preferring Obama to John McCain.
When asked "who would you rather see elected as the next president of the United States," Obama bested John McCain by a 37-28 margin. While far from a decisive advantage -- 35 percent of Israelis chose "no preference" or some other answer -- the poll reflects a notably different state of affairs from previous surveys, which generally showed McCain with a large advantage over Obama.
Obama's competitiveness spanned the political spectrum across Israel's top three parties. The Illinois Democrat trounced McCain among Israel's most liberal voters, who belong to the Labor Party (44-6), tied among more right-wing Likud voters (28-28), and held a slight edge among sympathizers of the Kadima Party, which is led by Israeli Prime Minister Ehud Olmert (40-32).
The survey of 600 respondents taken this week, likely before Obama landed in Israel, also found that more Israelis believe Obama would be a better president for the Jewish state, 31-27. (Forty-two percent registered other responses.)
These latest numbers contrast sharply with other recent polls, one of which gave McCain a 36-27 edge, while another showed 46 percent of Israelis believed that McCain would be a better president for Israel.
One other interesting data point from the poll: at least some of the respondents who said they hoped to see Obama elected also believe that McCain would be a "better president" for Israel. Independent analyst and Israeli political adviser Dahlia Scheindlin said that phenomenon can be chalked up to the fundamentally unsettled quality of Israeli public opinion about Obama.
"They love the Israeli-American relationship so much they're slightly afraid for things to change," she said. "So he's trying hard to let people know more about him." Noting that the same rumors about Obama's Muslim "ties" that dog the Illinois Democrat in America also persist in Israel, Scheindlin said, "in the same breath, people can say, 'maybe that's actually a good thing for us.'"
Of course, while the impact of foreign public opinion means nothing to the electoral college, the attitudes of Israel's citizens could potentially impact the way the diaspora views Obama in turn. Since recent polls of have shown Obama with less of an advantage than previous Democratic candidates have amassed among American Jews, Thursday's poll is an event his campaign can be expected to cheer, if cautiously.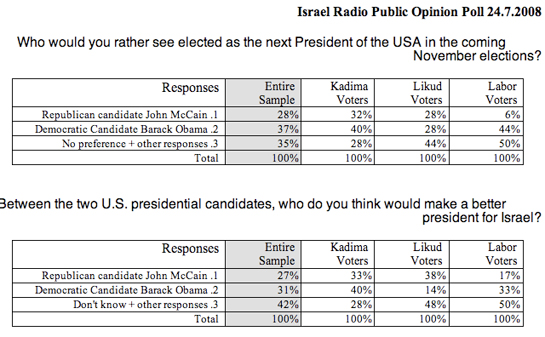 Calling all HuffPost superfans!
Sign up for membership to become a founding member and help shape HuffPost's next chapter