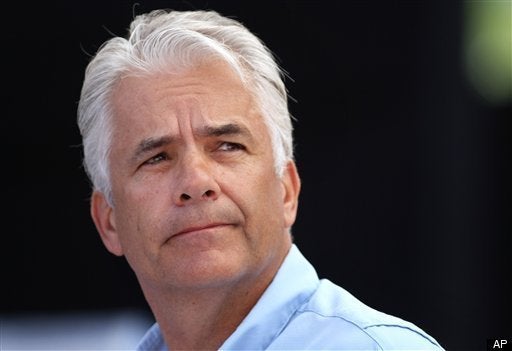 A poll released Thursday found John Ensign (R-Nev.), who has undergone multiple ethics investigations over the past two years, could face an uphill battle if he aims to keep his Senate seat in 2012.
The poll, conducted by the Democratic firm Public Policy Polling, found Ensign trailing all four of the Democratic rivals tested against him. Rep. Dean Heller (R-Nev.), by contrast, was found to have a lead over each of those Democrats.
Democrats tested in the poll included Nevada Rep. Shelley Berkley, Las Vegas Mayor Oscar Goodman, Nevada Attorney General Catherine Cortez Masto, and Nevada Secretary of State Ross Miller.
The poll showed Ensign's approval rating at only 35%, while 50% say they disapprove of his performance. By contrast, Senate Majority Leader Harry Reid (D-Nev.) -- who narrowly won reelection in November after numerous state polls showed him trailing his opponent Sharron Angle -- had a 46% approval rating in the poll, with 50% disapproving.
The poll was conducted among 932 Nevada voters between Jan. 3 and Jan. 5. It has a margin of error of 3.2%.
PPP has not yet released numbers for the Republican primary from this poll, but their previous poll from Oct. of 2010 showed Ensign with the lead in a possible primary matchup against Heller.
If Nevada Republicans perceive that alternatives to Ensign might perform better against Democrats in 2012 elections, that could hurt Ensign's chances in the primary. As PPP Director Tom Jensen noted on Wednesday, 68% of Republicans in the most recent poll said they wished they had nominated someone other than Sharron Angle to oppose Harry Reid last year. PPP's final 2010 poll in Nevada showed an alternate candidate, Danny Tarkanian, performing much more strongly than Angle against Reid, and most observers believe that choosing Angle in the primary hurt Republicans' chances of winning Reid's seat last fall.
Popular in the Community