In a campaign season in which most polling news tends to bring good news to Democrats, yesterday's delivery is remarkably strong for the McCain campaign and should serve as a reminder that, however much red states like North Carolina and Alaska have shifted blue, Obama is very far from having put away the states he needs to win the presidency:
First, Obama is unable to open any sort of significant lead in Gallup and Rasmussen's national tracking polls, despite predictions that he would benefit from the intense coverage of his foreign trip. The two candidates are tied at 46% in Rasmussen and Obama has a 3% lead (down from 6% yesterday) in Gallup in what is Gallup's first poll entirely taken after Obama left the United States.
In Ohio, Rasmussen contradicts yesterday's PPP survey and finds McCain with a solid lead: 46% to 40%, 52% to 42% with leaners. That's an improvement over the 1% edge he had last month. Obama's favorability rating is only at 50%, compared to 57% for McCain.
In New Hampshire, ARG revists last month's finding that Obama had a large 12% lead and finds him ahead 47% to 45% thanks a slight lead among independent voters.
In Florida, ARG also shows the numbers shifting in McCain's direction. Contrary to the 5% lead Obama enjoyed last month, McCain now gets 47% to Obama's 45%. The sample's partisan breakdown is good for Democrats, but Obama only gets 73% of the Democratic vote. The two candidates are tied among Hispanics, suggesting the Cuban vote remains solidly anchored in the Republican camp.
In Michigan, the reputable pollster EPIC-MRA finds a toss-up, with Obama narrowly besting McCain 43% to 41%, well within the survey's margin of error. McCain was ahead by 4% in EPIC's May poll, so this is progress for Obama, but it is also much closer to what other recent polls had been suggesting.
Only in Colorado does Obama's situation improve in Rasmussen"s latest poll. The Democrat leads 49% to 42% but only 50% to 47% with leaners included. Here again, Obama has a problem with his favorability rating: 48% of respondents view him unfavorably (31% very) versus 39% for McCain.
For McCain to be leading in a poll from Ohio and from Florida on the same day while also pulling into a toss-up in Michigan's most reputable poll is certainly cause for Republicans to celebrate, particularly when both the FL and OH surveys show the Arizona Senator progressing by 7%. This also serves as a reminder that toss-up states (like Ohio) are defined not only by consistently tight results (as we have seen in New Hampshire yesterday and today) but also by the fact that there is no agreement between polls as to who is leading or by what margin.
What is especially problematic for the Obama campaign is today's polls is the high unfavorable ratings he is suffering from, not only in Ohio but also in Colorado. In both of these states McCain does disproportionately well when leaners are pushed (gaining a net 4% in both states), suggesting that undecided voters have a surprisingly negative view of the Illinois Senator. This echoes the ceiling problem I talked about yesterday -- but that discussion concerned Southern red states, not swing states in which Obama has to do well.
Obama has to go from the low-to-mid 40s to the high 40s in swing states. It is obvious that this will not be easy in the red states he is targeting; but his high unfavorables in states like Ohio and Colorado could be more damaging.
That said, Colorado remains a huge problem for McCain: he has never led in an independent Colorado poll and this is the day's only poll in which he shows no progress. With Colorado and Iowa, Obama would only need two more electoral votes to reach the presidency -- and a lot of states to get those from.
Down-the-ballot polls were also released today from two crucial Senate races Democrats are counting on:
In New Hampshire's Senate race, ARG finds Sen. Sununu drowning. After trailing by 14% in the last two polls of the group (a margin that we found in other institutes as well), Sununu is now distanced 58% to 36% by former Governor Jeanne Shaheen. That includes an 18% lead among independents.
In Colorado's Senate race, however, Rasmussen is back to finding a toss-up after two months of Udall expanding his lead. He is now ahead 47% to 43% for Republican Bob Schaffer, 49% to 46% with leaners.
Both parties can celebrate over these numbers. Some Republicans want to believe that John Sununu can catch up to Jeanne Shaheen and that his war chest will allow him to hit back in the coming months. Every poll that comes out finds the Democrat up double-digit, and by a smashing 22% in ARG's latest poll. The GOP is increasingly entering Santorum-territory in this race, and there is little evidence that New Hampshire voters are willing to give any Republican but John McCain a chance.
On the other hand, Mark Udall has been unable to pull ahead for a year now despite predictions that it would be difficult for the GOP to hold on to this open seat. While polls in recent months have found Udall starting to inch ahead to a high-single digit lead, that is the least that we could expect given that Schaffer has been hit by controversies (including his connections to Jack Abramoff). And Rasmussen's poll suggests that Udall has still been unable to open a comfortable lead.
Read More at Daiel Nichanian's blog, Campaign Diaries.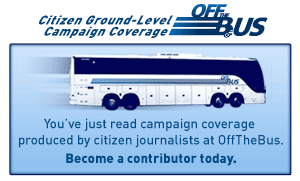 REAL LIFE. REAL NEWS. REAL VOICES.
Help us tell more of the stories that matter from voices that too often remain unheard.