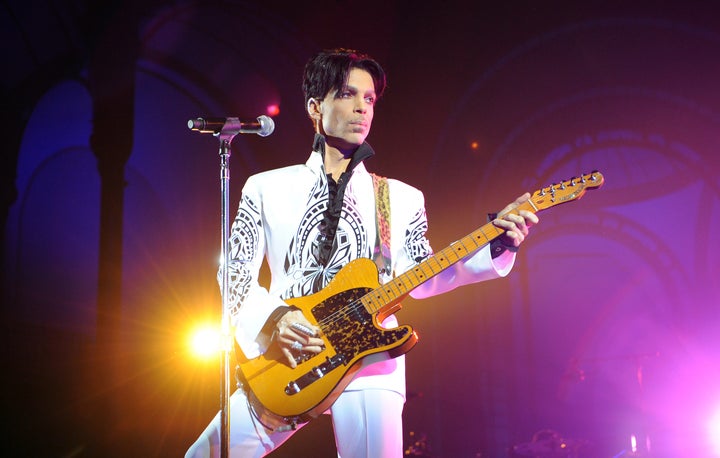 When it rains Prince, it pours ― purple or otherwise.
In honor of the one-year anniversary of the pop star's death, a posthumous EP titled "Deliverance" with six previously unreleased tracks is set for release on Friday, April 21.
Prince co-wrote and co-produced the new songs between 2006 and 2008 with longtime producer and collaborator Ian Boxill. Apart from the title track, the EP is comprised of the four-part "Man Opera" ("I Am," "Touch Me," "Sunrise Sunset" and "No One Else"), as well as an extended version of "I Am."
Boxill has apparently been working on the music over the last year, completing and mixing the EP to honor his late friend. Prince was found dead at his Paisley Park compound in April 2016. Months later, the death was ruled an accidental overdose of the painkiller fentanyl.
"I believe 'Deliverance' is a timely release with everything going on in the world today, and in light of the one-year anniversary of his passing. I hope when people hear Prince singing these songs it will bring comfort to many," Boxill said in a statement. "Prince once told me that he would go to bed every night thinking of ways to bypass major labels and get his music directly to the public. When considering how to release this important work, we decided to go independent because that's what Prince would have wanted."
As the singer was an independent artist when the songs were recorded, the new music will be released under an indie label, Rogue Music Alliance, instead of Universal Music Group, which owns the licensing rights to much of his catalogue.
But reports have already begun circulating that a lawsuit has been filed against Boxhill on behalf of Paisley Park and the artist's estate. Per Variety, the parties claim the producer is "trying to exploit one or more songs for his personal gain," stating that the recordings are valued at more than $75,000. They plan to fight for ownership, despite the producer's claims that he owns the recordings.
In the meantime, we can all enjoy it. Listen to the bluesy title track, "Deliverance," below.
Popular in the Community