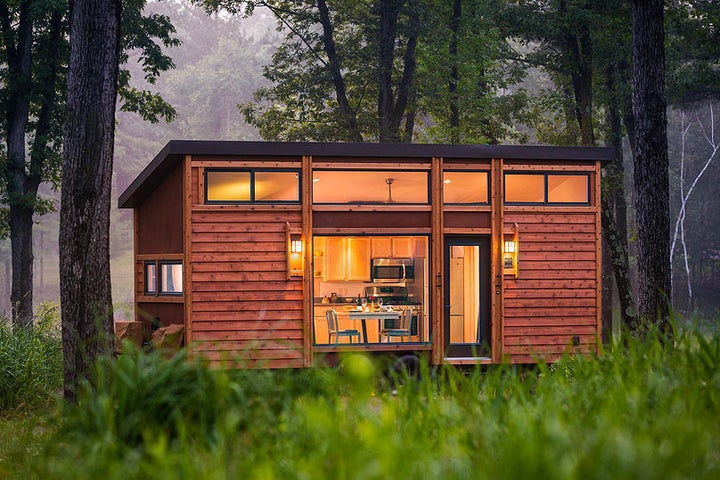 There has been a lot of buzz about tiny houses recently. Some people enthusiastically support it. Others believe that they are suitable for single hippies or homeless people only. Finally, there are those who oppose the whole movement based on tax, investment, building code, and similar reasons.
In reality, you can't put the whole diversity of the tiny house movement into a single box. The houses can be very cheap, with just basic necessities, and fancy, with a price tag of a hundred plus thousand dollars. They can be based on a foundation or on a trailer, on and off grid. For a better mobility, you can even convert a school bus into a tiny home. I've seen some pretty cool projects that made me jealous.
The people living in the tinies are also can't be described in one sentence:
· College students who want to stay out of debt,
· young professionals who are not sure where they are going to end up and not wanting to waste money on short term rentals,
· empty nesters who can't afford or aren't interested in spending a huge part of their retirement savings on mortgage and utilities (or even cleaning this space),
· people who have to move around a lot because of their jobs,
· retirees who move into a tiny home to rent out their main house,
· community activists interested in sustainable development.
Considering the growing popularity of the concept, and thousands of people weighing on the feasibility for them to downsize, I'd like to share a list of new products which I found on a crowdfunding website Kickstarter while designing my own tiny house. Some of them have become available for purchase recently. Others can be pre-ordered with a significant discount and expected to be shipped before the end of this year.
This is the first article in the series which is devoted to water.
In a traditional shower, 97% of thermal energy goes down the drain. These two projects promise to save you money on water and electricity by converting the water flow into an enjoyable mist. There are a couple of limitations to consider through:
· Both of the products require a high water pressure, so if your tiny house doesn't have a water pump, they won't work for you.
· Considering the size of the droplets, they cool down very fast, so having an enclosed glass shower would be much more enjoyable than if you use a curtain.
· You need to have a water heater capable of raising the temperature to at least 115 F as well as kicking on at a low water flow rate.
The project is currently live on Kickstarter. It offers a showerhead that can be installed or removed in a matter of minutes in any bathroom (even in rental apartments). According to the creator, Cirrus provides a spa-like experience while reducing water usage by 75%.
It includes 3 layers of nano-filters to enhance water quality and optional aromatherapy infusers. The eco-friendly cloud-maker water itemizing technology delivers a consistent mist by splitting each drop into weightless nano-droplets. Cirrus droplets yield 10 times larger water surface area decreasing the amount of heat required to shower and increasing thermal efficiency 13 times.
The showerhead itself is available for 79 Euros while the complete system with the filters – for 99 Euros. According to Cirrus, using the shower, an average American family of four will save approximately $817 per year. Shipping is scheduled for December of this year.
Backers of this 2015 year project (which raised over $3 million then) have received their showerheads this spring. Those who pledged on Kickstarter, have paid $269 plus. Now, it is available for pre-order on the company's website at $499 if you buy one unit, $950 for two and $1,350 for three with shipping expected in August. Alternatively, you can buy it on eBay.
Here is how the company describes the experience with Nebia: "The key to truly great showers is how much water comes into contact with your skin. By atomizing water, the Nebia Shower System releases millions of tiny droplets at a high velocity that envelop your body, blending a steam room experience with a traditional shower. With up to 70% water savings, the Nebia experience will forever redefine what you can expect out of your shower."
Nebia includes a magnetic dock, a multilayer filter, two different modes to control the water flow, and the head that glides 25 inches up and down and turns 45 degrees to customize spray pattern for every user.
The third project was live on Kickstarter last fall and now, the backers are receiving their product. Altered Nozzle is a simple device that replaces standard aerators on your faucet and reduces water consumption by up to 98 percent.
It uses the same atomization technology as the products above. Altered Nozzle has two modules for 98 and 75 percent savings. The first one works great for washing hands and products; the second – for filling glasses and pots.
According to the creators, one nozzle saves approximately $255 annually for an average American family. The product is available for purchase on the company's website with prices starting at 39 Euros for one device, 10 percent discount for two, 20 percent – for five, and 25 percent for 10 nozzles. Unfortunately, the shipping costs to the US are very high unless you buy a bundle: from 23 Euro for one device to 33 Euro for ten units.
Model 3 is a Wi-Fi connected tankless electric water heater. The campaign is currently live on Kickstarter and offers the device for $389 (35% discount from the future retail price). The delivery is scheduled for October of this year.
Traditional water heaters have a fundamental flaw: in order to heat a tank full of water, the heating element gets very hot, which causes scaling and rusting, and eventually, failure of the unit. The Model 3, instead of coils, uses a proprietary Ohmic Array Technology to heat water. Through electronic controls, the naturally occurring minerals in your water are excited, producing heat as a byproduct of this process. Nothing gets hotter than the water itself, resulting in zero scaling and corrosion.
The MODEL 3 unit will produce a 41 degree F temperature rise at a 4 gallon per minute (GPM) demand or an 82 degree F rise at a 2 GPM. Plus, you can adjust the current from 30 to 100 Amps and heat water up to 4 gallons per minute. The technology results in faster water on demand heating and reduction of energy costs by 40 percent (approximately $112 per year for a typical American family).
These are some of the products born on Kickstarter that are expected to hit the market later this year. They can offer significant cost savings while adding comfort and enjoyable experiences for tiny house inhabitants or anyone who is interested in sustainability.
I hope the information was useful and will be back with new discoveries soon.
Related
Popular in the Community