Loden Harris, an African-American middle-schooler, has a message for the world: 'There are young black males in Baltimore who are preparing to make a difference in the technical world!'
Along with 40 other young black men from his city, Loden recently participated in a program designed to introduce STEM (Science, Technology, Engineering and Mathematics) to minority youth. The two-year program, called Minority Male Makers, is sponsored by Verizon. Students not only learn tech skills such as coding, but also critical thinking and entrepreneurship.
Verizon partnered with four Historically Black Colleges and Universities (HBCUs) - Morgan State University, Kentucky State, Jackson State and North Carolina A&T, to implement a four-week summer launch of the program. All-day workshops include lessons and hands-on training in coding, robotics, app design and development, and 3D modeling, design and printing. Faculty from the HBCUs teach and mentor the students.
LaDawn Partlow, Manager and Lecturer from Morgan State's Department of Electrical & Computer Engineering, is the Program Director at her school. She says that four of their distinguished minority faculty members, as well as current students from their Clarence M. Mitchell School of Engineering, taught the students and served as role models for the young men.

Students are recommended for the Minority Male Makers program by their middle-school. "In Loden's case, it was his Principal who thought he would be a good fit for the program," recalls Partlow. "We draw from nine public schools in Baltimore. Students are usually recommended by their Principal or Guidance Counselor."
Loden, who worked within a team of six, says he enjoyed the products, games, and apps his team developed during the program. "Using 3D modeling we made various shapes and spheres," he recalls. "We also coded some basic game apps based on bouncing balls, moving pets, and whack-a-mole."
Partlow stresses that the day-long classes were not all fun and games. "It's a rigorous program," she said. "In addition to technical and math skills, a significant part of the program teaches the young men business skills. We are teaching them to become the tech entrepreneurs of the future."
Indeed, Loden looks forward to one day marketing his own app or 3D model. He already has learned that successful marketeers address a need. His main project has been the design of a mobile phone stand for use while charging phones. This idea came about from seeing family members and others with cell phones sitting on the floor while charging. "A lot of people find plugs that are near to the ground and set their phones on the floor to charge," says Loden. "This means a lot of people step on their phones!"
Loden says his stand, developed with 3D modeling techniques he learned during the program, was his signature project. Throughout the program, he had the opportunity to present his piece to notable people from his community, including Baltimore Mayor Stephanie Rawlings-Blake.
These future tech entrepreneurs counter the images of African-American youth in Baltimore that we see in recent headlines. Like Loden, who says he plans to pursue engineering as a career goal, the participants in the Minority Male Makers program are making positive strides toward their future. They are also making inroads in a field where minorities are not often represented.
In a recent Baltimore Sun op-ed, Rose Stuckey Kirk, chief corporate responsibility officer for Verizon, described the importance of the program:
"When you walk into a classroom of young minority men engaged in programs like this, it's extraordinarily exciting. You feel energy, focused and pure. You hear voices that are expectant, infused with the hope that comes from possibility. It's critically important that these young men don't fail. And, in American business, it is our urgent obligation to take the lead. It's what must be done to ensure that minority men begin to reach their full potential and have the chance for a brighter future."
The cutting-edge technology and business acumen taught by the Minority Male Makers program will prepare over a thousand young minority males across the country for career success in the years ahead. And, one day we might all be using Loden's mobile phone stand, or any of the other products developed by these young tech gurus.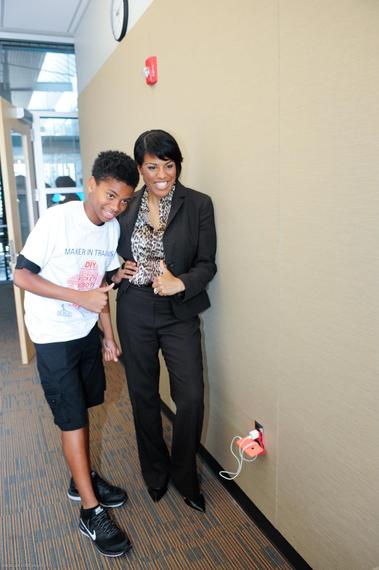 Loden Harris shows his mobile phone stand and gets a thumbs-up from Baltimore Mayor Stephanie Rawlings-Blake.
Support HuffPost
Every Voice Matters
Popular in the Community