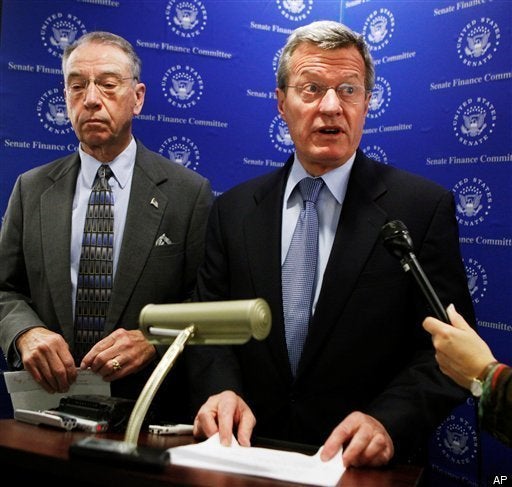 In a late-game push to pass the public option, progressive groups are trying to convince Democrats that it would be political suicide to pass a bill requiring people to buy insurance coverage but not giving them the choice of a government-run plan.
A memo making the rounds on Capitol Hill makes the case that the current construct of the Senate Finance Committee's legislation - which includes an individual mandate but no public option - will be resoundingly opposed by the American public.
Commissioned by the progressive-leaning Health Care for America Now - and obtained by the Huffington Post - the piece is based on three new polls conducted by reputable polling firms in swing House districts and the state of Maine.
"Nationally," the memo reads, "voters oppose a mandate to purchase private insurance by 64% to 34% but support a mandate with a choice of private or public insurance by 60% to 37%... Each [survey] found that likely 2010 voters oppose 'requiring everyone to buy and be covered by a private health insurance plan' but support 'requiring everyone to buy and be covered by a health insurance plan with a choice between a public option and private insurance plans.'"
In a not-so-subtle message to Senate Democrats, the memo concludes with a warning shot at the Senate Finance Committee's legislation - which seems unlikely to include a public plan.
"All of the health care reform proposals that have passed Congressional committees to date, including three House committees and the Senate HELP Committee, include an individual mandate and the choice of private or public health insurance," the HCAN memo reads. "The Chairman's mark introduced into the Senate Finance Committee includes the individual mandate without the choice of a public health insurance option."
A chief proponent of the public option, Health Care for America Now, like other progressive groups, is working to ensure that the provision makes it into the final piece of legislation considered by Congress. In that regard, the polling that the group sponsors should be taken with a grain of salt. Other pollsters, in particular, have criticized the use of the word "choice" in questions about the public plan.
That said, a wide swath of strategists in the party share the concerns raised in the memo. An individual mandate, while important policy, is already tricky politics - penalizing individuals who choose not to purchase insurance. The Senate Finance Committee has sought to allay these concerns by offering additional financial incentives to help consumers purchase their insurance. But, without offering consumers a government plan, the bill risks being framed as a give-away to private insurers.