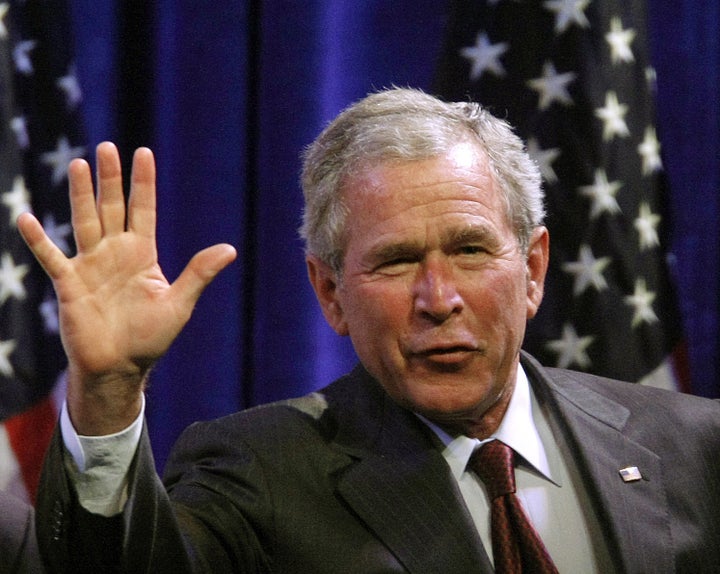 A political group based in Chicago known as the New Prosperity Foundation is attempting to help elect Republicans in the Midwest, attracting the support of heavy-hitting GOP donors, including several people who were in the top fundraising circles of the Bush-Cheney campaign. Although it formed in late 2009, it is just now starting to attract notice with its significant investment outside of Illinois -- in Wisconsin's 7th congressional district. The group is part of a new crop of independent conservative organizations that are springing up as alternative -- and sometimes competing -- venues for wealthy donors to give their money, outside of the traditional party structure.
New Prosperity's website shows a map of 10 states in the Midwest in which it will be focusing its efforts. In April, it took out an ad attacking Illinois' Democratic U.S. Senate candidate Alexi Giannoulias for reckless spending. The Huffington Post also spoke with an Illinois resident named Tom F., who said that this week he received a robocall from New Prosperity in support of Republican Senate candidate Mark Kirk and gubernatorial candidate Bill Brady.
Much of New Prosperity's resources lately, however, seem to be devoted to the Wisconsin congressional race between Democrat Julie Lassa and Republican Sean Duffy. An ad attacking Lassa launched in early August with a $50,000 media buy.
Because New Prosperity -- classified as a 527, meaning it can raise and spend unlimited amounts of money, including contributions from corporations -- formed in late 2009, it has had to file several disclosure reports. Therefore, slightly more is known about its donors compared to the new super PACs that are just popping up. So far, its funding comes from a relatively small number of wealthy donors, several of whom were the so-called Bush Pioneers from 2000 and 2004.
New Prosperity lists its co-chairmen as Gregory W. Baise and Ronald J. Gidwitz, two prominent Chicago figures. Baise is currently head of the Illinois Manufacturers Association and previously served as the state's transportation secretary. Gidwitz is a Chicago businessman who ran for governor of Illinois in 2006. His trust provided New Prosperity's $25,000 in start-up funds. Gidwitz was also a 2004 Bush Pioneer, meaning he raised at least $100,000 for the Bush-Cheney campaign.
Gidwitz has attracted a few other Bush donors to his effort, although none of the ones who have been disclosed come from Wisconsin; they're all from Illinois or Missouri. One of New Prosperity's major donors is St. Louis businessman Sam Fox, who gave $25,000 to New Prosperity on Aug. 26. In 2004, he donated $50,000 to the Swift Boat Veterans for Truth -- which became notorious for its attacks on Sen. John Kerry (D-Mass.) -- and was recess-appointed as ambassador to Belgium by President Bush after Senate Democrats refused to confirm him. Fox was a Bush Pioneer in the 2000 election and a Ranger in 2004, which required raising at least $200,000.
On Aug. 5, New Prosperity received a $50,000 donation from Hunter Engineering Company, which is run by Stephen Brauer. Brauer was a Bush Pioneer in the 2000 election and a Ranger in 2004. He also gave $1,000 to the Swift Boat Veterans for Truth in September 2004. Bush named Brauer as his first ambassador to Belgium. Tom Korologos replaced him in 2004, and Fox replaced him in 2007.
Craig Duchossois, a 2004 Bush Pioneer, gave $5,000 to New Prosperity on Aug. 2. According to Texans for Public Justice, he was one of the few high-dollar Bush donors who was invited to sleep over at either the White House or Camp David.
Interestingly, almost none of these individuals have donated to the Republican National Committee (RNC) this election cycle, although several have given to the National Republican Congressional Committee (NRCC). Fox did give to the RNC in 2009, but since then has had a falling out with the organization. In April, he stepped down from the RNC's top-level fundraising board because he had reportedly "lost confidence" in chairman Michael Steele. Since then, Fox has contributed only to New Prosperity and American Crossroads (another independent expenditures group), in addition to several individual candidates, underscoring the fact that many of these new groups are acting as a "shadow RNC" and competing with the traditional party structure for funds.
The Lassa campaign is objecting to New Prosperity's role in WI-7. "While Julie's campaign to shake up Washington and create jobs continues to gain momentum with Wisconsin voters, outside special interest groups are bent on getting Sean Duffy to Washington because he supports a failed status quo that sells out Wisconsin workers to corporate outsourcers," said Lassa campaign spokesperson Haley Morris.
Republicans, however, are countering that even though there are more Republican-leaning independent groups springing up, Democrats already have their own source of outside funding in unions. "We don't like the influence of outside groups any more than the Democrats do," Andrew Welhouse, communications director for the Republican Party of Wisconsin, told The Huffington Post. "But here in Wisconsin, the mold was set when the state teachers' union, WEAC, decided to make its presence felt in a big way. Since then, WEAC and the unions have spent millions and millions of dollars on ad time and mailers supporting their candidates and attacking ours. From WEAC's mold, a lot of other groups have sprouted up. Of course the Democrats aren't happy about ads attacking their candidates, but one side isn't going to unilaterally disarm."
Neither New Prosperity nor the Duffy campaign returned Huffington Post's requests for comment.
Campaign finance reform advocates have raised concerns about these new political groups and the fact that they are able to raise and spend unlimited amounts of funds to influence elections -- often in races that are far away from their headquarters. "These are not about local people who are worried about the candidates in their area. These are run by national political operatives," said Citizens for Responsibility and Ethics in Washington (CREW) Executive Director Melanie Sloan, who added that these organizations are more focused on "changing the congressional majority more than... with the candidates in that specific district."
*************************
What's happening in your district? The Huffington Post wants to know about all the campaign ads, debates, town halls, mailings, shenanigans, and other interesting campaign news happening by you. E-mail us any tips, videos, audio files, and photos to election@huffingtonpost.com.
Popular in the Community