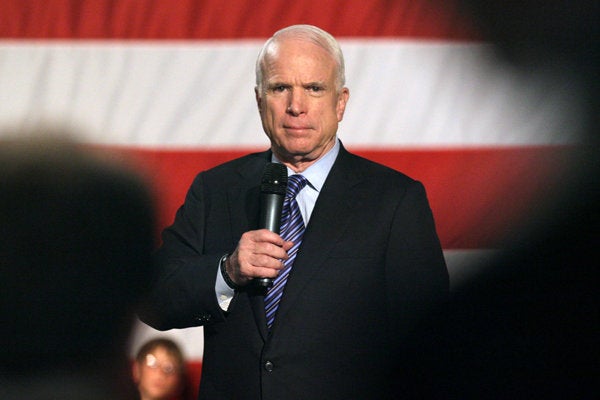 How much does John McCain know about his campaign manager's lobbying history and potential current business interests inside Ukraine -- and when did he know it?
The stakes of the answer to that question are increasing, due both to the continuing controversy over the role of lobbyists in McCain's second presidential run, as well as the press inquiry into the connections between McCain campaign manager Rick Davis and the global business and political interests in Ukraine, a country represented by the lobbying firm that bears his name -- Davis-Manafort.
The Davis lobbying firm offered political consulting services to the pro-Russian "Party of Regions" inside Ukraine. (To do so, the firm did not have to register as a "foreign agent" under U.S. law, because it was operating outside the United States.) The Party of Regions wound up on the wrong side of the 2004 "Orange Revolution" that captured many a heart in the West (including John McCain's). Since then, the firm, which Davis co-founded, has been described as instrumental in organizing a political comeback for the once-discredited Party of Regions, which emerged victorious in 2006 legislative elections.
Former U.S. Ambassador to Ukraine Steven Pifer told The Huffington Post that, in between the Party of Regions' 2004 loss and its 2006 victory, there was "an influx of the Davis-Manafort team." Pifer was not on the ground in Ukraine for the 2006 polls, but he recounted that "there was more of an American air" to the Ukrainians working with Davis-Manafort, and that they presented a more refined, media-savvy image.
Pifer later witnessed a December 2006 talk given in Washington, D.C. by the new Ukranian prime minister, who brought Davis's lobbying partner Paul Manafort along in tow as part of his entourage. Speaking to the Huffington Post about that event, Pifer said he noticed with interest that the new prime minister's presentation was "polished and confident...and was tuned to have resonance with Americans."
And while McCain claimed in 2007 not to have known about the work of his campaign manager's firm in Ukraine until December 2006, a Washington Post report from earlier this year described how the non-profit Reform Institute, which McCain helped start up, actually shared office space with Davis-Manafort in January of 2006 -- the precise time the lobbying outfit was preparing for the March 2006 parliamentary elections in Ukraine.
Moreover, the New York Times reported last week that a National Security Council official contacted McCain's Senate office in 2005 "to complain that Mr. Davis's lobbying firm was undercutting American foreign policy in Ukraine." The Ukrainian candidate being aided by Davis-Manafort had close ties to then Russian president Vladimir Putin, and both McCain and President Bush supported his opponent.
Given this backdrop, and with the idea of lobbyists on presidential campaigns having acquired something of a foul air (thanks to the good-government noises from both presumptive nominees), the McCain camp has been steadfast in denying that its campaign manager had any association with his own firm's Ukrainian operation.
"He [Davis] was not involved in any work his firm did on Ukraine," McCain spokesman Brian Rogers told ABC News in response to the report published last week.
That denial -- which shoots past the question of whether Davis merely worked with politicians in Ukraine to the point of denying any business activity in the country whatsoever -- is now being questioned by another American consultant who served as an adviser to a Ukrainian business group during 2004. This source, who requested anonymity from The Huffington Post in order to protect his business interests, said that Davis bragged to him in 2007 about the continuing profitability of real estate investments that he held in Ukraine.
Multiple emails to top officials within the McCain campaign on Thursday asking about Davis's investments in Ukraine were not returned.
These new ties linking Davis to Ukraine, if true, could prove a problem for McCain, who tasked Davis with instituting a rigorous policy for all campaign workers in which lobbying positions and all compensation flowing from them are supposed to be forfeited during the course of the campaign. The very first dictum in that policy reads: "No person working for the Campaign may be a registered lobbyist or foreign agent, or receive compensation for any such activity."
Davis himself has already quit his own lobbying firm to work for McCain -- though if he is still receiving compensation from investments which stem from lobbying that the campaign claims Davis never had anything to do with in the first place, the potential for the appearance of hypocrisy is obvious.
At a minimum, the lack of transparency and continued speculation regarding the lobbying activities of McCain's campaign chief could smudge the portrait of integrity and reform that the Arizona Republican is trying to paint. However, the situation -- for all its complexities -- is not hopelessly convoluted. As part of his own questionnaire for employees, Davis instructed all McCain staffers to reveal the following:
"All personnel must complete the attached questionnaire and return it Ryan Bradel in the Legal Department. It is the personal responsibility of each employee, consultant and volunteer to disclose all previous lobbying employers and clients to the Campaign and to identify issues and clients that could be embarrassing for the Senator and the
Campaign."
In short: if Rick Davis is profiting from investments in Ukrainian real estate that were developed during the course of any lobbying activities there by his firm, John McCain should already know about it.
Popular in the Community