With seven members of the Handel and Haydn Society, Guy Fishman invigorates and illuminates a brilliant selection of Vivaldi's cello concertos, once more affirming the genius of the composer, the cello and historically-informed performances on period instruments.
Playing on a 1704 Roman instrument by David Techler, Fishman shows the mentoring effects of distinguished teachers from Laurence Lesser to Anner Bylsma: he possesses a gorgeous sound and always follows the long line--yet he knows his way around embellishments and filling out the continuo. Check out the magic in the slow movement of RV 418 and I guarantee you will be convinced.
Played with Swiss flauto dolce and recorder virtuoso Maurice Steger's customary death-defying magnificence, this deliriously delightful program of concertos and sonatas by Sammartini, Caldara (an amazing five-minute Ciaconna a 3), Vinci, Hasse, Piani and Fiorenza from the collection of manuscripts assembled by Count Aloys von Harrach of Austria. The good Count was an 18th century diplomat, statesman, Viceroy of Naples, an avid art collector, and an amateur musician who commissioned compositions and collected musical souvenirs on his travels around Europe.
It's not all high-flying thrills. The slow movements are mesmerizing feasts of line and ornamentation. Steger's distinguished colleagues in this audiophile production, recorded in the church in idyllic Seewen, even include M. Grisvard.
In putting together this spectacular example of sound and recording, the Nordic Brass Ensemble--on modern instruments--have assembled Rensaissance music from France, England, the Netherlands, Germany and Spain, arranged specially for this ensemble by Hans Petter Stangnes and Stian Aareskjold.
The modern instruments part is a nice change in timbres, and since the Nordic Brass Ensemble is made up of top musicians from symphony orchestras and wind ensembles in the Nordic countries, obviously well-schooled in early music ways, the results are enormous, exhilarating fun.
The rough and ready Baroque string band known as ACRONYM presents the first recording of Giovanni Valentini's "Secondo libro de madrigali" (Venice, 1616), the earliest known madrigal collection to call for instruments other than continuo--exactly four hundred years after its publication.
Valentini was born in 1582 in or around Venice. In 1614 he joined the court of the Archduke Ferdinand at Graz, and upon Ferdinands 1619 election Vaneltini moved to Vienna to serve as Imperial organist. From the 1620s through the 1640s, Valentini oversaw much of the musical life of Vienna. He was music tutor to the Imperial family and retained his position of Hofkapellmeister under Ferdinand III, who took the throne in 1637.
Recorded at a historic 18th-century meeting house in rural New Hampshire, the sound is real and honest, just like the performances.
Defining their interest in forgotten composers such as Valentini, ACRONYM stands for "Altmusik Camerata Resurrecting Old---but New to You---Music."
Valentini might not have appreciated the name, he would certainly have fallen in love with the playing.
Tyrolean Baroque violinist Johannes Pramsohler, who has the honor of owning the great Reinhard Goebel's violin, a P.G. Rogeri made in 1713 plays a provocative recital of music by Bach and his circle, inmcluding premiere recordings of Krebs and Graun, in what has become a trending discovery throughout the Baroque violin industry.
Backed with a lovely plaid of sound by harpsichoridst Philippe Grisvard, this exciting program of virtuosic sonatas for violin and basso continuo. The selection features two world-premiere recordings of works by Graun and Krebs along with other rarely-recorded sonatas attributed to Bach, whose legacy gave rise to a prodigious generation of German violinists.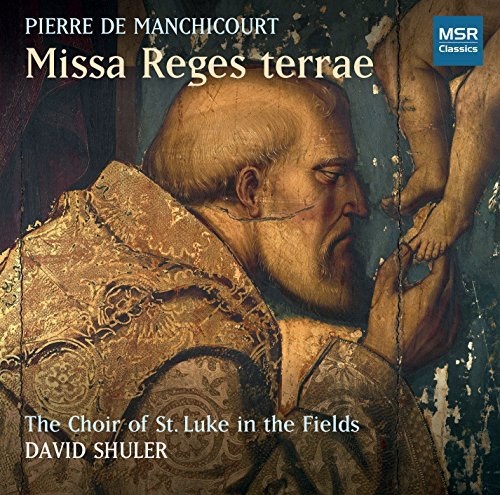 Pierre de Manchicourt Missa Reges terrae. Choir of St. Luke in the Fields under David Shuler.
MSR Classics CD

As one of the elite composers who held prestigious positions during the lives and reigns of the Holy Roman Emperor Charles V and Philip II of Spain, Manchicourt's career culminated when he was hired as master of Philip's Flemish Chapel. By 1600, as John Bradley's engrossing booklet-note unhappily reports, "Manchicourt was largely forgotten."
Fear not: the programming and the quality of these performances by the 12 members of the Greenwich Village-based Choir enables you to feel the force of what Manchicourt brought to the swift moving evolution of the masses and motets that, along with chansons, were his genres.
Rory McCleery's new recording with his Marian Consort of the 19 solo motets of Gesualdo's Sacrarum Cantionum Quinque Vocibus Liber Primus, printed in Naples in 1603 by Costantino Vitali, has virtually no competition in the catalogue.
Heard cumulatively over the hour it takes the beautifully balanced, unfailingly mellifluous five member ensemble to deliver the music's almost painfully sensitive intensity, it is clear once again why the Romantic yet Modern notion of a colorful, self-obsessed Renaissance genius writing music of such expressive intent and such seemingly visionary harmonic means seized the popular imagination - along, of course, with Stravinsky's.
McCleery's highly detailed, unfailing elegant liner notes provide all the ingredients for linking your own visceral response to Gesualdo's vivid music to the texts, whether you read ahead or just let the music hit you unprepared.
Calling all HuffPost superfans!
Sign up for membership to become a founding member and help shape HuffPost's next chapter