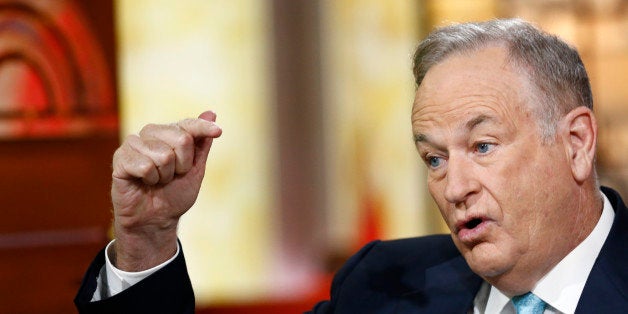 As embattled Fox News host Bill O'Reilly continues to fend off allegations of embellishing his reporting experiences, two new recordings have recently emerged calling his accounts into even greater question.
While the footage shows Argentine military personnel firing tear gas at protesters and making arrests outside President Leopoldo Galtieri's palace, Mother Jones said the video proves O'Reilly is overstating the danger he faced while on assignment in Buenos Aires.
"[The report] makes no reference to the dramatic and warlike action -- soldiers 'gunning down' Argentine civilians with 'real bullets' -- O'Reilly has claimed he witnessed," Corn and Schulman wrote. "His own real-time coverage of the protest ... makes no mention of a massacre or threats to him and his crew."
Beyond O'Reilly's "combat" claims, another point of contention has been whether there were any civilian casualties in Buenos Aires immediately after the war at all. O'Reilly has described scenes of soldiers firing live ammunition into crowds of civilians and recounted dragging his bleeding cameraman to safety during the unrest. Though the footage fails to picture any protestors being killed, it does show journalists being injured "behind the lines" while soldiers charge the crowds.
In the days following the Falklands War controversy, questions have also been raised regarding O'Reilly's coverage of the death of George de Mohrenschildt -- a friend of alleged John F. Kennedy assassin Lee Harvey Oswald -- who committed suicide in Florida in 1977. In O'Reilly's 2012 book Killing Kennedy, the host claims to have been at de Mohrenschildt's doorstep at the exact moment the fatal gunshot rang out. O'Reilly's former colleagues at Dallas' WFAA have disputed the story, however, calling the host a "phony."
Though low-quality versions of the tape have been released in the past, CNN was able to obtain the original audio recording from the investigator's widow. In the tape O'Reilly can clearly be heard asking for confirmation of the suicide and telling Fonzi he was "coming to Florida" the next day.
"So, he committed suicide, he's dead?" O'Reilly says.
When asked for comment on the allegations last week, Fox News directed The Huffington Post to O'Reilly's publisher, Henry Holt and Company.
"We fully stand behind Bill O'Reilly and his bestseller Killing Kennedy and we're very proud to count him as one of our most important authors," a spokesperson for the publisher said.
Related
Popular in the Community