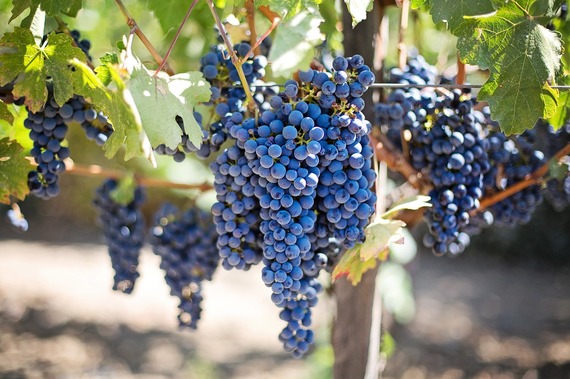 Chinese are traveling abroad in record numbers and those traveling to bring with them disposable income. According to GfK's analysis, nearly 110 million Chinese traveled overseas last year, spending US$229 billion. And these travels have heightened Chinese consumer's overall interest in wine consumption.
Chinese wine industry - by the numbers
Although most of the wine in China, 70 percent, is locally produced, wine imports are on the rise, says Tommy Keeling, analyst for Wine and Spirit Recruitment International (WSRI). "Total category performance is largely dictated by local wine, although the share of imported wine has been growing for the past few years," Keeling says.
But just how much wine do Chinese consume?
"Total wine consumption peaked in 2012 at around 171.5m cases, of which 142m was local wine and 29.5m was imported wine. Since then, consumption of local wine has fallen to around 105m cases in 2015." But Keeling noted a huge jump in consumption of imported wine from 32m cases in 2014 to 43.7m in 2015.
What might be a cause for the drop in local wine consumption?
Keeling attributes several reasons for the decline in local wine.
"Decline of local wine since 2012 has been due to the anti-corruption campaign, which caused a sharp fall in the number of banquets and other occasions in which local wine would be consumed, as well as decimating the gifting market," he says.
Another cause for the drop Keeling says, is that local wine struggles to compete against imported wines.
"Currently local wine suffers from a poor quality perception and relatively high producer costs that make it uncompetitive with low-priced imported wine from countries such as Chile, Spain, and main supplier, France. Hence the growth in imported wine has been driven by consumers trading up from local wine and as well as new consumers joining the market."
The smartphone (and wine industry) rest in Chinese consumers' hands
The wine uptick stems from several reasons, including the economic shift upward in the Chinese economy and a growing middle class exceeding several hundred million, which by default, has led to more disposable income.
A third, less discussed reason, is the worldwide web and smartphone.
What do smartphones bring to Chinese consumers? Consumer choice. With more than 900 million Chinese mobile device users projected by years' end, according to a study by GSMA, it appears likely that the worldwide web has become commonplace for Chinese venders and consumers to conduct business, especially when involving wine.
With smartphones, Chinese consumers can browse an assortment of wines and select one based on price, taste, review, or whatever their preferred fancy.
"The smart phone has empowered Chinese consumers by allowing them to scan QR codes for product info, crosscheck prices, read reviews and get comments from friends. Consumers now have more money and info than ever before," says Jim Boyce, author of the "Grape Wall of China" blog, which has covered the Chinese wine industry since 2007.
Another added smartphone benefit Boyce sees: wider market access.
"If consumers find their local retailers stock few whites, they can go online and find options from more than a dozen countries using a huge range of grape varieties and styles."
Although online sales using mobile apps are now playing a major part in the wine industry, Keeling notes that consumption of imported wine is largely confined to eastern coastal cities.
"Imported wine is concentrated around the first-tier cities on the eastern seaboard, whereas local wine consumption is more evenly spread out across the country." What type of wine do Chinese consumers purchase? Red. White. Rosé. Bitter. Sweet. Local. Imported. There are a variety of wines and flavors - all of which give each bottle a unique taste. But which type do Chinese consumers select to take home?
In regard to the preference battle of red versus white, it might be a toss-up.
"Red wine dominates the market but it's partly due to producers, importers and distributors assuming that's what consumers want," says Boyce. "A good deal of wine is still bought here for status reasons, such as for gifts or business entertainment, and that tends to be red. But more and more consumers are buying simply for taste and many of them enjoy white wine as much as red wine."
As to what they are purchasing, Keeling says knowledge of wine as a major international category is increasing.
"Wine is perceived as sophisticated and healthier than spirits. Younger consumers and women have taken to wine with particular enthusiasm. Wine now competes effectively with baijiu (local white spirits) in the mealtime occasion but, unlike baijiu, it has also succeeded in penetrating the modern on-trade channel, whereas baijiu is restricted to the local banqueting scene."
Chinese wine industries dial-in to consumers
Like consumers, Chinese businesses have also taken to the Internet to create a larger-consumer market base. Recently, Tmall.com, a subsidiary of e-commerce giant Alibaba, owned by Chinese billionaire Jack Ma, agreed to sell Australian wines online to Chinese consumers. This development will give Wine Australia access to Alibaba's 343 million Chinese users. China is the second-leading destination for Australian wines and rapidly increasing, totaling 419 million Australian dollars, equivalent to $315.29 USD last year, according to Xinhua.
Chinese go on vineyard buying spree
Much like Chinese business moguls purchasing world-class sports teams, Chinese businessmen and women have also acquired world-class vineyards. In the French wine-making region of Bordeaux, wealthy Chinese have purchased more than 100 châteaux with accompanying vineyards. However, there are about 7,400 Chateau in Bordeaux - meaning that Chinese investors have acquired just over one percent. Jack Ma, founder of e-commerce giant Alibaba and China's second-most wealthy individual, is one of those business tycoons.
China's wine industry has matured in recent years to become a player on the world's stage as its consumers widely purchase wine from overseas markets via physical means and the Internet. With overseas travel and smartphone sales on the rise, and Chinese business tycoons claiming stake to world-class vineyards, expect the Chinese wine revolution to continue into the future.
Calling all HuffPost superfans!
Sign up for membership to become a founding member and help shape HuffPost's next chapter