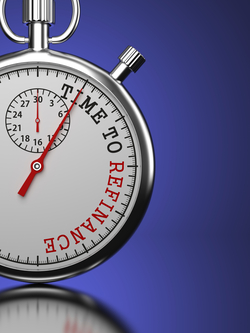 Small business owners scored a big victory recently when the U.S. Small Business Administration announced that the SBA "504" loan refinance program will officially restart June 24. The program expired in 2012 after refinancing more than $5 billion in small business commercial mortgages following the Great Recession. Small business owners clamored for the program's return as it enables businesses with owner-occupied real estate to refinance high interest rate commercial loans with low, fixed-rate loans offering longer terms. The 504 loan is one of the best tools available for small business owners to build their wealth by owning their commercial property. The refinancing program represents a tremendous win for U.S. entrepreneurs.
The 504 loan program remains one of the SBA's top programs, but it has struggled in recent years, particularly when compared to the years when refinancing was allowed. Because of its loan structure, the 504 loan program is not as popular as the SBA's other flagship loan known as the 7(a). With a typical 504 loan, a lender finances 50% of a transaction while an SBA-approved Certified Development Company finances 40%, and the borrower is required to pay a 10% down payment. Many banks prefer the 7(a) loan program because it enables the bank to finance a larger portion of the loan, and larger loans mean more money for the banks. Sadly, while the 504 loan might be better for the borrower, some banks steer clear of the program in order to increase their own profits.
The refinance program will provide relief for business owners who feel trapped with high interest rate commercial loans, and it will be a blessing for those who have loans that will mature soon and require refinancing - the billions of dollars in loans that are part of the so-called "Wall of Maturities." Between now and 2018, $205.2 billion in commercial loans come due, with $87.1 billion maturing this year and $105.8 billion in 2017, according to a Commercial Real Estate Direct story published earlier this year. Many small business owners face a pressing need to refinance their commercial loans, and this program can help them meet it.
Here are some key issues regarding the SBA 504 refinance program:
The commercial mortgage/deed of trust debt to be refinanced must be at least 2 years old.
The loan (or loans) being refinanced must not have any late payments in the previous 12 months and evidence of such must be presented.
The subject property must be a minimum 51% owner occupied and meet all other eligibility requirements of the SBA 504 program.
For refinance-only projects, the maximum loan to value is 90%.
Cash-out refinancing is permitted to cover eligible business operating expenses, although there are restrictions.
Existing "government backed" loans, such as 504's, 7(a)'s or USDA loans, cannot be refinanced under this new program. The program is only applicable to conventionally financed commercial mortgages/deeds of trust.
The 504 program, with or without the refinancing provision, remains an incredible financing vehicle for small business owners, particularly those who would like to own, rather than lease, their commercial property. In our current low interest rate environment, many business owners are finding that they can purchase a building and actually lower their monthly facility costs. And instead of paying rent to a landlord, they are paying themselves while potentially collecting rental income from commercial tenants.
Small business owners who are interested in this program are advised to move quickly. While the change in the refinancing provision is said to be permanent, I for one, am always wary that our elected officials might change their minds. Many of us have lobbied for years to get the refinancing provision reinstated, and now we need to ensure that small business owners reap the benefits, sooner rather than later.
REAL LIFE. REAL NEWS. REAL VOICES.
Help us tell more of the stories that matter from voices that too often remain unheard.