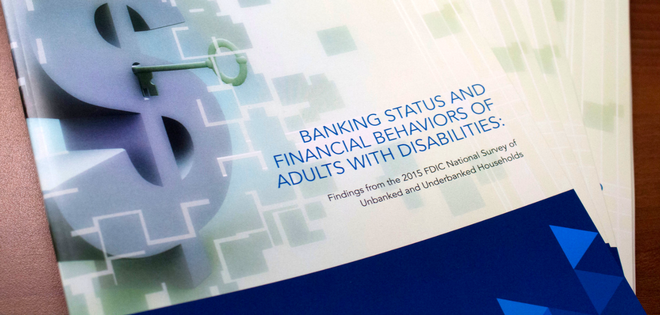 Mined from data in the 2015 FDIC National Survey of Unbanked and Underbanked Households, the new report finds Americans with disabilities face unique financial obstacles and challenges unlike those experienced by their non-disabled peers.
Since 2006, the Federal Deposit Insurance Corporation (FDIC) has convened an Advisory Committee on Economic Inclusion to explore the current state of knowledge and potential solutions to improve the participation of underserved populations in the financial mainstream.
From analysis of FDIC survey results, we know that nearly one in two working-age adults with disabilities are unbanked and underbanked and are two times more likely to be living in poverty than their nondisabled peers. Income, race and education interact with disability in a way that excludes many people with disabilities from the financial mainstream.
So what did we learn?
Households with disability are disproportionately African-American, lower income, older and have lower levels of education. They are also less likely to use electronic payment from a bank (46 v 71) or personal check (46 v 59), and are more likely to use cash (29 v 17) or a nonbank money order (17 v 7). Households with disability are also less likely to be fully banked and more likely to use alternative financial services (AFS). Even when banked, they often do not use the full range of bank services; 22 percent keep savings at home or with family/friends; and half have no credit.
Other important report highlights include:
Fewer than half of households with disability are fully banked, compared to two-thirds of those without disability.
Among those who are banked, more than 40 percent have a checking account, but do not have a savings account.
Only 40 percent of households with disability save for unexpected expenses, compared with 61 percent of other households.
Households with disabilities face a digital divide; only half of households have internet access at home or a smart phone, compared with three-quarters of households without disability.
Forty percent of households with disability use alternative financial services (AFS), compared with 25 percent of those without a disability.
The composite picture shows an economically vulnerable population which makes financial decisions that perpetuate financial instability, with continued reliance on nonbank products and services that offer no pathway out of poverty and potential for greater exploitation.
Limited access and use of smart mobile technology and the internet, as well, have low- and moderate-income (LMI) adults with disabilities missing out on new pathways to financial inclusion, while a dependence on public benefits becomes a trap that requires staying poor to be eligible, which poses a significant barrier to financial inclusion.
So what do we do?
Despite these disturbing trends, there is a tangible opportunity to rethink approaches, structures, policies and processes that change thinking and behavior at individual and systems levels.
There is no one solution or strategy that will rapidly change this picture. To design tomorrow's solutions will take a new level of collaboration of government, regulators and the financial and disability communities to continue to design a roadmap of inclusion. We need to test different types of interventions and support that reimagine the where and how financial services are delivered and that build financial capability, inclusion and stability.
NDI suggests a three-part framework which includes:
Access: Drawing customers with disabilities into mainstream financial services
Sustainability: Keeping customers engaged and able to make informed financial decisions
Growth: Deepening banking relationships and fostering financial empowerment
For the consumer, this will result in a new level of confidence and trust. For regulators, a heightened sensitivity to accessibility and affordability of products and services for LMI populations. For financial institutions, a new level of commitment and responsibility beyond compliance. For financial technology corporations, a shared role in serving the broadest possible set of consumers. Lastly, for social and human service delivery providers, a new role and purpose to assess financial health and build knowledge and skills to improve financial well-being that advances physical and mental health.
Our failure to respond to this issue has a growing cost in loss of productivity at an individual level and will continue to slow economic growth at the macro level.
National Disability Institute envisions a world where people with disabilities have the same opportunities to achieve financial stability and independence as those without disabilities. More than one-fourth of families nationwide have a member with a disability. This group includes people of all ages, genders, races, ethnicities and types of disability in both urban and rural areas. To meet this diversity, government, the financial services community and other stakeholders should work together to support informed decision-making that empowers individuals with disabilities to have accessible and affordable financial choices. These choices should respect individual needs and preferences to manage money effectively, build credit, become savers and strengthen participation in the economic mainstream.
For more information, or to obtain a free digital copy of the Banking Status and Financial Behaviors of Adults with Disabilities, please download the report from the Document Library on the NDI website.
Since its inception in 2005, National Disability Institute (NDI) remains the first and only national nonprofit organization dedicated exclusively to designing pathways to economic stability and mobility for persons with disabilities. Through public policy research and development and customized training and technical assistance, NDI has become a recognized leader nationwide demonstrating that individuals across the spectrum of disabilities can work, save for the future and advance their financial capability and economic stability. To learn more, visit www.realeconomicimpact.org. Take the DISABLE POVERTY pledge at www.disablepoverty.org.
Calling all HuffPost superfans!
Sign up for membership to become a founding member and help shape HuffPost's next chapter
This post was published on the now-closed HuffPost Contributor platform. Contributors control their own work and posted freely to our site. If you need to flag this entry as abusive,
send us an email
.