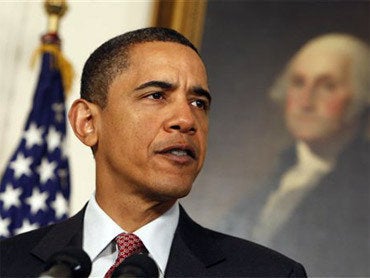 The reviews of the President's first year are rolling in, but most neglect the biggest force that Obama brought to Washington: His volunteer army.
In a break from the national parties' playbook, Obama rolled his massive supporter network into a dedicated advocacy operation at the DNC, "Organizing for America" (OFA), one year ago this weekend.

The New Permanent Field Campaign
While a "permanent campaign" philosophy has ruled Washington since the Carter era, OFA is the first time a party is running a permanent field campaign, wired with email, to advance an administration's policies. The unusual experiment could strengthen Obama's position with increasingly nervous Congressional Democrats. There are also risks. Since OFA contacts and summons Obama's most active backers - his financial and field foundation - the program's fate can impact today's fundraising and tomorrow's elections.
So far, OFA's work has been cast as everything from an "unparalleled" and "incredible" success - right here at Huffington Post by OFA's Jeremy Bird - to an ineffective "bust," by McClatchy reporter Frank Greve. But there are not many detailed reports on OFA's track record and impact.
To pinpoint what OFA is actually doing in the field, and how it's playing on Capitol Hill, I recently conducted interviews with congressional staff, former Obama campaign staff, and about 70 Obama supporters active in the OFA grassroots. This post covers a few points -- the entire report is available at techPresident.com/OFAYear1.
In its first year, OFA successfully mobilized and sustained a new corps of "super activists" around the health care battle. Often below the radar, these governance activists are volunteering several hours a week, or more. Many are new to politics. The national data is striking: OFA members spent a cumulative 200,000 hours volunteering in 2009, organizing 37,000 local events, driving 65,000 people to attend lobbying events, and showering newspapers with a quarter million letters to the editor on health care.
My anecdotal surveys found similar trends. Many Obama supporters continue to volunteer, and four different types of OFA members seem to be emerging.
Leading the pack are super activists, who are enthusiastically seizing on governance activism opportunities to volunteer at rates that rival campaign season. Obama Campaign Field Director Jon Carson credited "super volunteers," people working 20 to 40 hours a week, for providing the campaign an "extra layer of staff" in 2008. Many are still going strong.
Then there are critical participants, people who volunteer for OFA while voicing skepticism about some of Obama's decisions.
Other OFA members have become supportive bystanders: They intensely back Obama but decline volunteer opportunities, either because they do not feel needed or are simply busy with other things.
Finally, I did encounter a few former members. These Obama voters simply tuned out OFA in response to its first year program. But they still tend to feel positively towards Obama.
While this mobilization is high, most congressional staff interviewed said OFA's efforts are not changing votes on Capitol Hill.
Democratic staff noted that most of the lobbying targeted offices that already backed Obama's health care plan. The reinforcement was welcome, said Democratic aides, but it did not add to the whip count. In the office of a conservative Democrat who voted against Obama's health care, one staffer was hopeful OFA would still "change some minds" and cultivate a more progressive "community" in the district. But the aide said that had not happened yet. And OFA did not mobilize people to aggressively confront Obama's Democratic opposition.
Some Republican staff said they were aware of OFA's field work, but they contended it was not changing public opinion back home. "Even with the OFA push, we've still just seen, for our district, overwhelmingly people are against the bill," observed a House G.O.P. aide. Other Republicans said they had not seen a major OFA presence last year.
Boxed in by the White House
In interviews with former members of the Obama campaign, a common theme was that in many ways, OFA's job is harder than electing Obama in the first place. "How do you recapture a grassroots movement of people fighting Washington insiders when you're sitting inside Washington trying to direct this movement?" asked one former staffer. OFA is in a "very tough position," this person added.
But other Chicago veterans said OFA's first year revealed shortcomings at the White House.
"Rahm and whomever else [at the White House don't] give a crap about this email list and don't think it's a very useful thing," concluded one former campaign aide. "This is the most unprecedented list by far in political history, with the potential to be an incredible tool for social change and a legislative hammer to help pass progressive reform. Yet it doesn't feel like it's being treated that way [by the White House]," argued the former aide, who was concerned that repetitive, top-down emails would "weaken" the volunteer network.
Another former campaign aide agreed, saying, "I don't think the White House is interested in using a grassroots organizing network to really advance their agenda. I can say that flat out." OFA's first year activities revealed the costs of David Plouffe's absence, according to this person, who supported more confrontational and targeted strategies towards Congress. "I think the absence of Plouffe is really felt. When you talk about the top echelons of campaign, who are the people who got the technology, got the organizing and got the network, the single person at the center of that was David Plouffe," the former staffer contended. "And without him in the room on a daily basis, I think the technology and the grassroots networks get a lot less attention."
OFA usually functioned as a single-issue lobbying group in 2009, hammering health care every month. That will certainly change this year, as the agenda evolves. The challenge is turning field work around the country into clout inside the Beltway.
--
Ari Melber, a correspondent for The Nation and contributor to techPresident, authored "Year One of Organizing for America; The Permanent Field Campaign in the Digital Age." The report is available at:
www.techPresident.com/OFAYear1
Watch a discussion of the new report from Thursday's Daily Rundown on MSNBC:
Update: For other people's takes, check out this new article on the report by Mother Jones' David Corn, or this discussion by Washington Post's Chris Cillizza. (The hashtag for Twitter discussion is #ofayr1)
Popular in the Community