"CHWs play the most important and effective role in our fight against disease; it is they who have reached the most vulnerable, they who have been able to be the contract tracer, they who have been able without much training to take the risk to go out into the community and bring care. We need to urgently invest in the training and building of capacity of healthcare workers at the community level." -- President Ellen Johnson Sirleaf of Liberia at the Third International Financing for Development Conference in Addis Ababa on July 13, 2015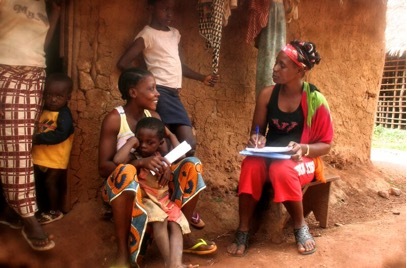 A community health worker meets with a patient in Konobo District, Liberia. Credit: Last Mile Health.
In May, the World Health Organization declared Liberia "Ebola free" after forty-two days without new cases. While this was a remarkable milestone, none of us can forget that Ebola killed 4,800 people in Liberia and has already left more than 11,000 dead across West Africa. While the fight against Ebola continues in Liberia and neighboring Sierra Leone and Guinea, one vital measure for epidemic preparedness has emerged: a robust community health system. As President Ellen Johnson Sirleaf stated on Monday at the UN's Third International Financing for Development Conference: "We need to urgently invest in healthcare workers at the community level."
For the past year, we have been asking ourselves how the Ebola outbreak spread so quickly and what steps should be taken to prevent such future disasters. A year after the epidemic took hold, we know that stronger, integrated community-based delivery systems are necessary to help prevent such outbreaks and support progress against the top killers of women and children - especially malaria, pneumonia, and diarrhea. At the core of such delivery systems are highly-trained, supervised, equipped and paid professional Community Health Workers (CHWs), who work in teams with other primary health workers (e.g. nurses) to extend care to the most vulnerable.

Unfortunately, financing for community health systems is relatively low compared to other health system areas and to priority diseases. Consequently, countries struggle to raise the funding necessary to train, supervise, and pay CHWs. Today, there is an estimated shortage of more than 700,000 community health workers across sub-Saharan Africa and it will require at least $3 billion each year to address this gap.
Supporting Community Health Workers is a game-changing investment: CHWs are critical for increasing access to health care and, if scaled up, could save up to 3 million more lives each year. They are also a great economic bet, returning up to10 for every1 spent through productivity gains from a healthier population, from the 'insurance' they provide against catastrophes like Ebola, and from expanding employment opportunities.
Not all Community Health Worker systems are created equal: What we need are highly trained and skilled community health workers integrated into the primary health system. While each national context will be different, when building CHW programs policy makers should focus on core factors such as measurement and management of community health program performance, integration with the rest of the primary health system, leadership from within Ministries of Health, and community engagement in program design. It's also important that CHWs not be construed as 'standalone' agents of change, but instead are effectively linked to broader teams of clinic-based health workers.
Countries need to be proactive in developing a financing pathway: When developing a CHW program, countries need to take the initiative to determine program scale, cost the plan, set funding targets and identify specific financing mechanisms to reach targets. Countries are used to doing this for other disease areas and should apply the same methodology to community health. Support from international donors through mechanisms like the World Bank's recently launched Global Financing Facility, will create new avenues for long-term country-led investments for CHW programs, but additional start-up funding remains vital.
In addition to these findings, we went on to make a set of recommendations to national governments, donors, and the broader community.
First, we encouraged governments in sub-Saharan Africa to prioritize CHW programs for investment and to create teams to focus on community health financing;
Second, we asked international donors and funders to make more grants and low-cost financing available to countries wishing to build CHW programs;
Next, we urged funders that currently support specific diseases to make more of that funding available to support CHW programs, since CHWs are absolutely essential for diagnosing and treating diseases like malaria, HIV, and TB and preventing epidemics;
Finally, we encouraged the broader health community to consider establishing teams to work alongside existing initiatives to assess available financing options and develop metrics and scorecards to track progress in community health.
On the last day of June, when the body of a dead seventeen year old boy tested positive for Ebola, Liberia reported its first new case since it was declared "Ebola-free" in May. While the country now has much stronger health capabilities than it did at the start of the Ebola epidemic, this sad death is a clear reminder that we must remain vigilant and move urgently to make much larger investments in community health systems. Such investments will not only help prevent the resurgence of Ebola and achieve our global health goals, but may also help prevent the next epidemic. This is crucial as the World Bank estimates that a severe pandemic flu is 'virtually inevitable' and could cost the global economy up to $3 trillion. The time for action is now.
Popular in the Community