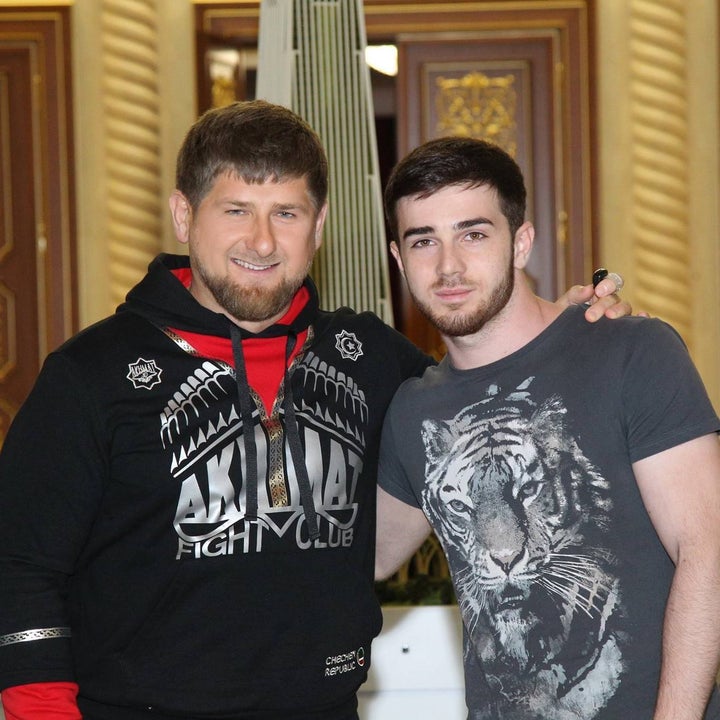 This week, Maxim Lapunov became the first gay man to come forward to detail his experiences of abuse and torture at the hands of Chechen authorities in what have become known as Chechnya's 'gay concentration camps'.
According to The Advocate, Lapunov had been in detention for around two weeks, during which time, he was beaten with sticks and forced to fight his partner. Lapunov said, "When I would fall, they would give me a break and then force me to stand up and continue for several more rounds," adding, "Day after day, they were telling me how precisely they want to kill me,"
Lapunov was released after signing a statement declaring that he would never speak of his experiences, under threats that he would be hunted down and killed if he were to do so.
News of Chechnya's anti-gay pogroms broke in April 2017, detailing that at least 100 gay men had been arrested and three killed in the Russian region. A survivor of one such camp located at a former military base in Argun claimed he was tortured and interrogated by Chechen officials. In an effort to obtain the names of more gay men, the officials had confiscated his phone and then targeted his contacts.
Throughout April and May 2017, other reports further revealed that gay men in Chechnya were being murdered at the hands of their own family members, in what was described as state-encouraged honor killings.
In an anonymous interview conducted with France24, one survivor said, "They tell the parents to kill their child. They say: 'Either you do it or we will.' They call it: 'Cleaning your honor with blood." He further claimed that he had already witnessed the torture of a man for 2 weeks, ultimately dying at the hands of his own family, who "took him and killed him in a forest."
In July, Chechen leader Ramzan Kadyrov said in an interview with David Scott of HBO's Real Sports, "We don't have those kind of people here. We don't have any gays. If there are any take them to Canada. Praise be to God. Take them far from us so we don't have them at home. To purify our blood, if there are any here, take them."
In the same month, Russia's independent newspaper Novaya Gazeta published a list of the names of 27 men who were executed in a single night in Grozny on January 25, 2017. A representative for the newspaper said, "With regards to the sexual orientation of those killed, as far as we know there are homosexual people in this list, but not all of them at all."
The website Pinknews reported that two camps based in the villages of Argun and Tsotsi-Yurt were initially identified, but further investigations revealed a further four jails for gay people.
In early August, friends and family of popular Chechen singer, Zelim Bakaev, 26, had spoken of his disappearance during the singer's visit home to the Chechen capital of Grozny to attend his sister's wedding. It is known that Bakaev had been living in Moscow prior to the visit.
According to a early reports on his disappearance, initial information being spread about Bakaev was conflicting and contradictory: "At first a rumor was spread that he was alive and had left Chechnya. Then information spread that he was dead. It is not true. We know that Bakaev is alive and that he is still in Chechen detention," said an unnamed source at a Russian human rights group.
At the time, News outlet RBC quoted Dzhambulat Umarov, Chechnya's minister for national policy, external relations, press, and information, as saying, "The guy is not a Wahhabi, not a terrorist, he isn't involved in any cases. No structures took him, for a hundred years no-one will need him", adding that Bakaev would "reappear soon".
Sadly, new reports are now starting to surface stating that Bakaev had been apprehended, tortured and subsequently murdered within 10-13 hours of being in the Chechen capital. Bakaev's mother had previously reported him as missing to the police in Grozny on August 17, almost two weeks after his disappearance and during which time the singer's Instagram account was suddenly deleted.
However, in September, a video of a man resembling Bakaev had suddenly appeared on an apparently makeshift Youtube account and was promptly broadcast on state television channel Grozny TV, depicting the young man claiming that he had moved to Germany saying, "There is absolutely nothing to do in Grozny or Moscow. Because there are a lot of assholes. Here people are absolutely different – you go out, everyone smiles at you. Absolutely different outlook."
Friends of Bakaev questioned the legitimacy of the video narrative however, stating that the language used in relation to the timing of his supposed departure for Germany was strangely and uncharacteristically specific and pointed to other staged or scripted elements to its production.
There were other facets of the video that had appeared to suggest that the footage had been taken in Chechnya, notably the furniture in the room were manufactured by various Russian companies that shipped their products to Chechnya with low likelihood that they would end up elsewhere in Europe, as well as the appearance of the Drive Me brand of Russian energy drink on the table that is not sold in Germany.
This week Igor Kocketkov of the Russian LGBT Network made a statement about Bakaev's disappearance, saying, "At the end of August, we received confirmation of our earlier presumption that Bakaev was detained by Chechen authorities due to suspicion of homosexuality."
As of yet, other than estimations garnered from the guarded testimonies of survivors and targets, there are no firm statistics available on the number of men being held as a result of Chechen anti-gay pogroms or an accurate figure of how many murders have resulted from the continued existence of these deadly torture camps.
Popular in the Community