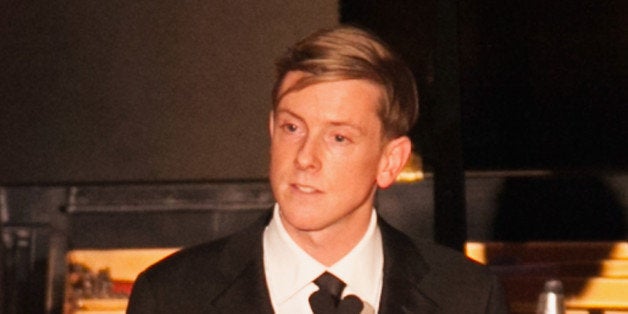 WASHINGTON -- New Republic publisher Chris Hughes began his speech Wednesday night at the very beginning. In front of Washington's political and media elite, he recalled the first line of the Nov. 7, 1914, inaugural issue: "The New Republic is frankly an experiment," it read.
While acknowledging the magazine's past, Hughes didn't dwell on it. Hughes, who made his fortune as a Facebook co-founder and purchased the storied politics and culture magazine in 2012 at age 28, seized on that line to suggest the spirit of experimentation is "the driving force behind the survival of this institution." He reiterated a commitment to The New Republic's journalistic traditions before a black-tie gathering of attendees, including many who had worked at, written for, or sparred with the argumentative magazine's editors. But as its current steward, Hughes said, it was also his duty to "shake things up, to experiment, and to build a better, stronger institution as a result."
"To preserve and strengthen institutions like this one, you have to change them," Hughes said. "You have to take risks and do things differently. You have to experiment."
How much Hughes intends to experiment with The New Republic had been a topic of great anxiety among staff leading up to the centennial gala, according to sources who declined to speak publicly about the magazine's inner workings.
Some staffers are concerned that The New Republic's tradition of narrative journalism and criticism -- the type of work heralded Wednesday night -- will be devalued in the pursuit of increased Web traffic. Some questioned whether Hughes and Guy Vidra, who recently came from Yahoo News to become the magazine's first CEO, envision the magazine as more of a tech startup than the political and cultural publication it has always been.
The speeches seemed to underscore different viewpoints within the magazine. Hughes and Vidra spoke more of innovation and digital growth. Editor Frank Foer honored predecessors who helped shape the magazine's legacy and highlighted its idiosyncrasies. Literary editor Leon Wieseltier, who has run the culture pages for decades, spoke of the magazine's core principles and warned against worshiping the future, which he said, "will soon enough be the present."
About 12 hours before gala attendees began gathering for cocktails, Capital New York reported on rumors that Foer may soon leave the magazine. Later, Politico reported on the internal tensions over the magazine's direction.
Hughes declined an interview Wednesday night, telling HuffPost that his speech was his only on-the-record remarks for the evening. But Hughes did speak to The New York Times for an interview pegged to the centennial gala.
"Today, I don't call it a magazine at all," Hughes told the Times in an article published in Wednesday's paper. "I think we're a digital media company."
Hughes' remarks are a departure from two years ago. Back then, he spoke often of putting resources into the perennially cash-strapped magazine so it could compete with The New Yorker, The Atlantic and The New York Times Magazine. During his first staff meeting in 2012, Hughes pledged to uphold the magazine's tradition of longform journalism.
In Wednesday's Times interview, Hughes and Vidra said they envision boosting the magazine's current audience of around 5 million unique visitors to "tens of millions," while broadening to topics that "travel well" online.
Hughes touted the magazine's digital growth during his speech. After a 40-minute stem-winder from former President Bill Clinton, Vidra similarly spoke of the need for "innovation and experimentation." The speeches by Foer and Wieseltier focused less on online metrics than on The New Republic's characters and uniqueness.
Foer described arriving at the magazine to find a photograph of Michael Straight hung on the bathroom wall, an "act of intentional hostility" against an editor in the 1940s and '50s later found to be a Soviet spy.
"To work at The New Republic is to have the old photos on the wall shout at you and to have the right -- the obligation even -- to shout back," Foer said. "To work at The New Republic is to be instantly inserted into a century-long conversation about ideas, to be placed in an argument without end."
Foer asked past New Republic editors in attendance –- Michael Kinsley, Hendrik Hertzberg, Andrew Sullivan, and Charles Lane –- to stand up for applause. He spoke of how his New Republic colleagues "burn with curiosity," "breathe ideas" and "write with their bones." Foer concluded by raising a glass to the magazine's staff, past and present.
In the next speech, Wieseltier described The New Republic as a "precious realm of freedom and intelligence and conviction" and "a sanctuary of a high intellectual and journalistic aspiration." The magazine's writers, he said, are "obstreperous patriots and creatures of first principles who regard critical thought as a sacred task." He acknowledged New Republic staffers being disruptors and innovators, but also "stewards and guardians and trustees."
And Wieseltier closed with a stirring reading of Walt Whitman's "Passage to India."
"Ever sound, the cry with thee O soul," he read. "The Past! the Past! the Past!"
Related
Popular in the Community