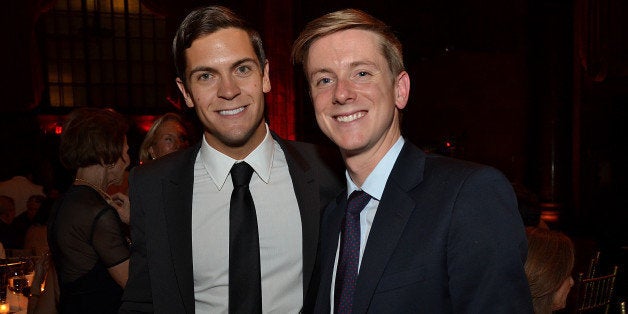 NEW YORK -– New Republic owner Chris Hughes and chief executive Guy Vidra, in separate interviews Monday with The Huffington Post, said that when it comes to the future of the embattled magazine, "actions speak louder than words."
How, exactly, Hughes and Vidra intend to resurrect a magazine many journalists and commentators have recently declared dead remains to be seen. But the pair struck an optimistic tone in the face of withering criticism since The New Republic's top two editors resigned Thursday and more than 50 others followed them off the masthead Friday. The criticism hasn't abated, with Dana Milbank, a former New Republic staffer and current Washington Post columnist, blasting Hughes on Monday as a "dilettante and a fraud" who has killed the magazine.
Hughes and Vidra suggested Monday that the obituaries are premature. Vidra said the institution and its values are "stronger than any one group of people." Hughes, echoing Vidra in later interview, said the "place is bigger than any one of us." Hughes also said the magazine -- which won't be printing again until February -- is now hiring and will "emerge from this" in time.
Still, each expressed some regrets over the handling of the leadership change and their communication with staff.
Vidra, a former Yahoo News executive appointed The New Republic's first CEO, became a polarizing figure on his 11th day in the office. Sources told this reporter –- and a few others -– that Vidra seemed more culturally suited to Silicon Valley than the editorial offices of a politics and culture magazine. In the meeting, he spoke of digital disruption and the need to "break shit" in order to change things. That sentiment, and Vidra's personal style, seemed a significant departure from Hughes' first meeting in 2012, when he promised to uphold tradition and preserve long-form journalism.
In an interview, Vidra acknowledged his remark was unfortunate and said he made a mistake in "not acknowledging enough how much the traditions of the institution matter to me." Vidra said his intention was to get staff to "embrace the idea that there is a tremendous audience out there and we need to try new things to reach that audience effectively."
"I was trying to focus more on getting people excited about what was to come and, sadly, it was misinterpreted," he said.
Vidra said he "had every hope and expectation to work with editorial leadership," but eventually "it became clear there was not a sharing of vision when it came to digital."
While some internal tensions were evident at The New Republic's centennial gala in late November, the implosion didn't come until last week.
Frank Foer, who returned as editor in May 2012, and Leon Wieseltier, the magazine's literary editor for the past three decades, both resigned. Most of the magazine's senior editors and staff critics followed the next day, along with nearly three dozen contributing editors, a largely honorary title given to former staffers and others associated with the magazine. Management also announced that print frequency would drop from 20 to 10 issues a year, and that the magazine's base of operations would relocate to New York from Washington, D.C.
Hughes and Vidra announced Friday that Gabriel Snyder, who previously ran Gawker and The Wire and had most recently been creating new digital products for Bloomberg Media, would become the magazine's editor. They'd initially talked to Snyder about a senior digital position, but last week decided to offer him the top job. Snyder had already tried recruiting some writers, and so news trickled out before management had spoken to Foer, who learned from outside sources that he was being replaced.
Hughes said he would have preferred to have spoken to Foer face to face, but since that news had circulated, he only did so over the phone. Staffers loyal to Foer were angered by management's treatment of him.
Shortly thereafter, Vidra wrote in a separate staff memo that they were repositioning The New Republic as a "vertically integrated digital media company," a description that's been mocked by a number of journalists on Twitter.
On Monday, Vidra explained that he meant the company should have more in-house initiatives and outsource less. For instance, Vidra said he hoped to build a CMS (content management system) for publishing stories that would bring editors together with engineers and designers, as Vox had done. He also said the magazine had outsourced some advertising on the site, which he felt was ineffective. The New Republic, he said, needs the infrastructure to leverage its journalism in order "to get the audience it deserves."
Hughes wrote Sunday in a Washington Post op-ed that he's trying to build a sustainable business to maintain The New Republic's "journalism, values and voice."
Hughes, who reportedly made $700 million through Facebook, surely has the personal resources to hire journalists who aren't loyal to the old regime. But it's less clear how the magazine's "values" and "voice" carry on after many of its best-known writers, some with decades of experience and deep institutional memory, have gone. Or how those things can be preserved as a magazine long rooted in Washington's political and media culture transforms into a primarily digital, New York-based operation, any more effectively than if Hughes had simply started an entirely new site.
Though not against new media startups, Hughes said they "shouldn't come at the expense of places that have been around a hundred years and have traditions that are important and values that I personally share." Hughes said he bought The New Republic and intends to continue investing in it, because he believes that "institutions matter."
Popular in the Community