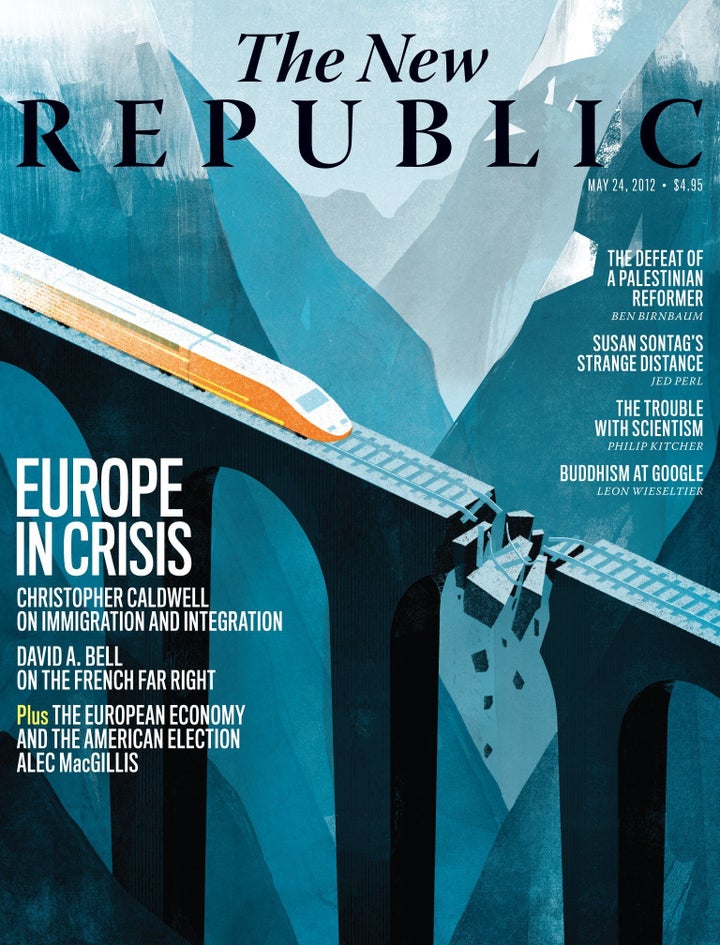 NEW YORK -- Franklin Foer is returning as editor of the New Republic, the first major shake-up at the political magazine since Facebook co-founder Chris Hughes purchased it in March.
Richard Just -- who's been with the New Republic for eight and half years and took over as top editor when Foer left in Dec. 2010 -- is leaving the magazine.
"I'm so proud of what we accomplished over the last year and a half during some of the toughest financial times the magazine has ever had," Just told The Huffington Post on Sunday.
Despite financial pressures, Just noted that the New Republic recently received its first National Magazine Award nomination for general excellence in 20 years and was able to bring in political journalists such as former Slate writer Timothy Noah and Washington Post reporter Alec MacGillis, the latter who Just has said "emerged as a magazine star in the past six months."
"To do that during a span when the magazine was really financially constrained," Just said, "I think that was an exciting thing to get done."
Hughes and Foer did not immediately respond to requests for comment. Just declined to comment on whether he could have stayed at the magazine with Foer taking over or on his relationship with Hughes.
The quick change of editors is surprising, considering that Just is viewed internally as instrumental in helping facilitate Hughes' purchase of the esteemed, yet money-losing, 98-year-old magazine of American liberalism. Just allowed Hughes to sit in on an editorial meeting late last year, prior to most staffers having any idea he could become the new owner. And Just is highly regarded for his skill in editing the type of long-form, New Republic journalism that Hughes has praised since buying the magazine.
Still, new media owners often opt for a change at the top. It's clear Hughes is looking to raise the magazine's profile outside the Beltway, and Foer -- in addition to being a strong writer and editor -- is a better known in the Manhattan media and literary circles. The New Republic will be opening an office soon in New York City.
These days, Hughes is also "courting youngish, rising stars who have been writing for publications like the New Yorker and the New York Times Magazine," according to an interview he gave the New York Times in a Sunday blog post announcing the news.
Mr. Hughes's goal is to guide The New Republic out of the category he called "little magazines" in Washington like The National Review and into a category that includes magazines he sees as more natural competitors, like The New Yorker, the Economist and New York Magazine.

"I want everyone from Michael Bloomberg to Zadie Smith to Sheryl Sandberg to read the New Republic," Mr. Hughes said.
Foer, who previously worked at the New Republic for a decade and was top editor during half of those years, told the Times he "had no thought of returning to edit the magazine," but the new role "doesn't feel like I'm going back to my old job."
In January, The Huffington Post first reported that Hughes, who made $700 million from Facebook and who worked on digital strategy for Obama's 2008 campaign, was interested in getting into the publishing game. The purchase has already helped raise his public standing, including a profile on the front of the Times' Sunday Styles section earlier this month.
Since purchasing the magazine, the Times noted that Hughes now has the "opportunity not only to influence public attitudes and foster awareness of everything from education reform to economic inequality, but to become a player in old as well as new media."
Calling all HuffPost superfans!
Sign up for membership to become a founding member and help shape HuffPost's next chapter
BEFORE YOU GO
PHOTO GALLERY
Top 25 Magazines Of 2013