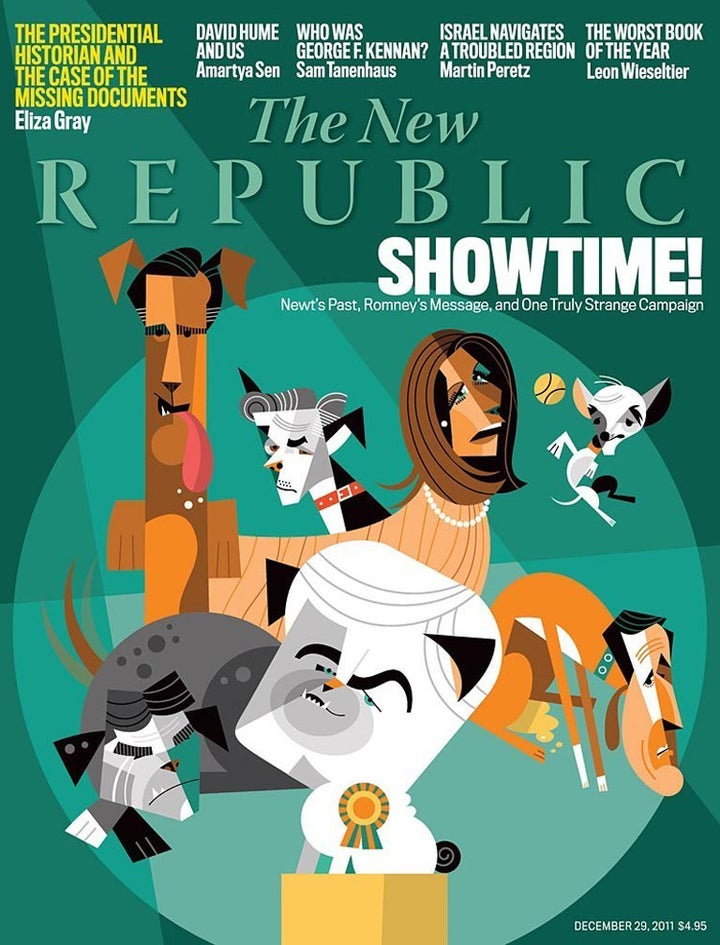 NEW YORK -- The New Republic is on the market once again. But so far, its unclear if any media companies are interested in buying the influential, albeit unprofitable, Beltway political magazine.
"I looked at this a while ago and decided to pass," New York Observer owner Jared Kushner wrote in an email to The Huffington Post.
"We're not interested," Bloomberg LP spokesman Ty Trippet wrote in an email.
Both Kushner and Bloomberg were mentioned in a New York Times report that said the New Republic's owners were "considering selling the magazine or creating a strategic partnership with new investors" and had enlisted the Blackstone Group to assist in the sale process.
Blackstone is involved and the process is underway, a source familiar with the matter tells The Huffington Post. Yet Kushner and Bloomberg aren't interested -- and other "potential suitors" don't seem to be either.
The Times, citing "industry executives," also reported that "other suitors could include The Washington Post Company, AOL's Huffington Post division and the Atlantic Media Company."
But the Atlantic Media Company isn't interested, according to a company source. And The Huffington Post, my employer, isn't interested, either. (The Washington Post Co. declined to comment).
When companies are looking to sell, it's not uncommon to anonymously leak potential suitors in order to build buzz. Yet while media companies may be kicking the tires, those listed in the Times round-up clearly aren't in a buying mood.
The New Republic has gone through several sales, or partial sales, over the past few years.
In 2009, Marty Peretz -- the magazine's longtime owner, who'd sold his shares to Canadian media titan CanWest a couple years earlier -- joined with former Lazard executive Laurence Grafstein and other investors to buy it back.
Through various ownerships, Peretz has managed to keep a position on the magazine's masthead. He's currently listed as editor-in-chief emeritus and continues to write articles, primarily on Israel. Peretz did not respond to a request for comment.
The Wall Street Journal reported Wednesday that Blackstone is expected to reach out to the paper's own parent company, News Corp. "to gauge their interest in buying the publication."
A News Corp. spokesperson declined to comment to The Huffington Post. But it seems doubtful the company would be interested in the liberal D.C. publication considering that News Corp. sold the conservative Weekly Standard in 2009 -- a magazine more in line with the point-of-view of News Corp. chairman Rupert Murdoch and the mogul's Fox News network.
Popular in the Community