"If everything seems under control, you're not going fast enough." ― Mario Andretti
IT has entered into a new era — one that 75% of tech leaders say represents the biggest historical shift of its role. Leading IT departments are breaking boundaries to become more ingrained with the business, playing fundamental roles in how other departments execute on customer-centric data and processes. Leading IT departments are also able to balance service quality, innovation and speed.
In the age of the connected customer, the CIO imperatives are customer experience, agility and scale. Perhaps even greater than the number of demands placed on IT today is the speed with which they are being requested. While increasing speed has made its way to the top of IT's priority list, team leaders have yet to crack the code on velocity, according to new research from Salesforce's second annual "State of IT" report.
Aggressive timelines may have been lofty goals a few years ago, but today they increasingly represent targets for IT teams to meet customers' elevated expectations for innovative capabilities and experiences. More than half (57%) of consumers say it's very important for companies they purchase from to be innovative.
Innovating for the business in order to meet strategic objectives, however, is IT's number one challenge. While innovating is critical for IT teams who are focused on providing business value, doing so at the pace of modern business while "keeping the lights on" has grown exponentially difficult.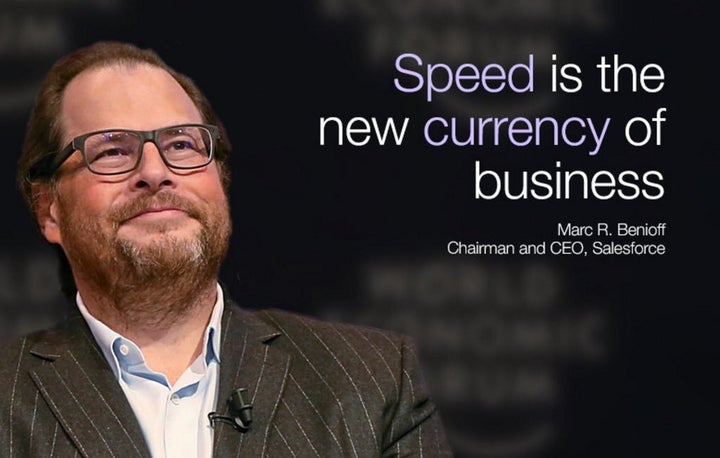 Speed Makes Up Huge Mind-share for IT Leaders
IT is certainly feeling the "need for speed." In fact, Salesforce's research indicates that 76% of IT leaders say speed of app/project delivery is even a critical or very important KPI.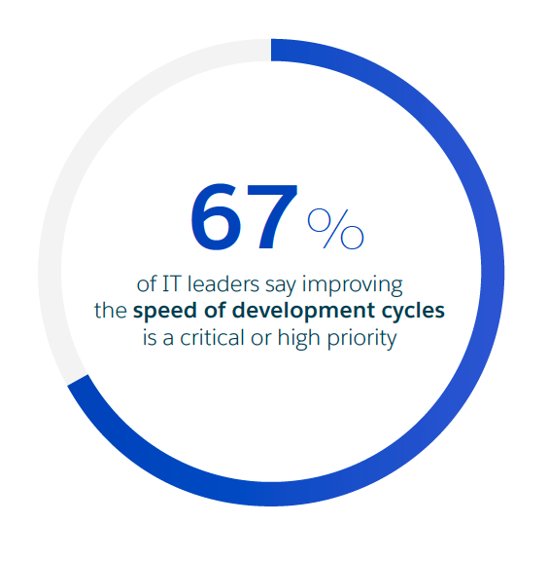 Yet, the speed at which IT can complete projects also ranks as one of the top obstacles to meeting their strategic objectives. Only 45% can design/prototype an app per business requirements in under a month, and only 47% can deploy one within the same timeframe.
Meanwhile, Expectations for Innovation Loom
While meeting the demands for increased speed become greater over time, the business' appetite for better, more creative solutions grows stronger by the minute. A majority of top IT teams say their partners in other business units think speed-related innovations like business process automation and low-code development are a high priority. IT teams hold themselves accountable too, citing competition as their major inspiration for innovating. Nearly two-thirds (65%) of IT leaders say innovation for competitive differentiation is a critical or high priority.
Heavy Demands Prompt Interest in Low-Code and Citizen Development
In spite of the pressure to innovate, IT leaders spend more time (54% on average) on tasks that "keep the lights on" — for example, maintaining legacy infrastructure that requires substantial upkeep but doesn't allow for necessary innovation. Many IT teams are turning to low-code solutions to ease time constraints and allow staff to concentrate on more strategic work. In fact, a whopping 88% of teams say they've evaluated low-code development solutions.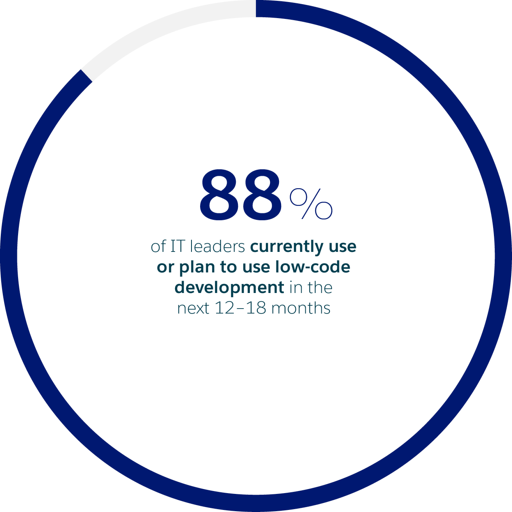 The rise of low code solutions is prompting some IT organizations to explore citizen development (business users creating apps using IT-sanctioned development environments) as a way to improve productivity and accelerate development. Nearly three-quarters of IT leaders (74%) are even planning to increasingly shift some of their app-building responsibilities to business users over the next 12–18 months.
Of course, this isn't without concern from IT leaders around the governance of and training available for business users and non-developers. Only 24% strongly agree they have IT governance processes in place for non-developers to build apps, and 29% strongly agree they have adequate training programs in place. This, of course, prompts the need for additional training opportunities before citizen developers can reach their full potential. At Salesforce, our employees, customers and partners use Trailhead to expand their citizen developer and administrative skills.
As IT struggles to meet both daily demands and goals for increased innovation, gaps in skill levels continue to widen — and will continue to do so according to predictions for the next two years. More than ever, companies are relying on IT to deliver faster, smarter experiences for customers and employees alike. Now it's up to IT to find a way to deliver.
To learn more about IT's quest for innovation among mounting demands for increased speed, check out the second annual "State of IT" report at salesforce.com/stateofit.
Support HuffPost
The Stakes Have Never Been Higher
Related
Popular in the Community