After effectively winning the hearts of many with Voices of Light, his oratorio written to accompany Carl Theodor Dryer's 1928 silent film "The Passion of Joan of Arc", Richard Einhorn is writing a new composition more personal to him with a brand new palette of musical theme and shades.

Einhorn wishes to write his latest oratorio to speak of the political situations both in and between Russia and Ukraine and the heartbreaking shoot-down of Malaysian Airline Flight 17. This composition will be a serious work commemorating a great tragedy. Einhorn said the piece will focus on the endurance, not of nations, but of people; the strength of people to survive in a time of tremendous strife and to provide a more encouraging and compassionate world for themselves, and especially for the generations to come.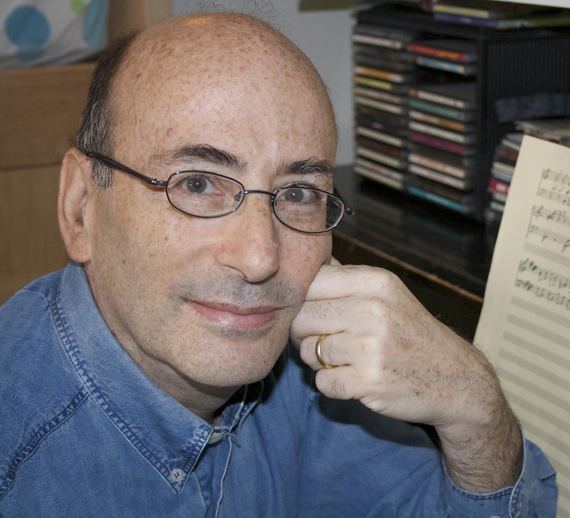 Einhorn, like the rest of the world, was horrified at the shootdown of Flight 17 over Ukraine. He described the misfortune as a recent yet already iconic example of the horror of war's collateral damage. Malaysian Airlines Flight 17 was carrying 298 innocent passengers when it was shot down over a territory held by pro-Russian rebels in eastern Ukraine. Months after it crashed, and amidst mounting evidence concerning the guilty parties, the global community is still waiting for justice.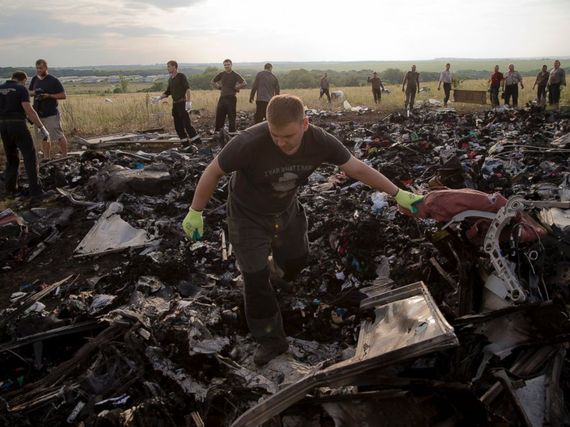 The debris of the Malaysian Flight 17
Photo credit to abcnews.com

While everyone is fuming about the downing of the Malaysian airliner, there was already a war underway in eastern Ukraine prior to this disaster. Russian military aggression in Ukraine started in 2014. After annexing Crimea, Russia started to wage a hybrid war in Eastern Ukraine. Over 6 thousand innocent civilians have been killed since the start of the conflict. At present, over 1 million displaced persons formerly registered in Ukraine and another 600,000 have sought asylum or other forms of legal stay in neighbouring countries. The conflicts and tensions between Russia and Ukraine stemmed from the former's objective to stop Ukraine from joining the European Union. With ongoing fights every day, families are forced to evacuate their homes with nowhere to go. Children live in fear everyday, and many are orphaned everyday.

Einhorn is concerned about these political and war conditions in Russia and Ukraine and, as someone whose grandparents hail from Ukraine, he has a personal interest in the region. He wishes to write music that speaks to the current situation: the universal desire for an end to strife and the creation of a stable society where all individuals can express themselves freely and be able to thrive.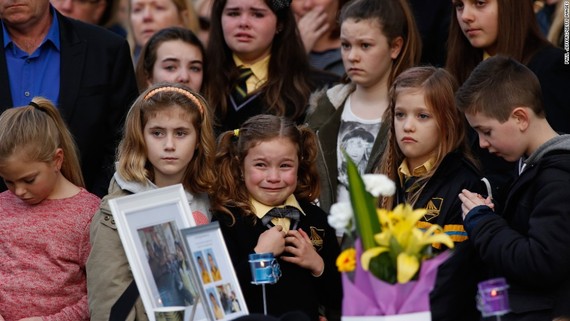 Students attend a prayer July 18 in Central Java, Indonesia, their
teacher John Paulissen was a passenger on Flight 17.
If Voices of Light has been described and raved about as a triumph by the LA Times and as an overwhelming experience by the Chicago Tribune because of its beauty, multifaceted style and haunting meaning, his latest oratorio will definitely offer a deeper and more serious message than his Joan of Arc discovery.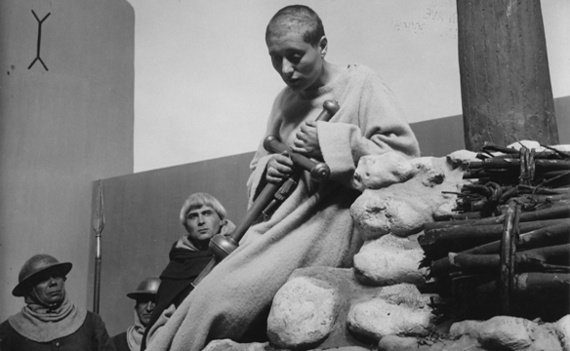 A scene in Richard Einhorn's Oratorio, The Passion of Joan of Arc
Photo credit to www.jewishjournal.com

Einhorn sees a parallel to freedom in this new Oratorio and the Joan of Arc discovery. He said, "Much of my vocal music explores the topic of different kinds of freedom. Voices of Light was a celebration of religious and personal freedom during a time of war in France, exacerbated by the militarism of a powerful, self-interested country (England) that sought to become an empire. This new piece will be a celebration of political, cultural, and also personal freedom also during a time of war (in Eastern Ukraine/Crimea), worsened by the militarism of another powerful, self-interested country that seeks to become an Empire, Russia."
His Beatitude Sviatoslav (Shevchuk), Major Archbishop of the Ukrainian Greek Catholic Church, said "May the memory of the innocent victims be eternal and immortalized through the noble work of art, such as Richard Einhorn's oratorio!"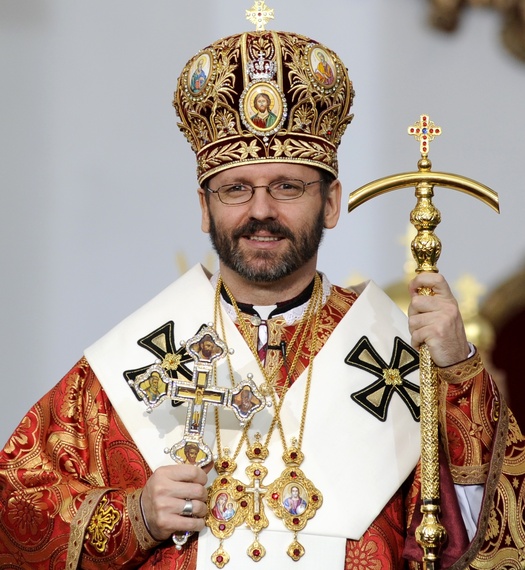 His Beatitude Sviatoslav (Shevchuk)
Major Archbishop of the Ukrainian Greek Catholic Church

The Ambassador of Ukraine to the Holy See Tetiana Izhevska says of Richard working on this Oratorio Project: "I am looking forward for a possibility to hear an oratorio by Richard Einhorn - Songs of Innocence and Tragedy: In Memory of Flight MH17. An oratorio is a brilliant way to commemorate the victims who perished over Eastern Ukraine, and all those who have lost lives in the conflict in our state, because music is able to heal wounds, to ease pain and depression. Music includes sounds of life and nature, joy and sorrow. It gives us sensation of the universe, eternity and unity. Music gives people hope."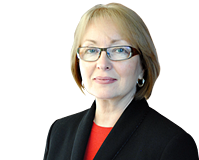 Ambassador of Ukraine to the Holy See Tetiana Izhevska
Rabbi Bleich, Chief Rabbi of Ukraine and Kiev, brought up that the shooting down of Malaysian Airline Flight 17 was a repeat of history when on September 1, 1983 the Soviets attacked an unarmed Korean Civilian Airliner, with 269 innocent men, women, and children aboard. Excerpt from the address to the nation by then President Reagan:
"This crime against humanity must never be forgotten, here or throughout the world....It was an act of barbarism, born of a society which wantonly disregards individual rights and the value of human life and seeks constantly to expand and dominate other nations....They owe the world an apology and an offer to join the rest of the world in working out a system to protect against this ever happening again....Let us have faith in Abraham Lincoln's words, 'that right makes might, and in that faith let us, to the end dare to do our duty as we understand it.' If we do, if we stand together and move forward with courage, then history will record that some good did come from this monstrous wrong that we will carry with us and remember for the rest of our lives."
Christina Snylyk, the producer of this project, says, "I approached Richard to compose this new work as he has the perfect sensibility and, of course, skill to execute a very appropriate, moving tribute to commemorate the souls lost in this tragic, ongoing war, especially the 298 passengers from many nations massacred when Flight MH17 was shot down. By memorializing their deaths in particular, Einhorn's work will serve to remind us that the larger context of the crash of MH17 is the universal, eternal struggle against oppression which at this particular moment in history we are seeing played out so intensely in Ukraine."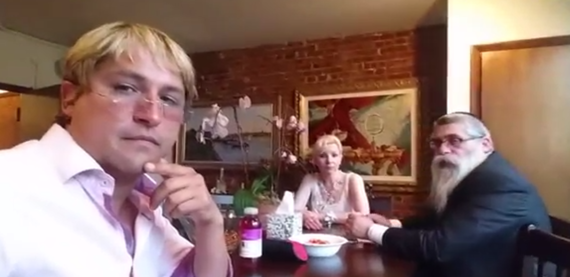 With Christina Snylyk and Rabbi Bleich in my apartment
Photo credit to www.Victoria Global.co

The M17 Einhorn Oratorio Project supports the world premiere performance of this new composition by Einhorn. It is hoped that the premiere of the M17 oratorio, a work already generously commissioned by an anonymous donor, will take place in 2016 at Carnegie Hall. It will be scored for full orchestra, choruses, and soloists. The Philadelphia Orchestra with Maestro Yannick Nézet-Séguin, and the Mendelssohn Club Chorus have expressed interest in performing the premier of the piece. Currently, the Project is seeking funds for the fees of the Orchestra and all the world class performers who will participate.
The committee includes Tony Award Winner Nina Arianda; the Australian Ambassador to United States, Kim Beazley; R. Hunter Biden; Rabbi Bleich, Chief Rabbi of Ukraine and Kyiv; the Canadian Ambassador to the United States Gary Doer; Chrystia Freeland, Member of Canadian Parliament; Her Excellency Tetiana Izhevska, Ukrainian Ambassador to the Holy See; 2010 Nobel Laureate Mario Vargas Llosa; Yuriy Sergeyev, Permanent Representative of Ukraine to the United Nations; His Beatitude Sviatoslav Shevchuk, Head of the Ukrainian Greek Catholic Church; and James Temerty, CM of Northland Power Inc. I am also a member of this committee.
Proceeds from the premiere, as well as subsequent performances and a recording will be used to help Ukrainian children orphaned by the current war, in memory of the children who died in the MH17 tragedy. The raised funds will be donated to Help Us Help the Children-USA Inc., a tax exempt charity working with Ukraine's war orphans, which is also acting as the Oratorio Project's fiscal sponsor.
Ruslana Wrzesnewskyj, Founder and Director of Help Us Help the Children (HUHTC), said "It is difficult for the majority of North Americans and Europeans to comprehend the true meaning of war. We see movies, we read about war in newspapers and social media such as Facebook and watch images on the news. However, for me, personally, as a volunteer working in Ukraine for over twenty years with orphan children, war has become reality. The definition of this new war fueled by Russia, is seeing the number of orphaned children and widows who visit our "Help Us Help the Children" camps and Rehab. Retreats in Ukraine increase, watching the constant fear in their eyes, especially if they are from the front line war torn zone, trying to understand their hurt and agony, and consoling grief stricken children whose fathers died defending their country, and feeling the pain of children who have been displaced and lost all comforts of home."
She further said, "The senseless destruction of the Malaysian Airlines flying over Ukraine, with almost 300 victims was yet another horrific and tragic casualty of Russia's aggression. For us, all the above are just statistics, but for many living in Ukraine, despair, hunger, loneliness, physical and mental trauma, anger, depression have become a way of daily living. We, in countries that respect rule of law, freedom of speech and democracy have an obligation to never forget the less privileged. They must not become the forgotten victims of a senseless war. If we allow this to happen , then we are as guilty as the aggressors."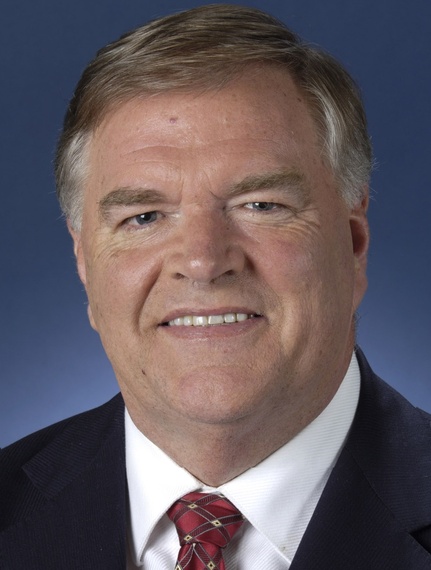 His Excellency Kim Beazley, Ambassador of Australia to the United States of America
His Excellency Kim Beazley, Ambassador of Australia to the United States of America, says "While there remain so many unanswered questions on the MH17 tragedy, it is important to remember the innocent lives lost in such extraordinary circumstances. Through the MH17 Oratorio Project these lives will not be lost to time but memorialised with dignity and commemorated with grace."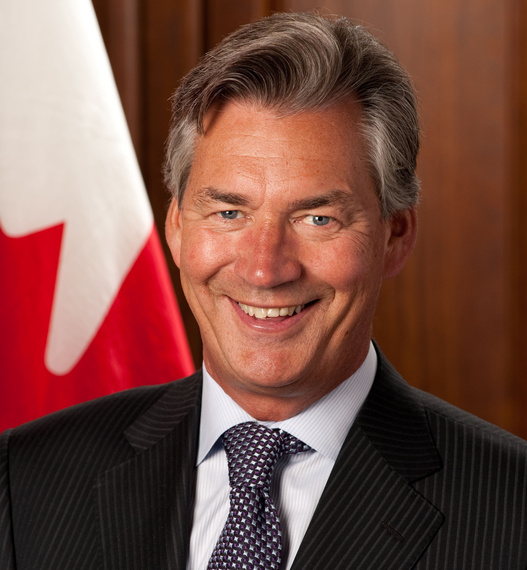 His Excellency Gary Doer, Ambassador of Canada to the United States of America

His Excellency Gary Doer, Ambassador of Canada to the United States of America, says, "No matter what part of the world one is from, whether old or young, music has the ability to touch every soul. It has the power to express what words cannot, and aid in healing when words aren't enough. I commend the work of Richard Einhorn, Songs of Innocence and Tragedy: In Memory of Flight MH17. May his oratorio provide comfort and continued healing as we mourn the loss of hundreds of innocent civilians, of many nationalities."
As Christina Snylyk states:"The world should remember the tragedy of MH17 by a glorious work of music that will forever commemorate those who died that day over Ukraine and those who continue to die in her defense: a country struggling for the chance to embrace the values of Western democracy. Most importantly, the oratorio will forever memorialize all the victims of this conflict in a special way, and hopefully lead to healing and peace among all."
Popular in the Community