At a dynamic communitywide event this month, the City of New Rochelle and the City School District of New Rochelle will leverage the first Westchester County partnership to address the major goals of President Obama's My Brother's Keeper (MBK) Community Challenge. The President launched the MBK initiative with the purpose of "Helping more of our young people stay on track. Providing the support they need to think more broadly about their future. Building on what works - when it works, in those critical life-changing moments."
As part of our initial work on MBK over the last six months, we have created active partnerships involving more than 100 local agencies spanning municipal, corporate, non-profit, community, and educational resources. Leading the charge for these collective efforts to make a meaningful difference in children's lives are New Rochelle City Councilman Jared Rice (below right) and New Rochelle High School Principal Reggie Richardson (below left).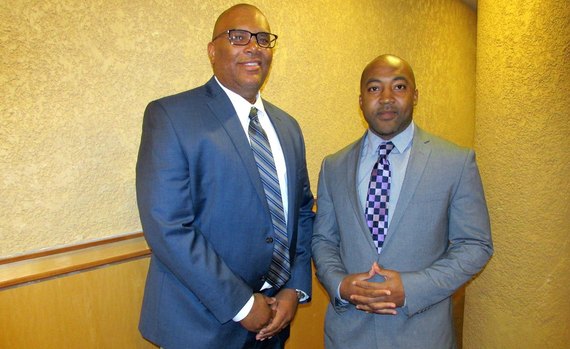 At a spring MBK local action summit before hundreds of community members, Principal Richardson shared, "Ensuring the success of our young people is not just the responsibility of families and teachers, but of all sectors of the community. Every step forward that they make will benefit our entire city. I celebrate the strides we have already made and am looking forward to the positive results we will realize in the future because of this work." Councilman Rice added that evening: "The call of MBK New Rochelle is simple and urgent: how can we as a city work together to bring our most valuable assets - our young people - to their fullest potential, especially our most vulnerable group, young men of color? This is a job for our entire community, and I invite everyone to join us in setting the course for their future."
New Rochelle has a diverse population that includes 67% blacks and Latinos in our community's schools. MBK New Rochelle seeks to build on the strength of our diversity and continue to improve conditions that will ensure success for every child. We will enhance critical supports for our students from pre-K through college and career. By further implementing these goals, more youngsters will be able to attain true success and realize their dreams.
Accomplishing these endeavors will benefit every resident of our community, while upholding the broader principles of a just, equitable, and progressive city and society. Everyone in our city can become an integral part of MBK New Rochelle. We know students need support, and as Superintendent of Schools, I'm encouraged to see the New Rochelle community respond to the MBK call to action.
Popular in the Community