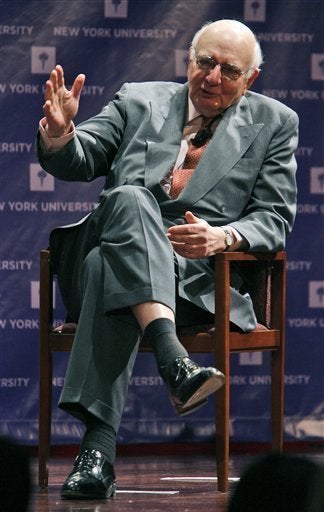 The Financial Accounting Standards Board quietly buckled to banking-industry pressure last week and proposed new accounting practices that would allow banks to value assets at a higher price than they could currently be sold for.
Banks have long demanded the "mark-to-market" accounting rule change, arguing that it's unfair to require them to mark toxic assets down to current market prices because the very market for those assets is frozen.
The move marks a shift for Robert Herz, head of the FASB, who recently told a panel of lawmakers that the harshest critics of mark-to-market accounting practices have been the very same banks that have gone under when regulators would not let them adjust their accounting. Herz and other regulators have been under intense congressional pressure to reform the rules.
House Speaker Nancy Pelosi (D-Calif.) said that she's been consulting with former Federal Reserve Chairman Paul Volcker regarding the reform.
"I've talked to Mr. Volcker about this, who knows a great deal about it. And I think caution is important in it, but I think attention is necessary," said Pelosi in a brief interview with the Huffington Post.
She said that she's following the issue closely. "I think it has to be done with care. But we have to pay some attention to it because the current system is not working," she said. "It's the whole thing: If you mark it too low, what's the price?"
Volcker chaired a financial reform study that reported its findings in January (PDF). It came down on the side of reforming mark-to-market rules. "Fair value accounting principles and standards should be reevaluated with a view to developing more realistic guidelines for dealing with less liquid instruments and distressed markets," it recommends. "The tension between the business purpose served by regulated financial institutions that intermediate credit and liquidity risk and the interests of investors and creditors should be resolved by development of principles-based standards that better reflect the business models of these institutions."
Rep. Alan Grayson (D-Fl.), who quizzed Herz on the accounting rule, said that the demand to change the rules is "representative of exactly the kind of thing that's put us in this position in general...We have people who break every rule in the book and then they think that the answer to their problems is to break more rules. It's given us some real insight into the human nature and the pathology of the people who have created these problems for America."
If banks are allowed to determine the value of their assets without regard to current prices, investors have less trust and confidence in the integrity of their books and their assets, which could further freeze markets and further drive down prices.
The proposed FASB rule, according to a release from the agency, "provides a framework for measuring fair value and a definition of fair value that contemplates an orderly transaction between market participants, not a forced or distressed sale."
It goes on: "In the current economic crisis, many constituents have requested additional authoritative guidance to assist them in determining whether a market is active or inactive, and whether a transaction is distressed. Proposed FSP FAS 157-e would provide this application guidance."
In other words, if a bank asserts that the market for a certain asset is "inactive," then it need not write the value of it down to market prices. Critics such as Grayson insist this change would allow banks to continue a fiction of viability when in fact they may be insolvent.
"I think the real reason this has come up now is because a lot of the institutions are genuinely insolvent and don't want to admit it," Grayson said.
Treasury Secretary Timothy, testifying before Congress on Tuesday, expressed some support for the rule change, calling it a "constructive set of changes" that struck a balance "between preserving confidence in the quality of public disclosure, which is very important to getting through this, [and addressing] some of the complications of applying those standards in a market like we're experiencing today."
The public is entitled to comment on the rule change until April first. Comments can be e-mailed to director@fasb.org -- File Reference: Proposed FSP FAS 157-e. Or send snail-mailed Technical Director, FASB, 401 Merritt 7, PO Box 5116, Norwalk, CT 06856-5116, File Reference: Proposed FSP FAS 157-e.

Popular in the Community