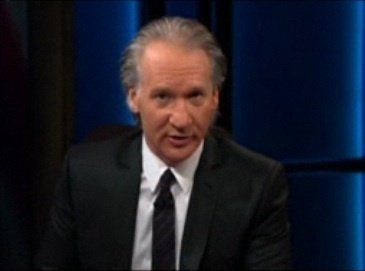 New Rule: You can't complain about health care reform if you're not willing to reform your own health. Unlike most liberals, I'm glad all those teabaggers marched on Washington last week. Because judging from the photos, it's the first exercise they've gotten in years. Not counting, of course, all the Rascal scooters there, most of which aren't even for the disabled. They're just Americans who turned 60 and said, "Screw it, I'm done walking." These people are furious at the high cost of health care, so they blame illegals, who don't even get health care. News flash, Glenn Beck fans: the reason health care is so expensive is because you're all so unhealthy.
Yes, it was fun this week to watch the teabaggers complain how the media underestimated the size of their march, "How can you say there were only 60,000 of us? We filled the entire mall!" Yes, because you're fat. One whale fills the tank at Sea World, that doesn't make it a crowd.
President Obama has identified all the problems with the health care system, but there's one tiny issue he refuses to tackle, and that's our actual health.
And since Americans can only be prodded into doing something with money, we need to tax crappy foods that make us sick like we do with cigarettes, and alcohol -- and alcohol actually serves a useful function in society in that it enables unattractive people to get laid, which is more than you can say for Skittles.
I'm not saying tax all soda, but certainly any single serving of soda larger than a baby is not unreasonable. If you don't know whether you burp it or it burps you, that's too big. We need to make taking care of ourselves an issue of patriotism. If you were someone who condemned Bush for not asking Americans to sacrifice for the war on terror, the same must be said for Obama and health care.
President Arugula is not gonna tell Americans they're fat and lazy. No sin tax on food on Obama's watch. And at a time when it's important to set new standards for personal responsibility, he appointed a surgeon general, who is, I'm sorry, kind of fat. Certainly too heavy to be a surgeon general, it's a role model thing. It would be like appointing a Secretary of the Treasury who didn't pay his taxes. He did?
And get this: Surgeon General Benjamin had previously been a nutritional advisor to Burger King. The only advice a "health expert" should give Burger King is to stop selling food. The "nutritional advisor" job was described as, "promoting balanced diets and active lifestyle choices" -- and who better to do that than the folks who hand you meat and corn syrup through a car window? When you have a surgeon general who comes from Burger King, it's a message to lobbyists, and that message is, "Have it your way."
Related
Popular in the Community