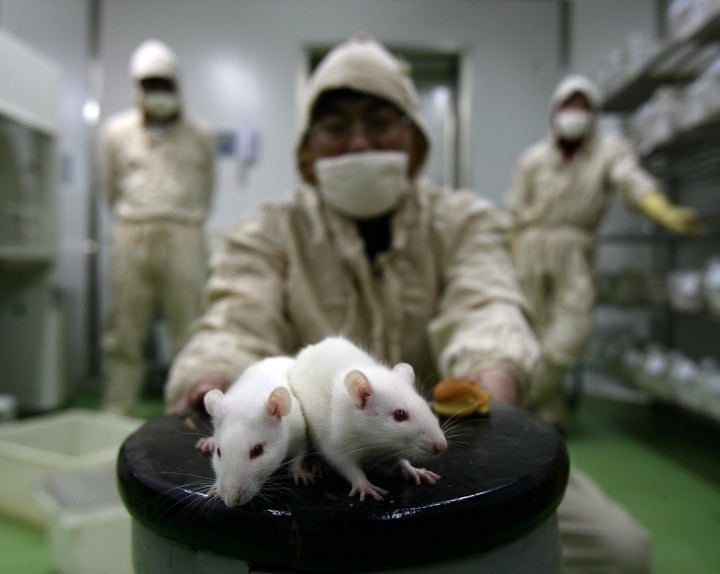 Scientific experiments that insert human genes or cells into animals need new rules to ensure they are ethically acceptable and do not lead to the creation of "monsters," a group of leading British researchers said on Friday.
While humanizing animals in the name of medical research offers valuable insights into the way human bodies work and diseases develop, clear regulations are needed to make sure humanization of animals is carefully controlled.
Extreme scenarios, such as putting brain cells into primates to create talking apes, may remain science fiction, but researchers around the world are constantly pushing boundaries.
Chinese scientists have already introduced human stem cells into goat fetuses and U.S. researchers have studied the idea of creating a mouse with human brain cells -- though they have not actually done so.
Such controversial research needs special oversight, according to a report from Britain's Academy of Medical Sciences on the use of animals containing human material.
Using animals with limited humanized traits is not new. Genetically engineered mice containing human DNA are already a mainstay of research into new drugs for diseases like cancer.
But Martin Bobrow, a professor of medical genetics at the University of Cambridge, who led the Academy's working group, said there were three areas of particular concern.
"Where people begin to worry is when you get to the brain, to the germ (reproductive) cells, and to the sort of central features that help us recognize what is a person, like skin texture, facial shape and speech," he told reporters.
His report recommends that government should put in place a national expert body, working within the existing system for regulating animal research, to oversee such sensitive areas.
British ministers said they welcomed the report and would consider its recommendations carefully.
Bobrow said other countries would need to follow suit with their own rules, as their scientists and regulators also recognized the need to address potential public concerns.
In addition to helping fight debilitating diseases, humanized animals have played a pivotal role in developing new treatments for infertility. They are also central to much stem cell research.
The world's first clinical trial using neural stem cell therapy in stroke patients -- a joint project between Scottish researchers and British biotech company ReNeuron -- was only possible after first testing human brain cells on rats.
Robin Lovell-Badge, a geneticist at the Medical Research Council, said other important animal research models included a Down's syndrome mouse with some 300 human genes and one with 95 percent of its liver derived from human cells.
A public opinion poll carried out for the report found general support for research into animals containing human material, if it was conducted to improve human health.
But there were serious concerns voiced about experiments involving the brain, the potential fertilization of human eggs or sperm in an animal, and giving animals human characteristics such as facial features or speech.
Attitudes also differed according to type of animal.
"If you come home and your parrot says 'Who's a pretty boy?' that's one thing. But if your monkey says it that's something else," said Christopher Shaw of the Institute of Psychiatry, King's College London.
Related