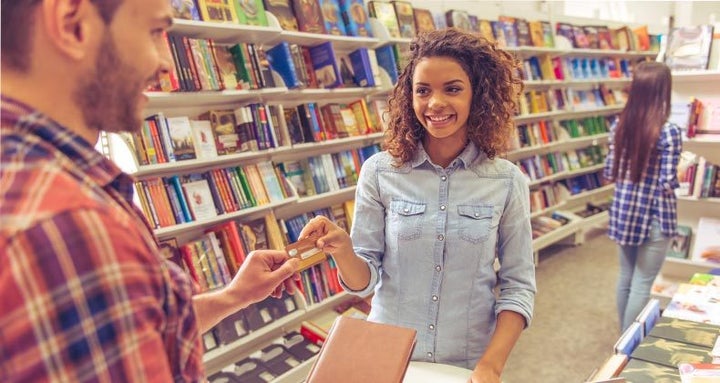 Receiving your financial aid in college also can get you a bank account, debit card and a host of banking fees that can chip away at your aid money.
That's something the Department of Education aims to change.
A Government Accountability Office study in 2014 found that at least 852 schools, or 11 percent of U.S. colleges and universities, had agreements to provide debit or prepaid card services to their students, and most offered students the option to receive federal student aid on a card linked to a bank account.
In most cases, the schools outsourced to their card provider the process for paying financial aid and other funds via so-called campus cards, which are bank debit cards that often sub as a college identification card.
Campus cards carry a financial aid balance
These campus cards are issued in partnership with a financial institution. After financial aid is used to pay for college tuition and fees, students can use the cards with the remainder of their financial aid to pay for dining, check out library books or pay for other expenses.
RATE SEARCH: Do you keep a savings account for emergencies on campus? Check out the savings rates today at Bankrate.com
The GAO found instances where schools or card providers seemed to encourage students to enroll in a college card account rather than present neutral information about payment options.
"Often, when students access their aid by using these cards, they incur fees," Consumer Reports says.
Transaction-based fees, such as ATM withdrawal fees, inactivity fees and swipe fees, are among those that college students face, Consumer Reports says.
Heavy users charged hefty fees
A Consumers Union study in 2014 found that bank fees could cost heavy users more than $250 per year, unless they take steps to avoid out-of-network ATMs and avoid making PIN-debit purchases if fees apply.
The study also found the card fees varied among campuses and obtaining fee schedules was often difficult.
"Students need safe and convenient access to financial aid funds without unnecessary and costly charges," said Pamela Banks, senior policy counsel for Consumers Union.
RATE SEARCH: If you're thinking of buying a car to take to college, first check the auto loan rates today at Bankrate.com.
Hundreds of banks take part
Major institutions such as Wells Fargo and U.S. Bank are among the hundreds of banks that have agreements with schools. But so does Higher One, which was the largest firm offering financial aid disbursement services on college campuses, the Consumers Union study found.
According to the GAO, Higher One and a former bank partner, The Bancorp Bank, settled with the Federal Deposit Insurance Corp. in 2012 for alleged unfair and deceptive practices involving fees for its student debit card account program. The FDIC imposed a $110,000 penalty and Higher One agreed to pay $11 million in restitution to 60,000 students.
"It is terrible how banks took advantage of college students' financial aid to turn a profit. This is an issue that needed to be addressed," says Elisia Howard, a college consultant in Seattle.
RATE SEARCH: Looking for a student loan? See what kind of loan you can get today at Bankrate.com.
New rules require card options presented in neutral fashion
As a result of new rules that went into effect July 1, the Department of Education hopes to cut down on bank fees and abuses of college cards. The proposed regulations would:
Prohibit colleges from requiring students or parents to open a certain account into which their credit balances are deposited.
Require colleges to ensure that students aren't charged overdraft fees if they pick an account offered directly or indirectly by contractors that make direct payments of federal student aid for the colleges.
Require a school to provide a list of account options a student can choose from to receive their federal aid balance, with each option presented in a neutral manner, and the student's pre-existing bank account is listed as the first, most prominent, and default option.
Require colleges to ensure electronic payments made to a student's pre-existing account are as timely as payments made to accounts marketed through the college.
"It is great that schools are now obligated to explain more to students about how they can receive their aid," Howard says.
"I would recommend that students have the money deposited into their checking accounts or have the university issue a check they can pick up," she says. "I do not like the idea of financial aid being disbursed on a debit-type card."
Support HuffPost
The Stakes Have Never Been Higher
Related
Popular in the Community