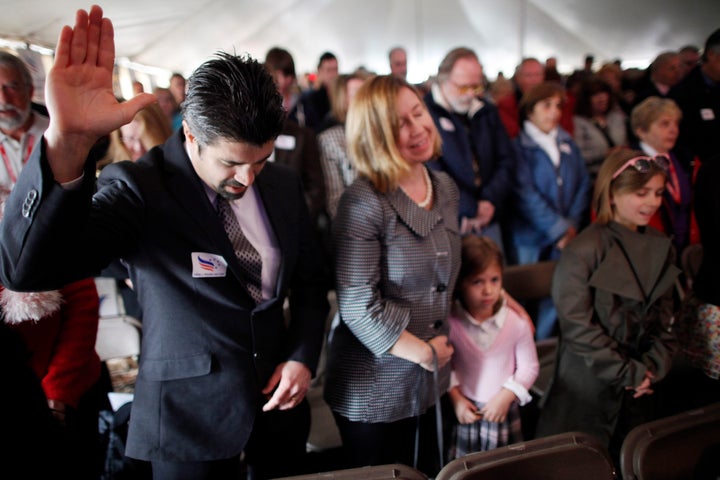 Anyone who wants to run for office as a Republican in one South Carolina county must pledge to live - and promise to have always lived -- a pretty tame life.
According to new rules just adopted by the Laurens County GOP, no candidate will wind up on the primary ballot who hasn't passed a purity test.
Among the new requirements to run as a Republican in this county in the June 12 legislative primary, according to The Clinton Chronicle, are that aspiring candidates must have abstained from sex before marriage.
And once they ace THAT test, they must take a pledge that "You cannot now, from the moment you sign this pledge, look at pornography."
Other required Republican pledges include:
"You must oppose abortion, in any circumstances.

"You must uphold the right to have guns, all kinds of guns.

"You must endorse the idea of a balanced state and federal budget, whatever it takes, even if your primary responsibility is to be sure the county budget is balanced.

"You must be faithful to your spouse. Your spouse cannot be a person of the same gender, and you are not allowed to favor any government action that would allow for civil unions of people of the same sex.

"You must have:

"A compassionate and moral approach to Teen Pregnancy;

"A commitment to Peace Through Strength in Foreign Policy; and

"A high regard for Unites States Sovereignty."
Call it the Puritan provision.
Palmetto State Democrats seized on the news.
In a statement, South Carolina Democratic Party Executive Director Amanda Loveday called the pledge "outlandish," and said it shows the GOP's inability to relate to the average South Carolinian.
"Unfortunately, this is definitely what we've come to expect from South Carolina Republicans," she said.
South Carolina Democratic operative Lachlan McIntosh said in an email that he finds it interesting a party so preoccupied with buzzwords like "freedom" seem to oppose it on a regular basis.
"It sounds like a little porn might do these folks some good," McIntosh said.
Barbara Zia, president of the League of Women Voters of South Carolina, commented,"It seems weirdly like the Taliban. Who will the 'morality police' be?"
But for its part, the South Carolina Republican Party is digging in -- and doubling down.
"If we are wearing the same uniform I want to be sure we are kicking the ball toward the same goal, or are you moving against me," state GOP chairman Chad Connelly told The Clinton Chronicle.
Connelly blamed Democrats for indirectly compelling the county GOP to adopt such strict social rules that anywhere else might seem out of touch with the times.
"We have Democrats running as Republicans," Connelly told the paper. "Because it is the only way they can get elected. And then we wonder, why didn't they vote the way we thought they were going to vote. The pressure is on for them to say what they are."
In an email, South Carolina Senate Democratic Caucus director Phil Bailey said the news proved Republicans in the state were out of touch with reality.
"While the rest of the country is enjoying the 21st century, South Carolina Republicans are blissfully living in their own social time machine," Bailey said.
Popular in the Community